Shuttle invented the Small Form Factor computer, and each new generation of the Shuttle SFF seems to improve on the already capable design. When we last visited SFF systems about 6 months ago, we were intrigued by Shuttle's design for a Corporate SFF. This time around, Shuttle delivered an SFF that seems to be targeted at the Intel Computer Enthusiast, much like the nForce2 version tested in January was targeted at the Athlon Enthusiast.
Everyone seems to love the cute little SFF machines that seem to take such a small amount of space and actually pay attention to what quiet means. However, most would assume that there are compromises in performance with these machines. It looks as if Shuttle is out to prove that you don't have to give up anything to have a small, quiet computer.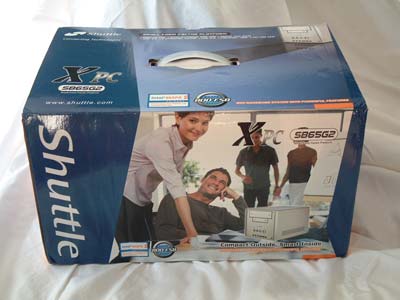 What we have is a small SB65G2 based on the latest Intel 865 chipset with support for any current Intel processor, including the 800FSB C series. Add to that: Dual-Channel memory support, an 8X AGP slot instead of on-board graphics, 8 USB 2.0 ports, 2 Firewire, Serial ATA, and CMedia 5.1 audio. With all these up-to-the-minute features, you have a machine that makes no apologies to anyone in the current marketplace. It just happens to also be very small and very quiet. All of this is built into the elegant Aluminum G2 chassis that makes this tiny computer resemble a jewel more than a computer.
 System Specifications
 
 Shuttle SB65G2
Expansion Bays (5.25"/3.5"/Hidden)
1/1/1
Front USB Ports
2
Rear USB Ports
4
Internal USB Ports
2
Front Firewire Ports
1 Mini
Rear Firewire Ports
1 Standard
On-Board Parallel Port
N
SPDIF
Rear Optical SPDIF In & Out
Front Audio Jacks
3 Mini
Rear Audio Jacks
3 Mini
Number of Fans (including CPU/chipset
1
Power Supply
Enhance 200W
UPDATE 9/10/2003: Shuttle has advised AnandTech that the specs of the SB65G2 have been improved with the release version of the SB65G2. The final SB65G2 has these changes:
220W PSU
(instead of 200W)
SATA RAID (ICH5R)
Black anodized chassis
Integrated Wireless (802.11b) Module
The MSRP is around $350.