Driver Performance & The Test
Alongside the launch of the GTX 1080 Ti, NVIDIA is also touting the performance of their drivers. For most users who have been regularly updating their drivers to begin with, I don't think there's anything too surprising here. But because of NVIDIA's talk of driver performance gains, I've already seen some confusion here over whether the GTX 1080 Ti launch driver (378.78) is a special performance driver or not. For the record, it is not.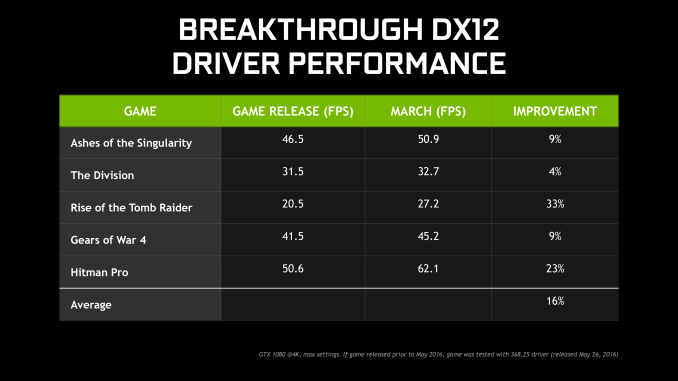 In their presentation, NVIDIA outlined their driver performance gains in DX12 since the launch of various DX12 games, including Ashes of the Singularity, Hitman, and Rise of the Tomb Raider. All of these games have seen performance improvements, but what's critical here is that this is over the long-run, since the launch of the GTX 1080 and these respective games.
The 378.78 driver in that respect is nothing special. In terms of driver release, NVIDIA is already a few releases into the R378 branch, so any big code changes for this branch have already been released to the public in earlier driver builds.
In any case, for reference purposes, here's how performance of the GTX 1080 stacks up now compared to performance at launch.
GeForce GTX Driver Performance Gains: July 2016 vs. March 2017 (4K)
Game
GTX 1080
GTX 980 Ti
Rise of the Tomb Raider

Even

Even

DiRT Rally

+8%

+7%

Ashes of the Singularity

+11%

+14%

Battlefield 4

Even

Even

Crysis 3

Even

Even

The Witcher 3

Even

The Division*

-7%

-9%

Grand Theft Auto V

+2%

Even

Hitman (DX12)

+26%

+24%
As was the case with NVIDIA's data, the performance gains vary from game to game. Some games have not budged, whereas others like Hitman have improved significantly, and outlier The Division has actually regressed a bit due to some major updates that have happened to the game in the same time period. But at the end of the day, these are performance gains that have accumulated over the months and are already available in the latest drivers from NVIDIA.
The Test
For our review of the GTX 1080 Ti, we're using NVIDIA's 378.78 driver.
CPU:
Intel Core i7-4960X @ 4.2GHz
Motherboard:
ASRock Fatal1ty X79 Professional
Power Supply:
Corsair AX1200i
Hard Disk:
Samsung SSD 840 EVO (750GB)
Memory:
G.Skill RipjawZ DDR3-1866 4 x 8GB (9-10-9-26)
Case:
NZXT Phantom 630 Windowed Edition
Monitor:
Asus PQ321
Video Cards:
NVIDIA GeForce GTX 1080 Ti Founders Edition
NVIDIA GeForce GTX 1080 Founders Edition
NVIDIA GeForce GTX 980 Ti
NVIDIA GeForce GTX 780 Ti
AMD Radeon Fury X
Video Drivers:
NVIDIA Release 378.78
AMD Radeon Software Crimson 17.3.1
OS:
Windows 10 Pro