ABIT IC7-G: Basic Features
Motherboard Specifications

CPU Interface

Socket-478

Chipset

Intel 82875P MCH (North Bridge)
Intel 82801ER ICH5R (South Bridge)

Bus Speeds

up to 412MHz (in 1MHz increments)

Core Voltages Supported

up to 1.90V (in 0.025V increments)

I/O Voltages Supported

N/A

DRAM Voltages Supported

up to 2.80V (in 0.05V increments)

Memory Slots

4 184-pin DDR DIMM Slots

Expansion Slots

1 AGP 8X Slot
5 PCI Slots

Onboard IDE RAID

N/A

Onboard USB 2.0/IEEE-1394

Eight USB 2.0 ports supported through South Bridge
TSB43AB23 IEEE-1394 FireWire Controller (up to 3 ports total)

Onboard LAN

Intel PRO/1000CT Gigabit LAN (CSA bus)

Onboard Audio

Realtek ALC650 Controller

Onboard Serial ATA

Two SATA connectors via Silicon Image 3112A Controller
Two SATA connectors via ICH5R (RAID 0 & RAID 1 only)

BIOS Revision

Version 11 (4/30/2003 via ABIT USA web site)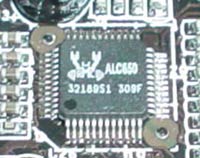 Not surprisingly ABIT chooses Realtek's ALC650 Codec for audio processing. We would have preferred to have seen the Realtek ALC655 or Analog Devices AD1985 Codecs as they have "Jack Sensing" technology (dynamically switches Mic, Line-in and Line-out ports) among other features. However, the inclusion of rear SPDIF ports is a nice touch that might make up for this loss to some users. All in all you shouldn't be disappointed with this sound solution unless you're a serious audiophile.
We're glad that ABIT utilizes Intel's new Gigabit bus architecture, dubbed Communications Streaming Architecture, or CSA. This technology is controlled by Intel's PRO/1000CT, which can also be found on motherboards like Gigabyte's 8KNXP and 8KNXP Ultra as well as MSI's 875PE Neo-FIS2R and Soyo's 875P DRAGON 2. The average desktop user won't have much of a use for this technology, but anyone that is transferring a significant amount of data over gigabit Ethernet will enjoy the bus. We've illustrated the benefit of CSA technology in previous articles, an example of which can be found here in our 875P chipset article.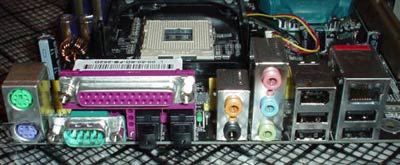 We're delighted with the IC7-G's I/O configuration. Included here are two PS/2 ports, one serial port, one parallel port, four rear USB 2.0 ports, one Gigabit LAN port, one IEEE 1394 FireWire port, and various SPDIF ports, along with Mic In, Line In, and Line Out, which all can drive the onboard sound. The addition of SPDIF ports and a IEEE 1394 FireWire port are nice touches for the slightly more advanced desktop users. We expect nothing less for a top-of-the-line Pentium 4 motherboard like the ABIT IC7-G.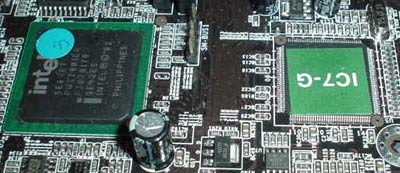 Like all motherboards with an 875P/ICH5(R) chipset combination, there are two Serial ATA connectors located next to the ICH5 South Bridge (ICH5R in the IC7-G's case). As you or may not already know, this new South Bridge controls both SATA connectors and in fact allows a stream of 266MB/s of data instead of the slower, PCI bus constrained 133MB/s which can get awfully clogged with having to attend to other needy components. Read through our 875P chipset review to understand the benefits of placing the Serial ATA controller in the South Bridge as compared to a separate PCI Serial ATA controller.
For those users looking for exceptional Serial ATA drive support and just standard IDE support, the IC7-G should do just fine. As always we find that there are two standard Primary/Secondary IDE connectors that support two devices each, and therefore up to four IDE drives total. Unlike most other 875P motherboards, the IC7-G uses the Silicon Image 3112A controller, which powers two of the four Serial ATA connectors available on the IC7-G. The other two Serial ATA connectors are controlled by ICH5-bound Serial ATA connectors. You'll be able to connect one drive to each of the four SATA connectors powered by the ICH5 and Silicon Image SATA connectors. So in total, you'll be able to connect four SATA and four IDE drives to this motherboard, which equals a grand total of eight possible drives that can be activated. As we said in our ASUS P4C800 Deluxe review, most desktop users will find this feature to be nice instead of necessary; but there will always be those who desire this capability for something a little more potent than everyday desktop usage.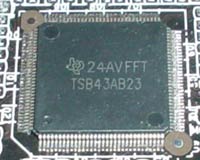 We're happy that ABIT included standard IEEE 1394 FireWire support via an onboard PCI controller from Texas Instruments, dubbed the TSB43AB23. Since the ICH5 does not natively support IEEE 1394 FireWire we like the addition of this type of support. Intel has never been very positive on the IEEE-1394 spec and thus has backed USB 2.0 instead, and for the majority of uses USB 2.0 is a better solution. However, because of the penetration of IEEE-1394 in the DV camera market, the standard cannot be ignored, thus we like to see manufacturers support the spec even if Intel won't.
Since the IC7-G includes a rear FireWire port, you must use the two onboard headers and the bundled two-port FireWire bracket to activate your remaining two ports. All in all you have three IEEE 1394 FireWire and eight USB 2.0 ports available at your disposal. This is the most we've seen from any motherboard (save the MSI 875P Neo-FIS2R and ABIT IT7 Max2 V2.0), but considering the high-end nature of this motherboard we're not at all surprised. Visit this page on Texas Instruments' web site for more information regarding the TSB43AB23 controller.