MSI 875P Neo-FIS2R: Basic Features
Motherboard Specifications

CPU Interface

Socket-478

Chipset

Intel 82875P MCH (North Bridge)
Intel 82801ER ICH5R (South Bridge)

Bus Speeds

up to 500MHz (in 1MHz increments)

Core Voltages Supported

up to 1.95V (in 0.05V increments after 1.60V, in 0.0125V increments before 1.60V)

I/O Voltages Supported

N/A

DRAM Voltages Supported

Supported up to 3.30V (in 0.05V increments excluding 3.00V-3.10V)

Memory Slots

4 184-pin DDR DIMM Slots

Expansion Slots

1 AGP 8X Slot
5 PCI Slots

Onboard RAID

Promise PDC20378 Controller (two SATA connectors)
Intel ICH5R Serial ATA RAID (RAID 0 & RAID 1 only)

Onboard USB 2.0/IEEE-1394

Eight USB 2.0 ports supported through South Bridge
VT6306 IEEE-1394 FireWire Controller (up to 3 ports total)

Onboard LAN

Intel PRO/1000CT Gigabit LAN (CSA bus)

Onboard Audio

Analog Devices AD1985 Controller

Onboard Serial ATA

Two SATA connectors via Promise PDC20378 Controller
Two SATA connectors via ICH5R

BIOS Revision

1.0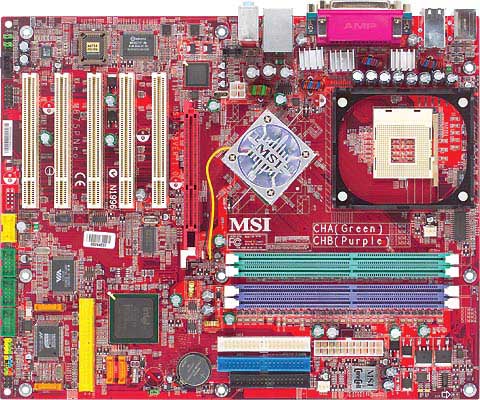 It seems like Analog Devices has been busy getting customers to convert over to their sound controllers recently. As if ASUS and Intel weren't already enough, Analog Devices has gotten MSI to include their AD1985 sound controller on the MSI 875P Neo-FIS2R motherboard we're reviewing today.
Analog Devices had expressed their drive to rival and even overtake their competitors (read: Realtek/Avance Logic) in the onboard sound market as well as eventually the add-in sound card market. In combination with the AD1985 controller and the software that comes with the MSI 875P Neo-FIS2R, you're able to plug in your speakers into whichever audio jack you like, since this sound solution allows you to dynamically switch your MIC, Line-in and Line-out ports. This technology is called "Jack Sensing", and we're quite glad it has finally come.
Realtek has an identical technology ready for mass production (dubbed the ALC655), found in Gigabyte's 875P series of motherboards.
The 875P Neo-FIS2R's onboard LAN is powered by the same Gigabit chip found on Gigabyte's 8KNXP Ultra and regular 8KNXP. We're glad that MSI utilizes the 875P's independent Gigabit bus technology (called Communications Streaming Architecture, or CSA). For more information regarding CSA and its benefits, take a look at page 5 of our Intel 875P chipset review.
The 875P Neo-FIS2R's I/O configuration contains a nice bundle of ports, which includes two PS/2 ports, two serial ports, one parallel port, six rear USB 2.0 ports, one Gigabit LAN port, and Mic In, Line In, and Line Out, which drive the onboard sound. While the 875P Neo-FIS2R doesn't have rear IEEE 1394 FireWire or optical out like the P4C800 Deluxe, the six rear USB 2.0 ports are a nice touch. The extra USB 2.0 ports are nice as it saves you some time on having to install a USB 2.0 bracket. Of course, we're assuming 6 USB ports are enough, some may want to take advantage of the extra two ports that can be activated via the 9-pin USB 2.0 header and the MSI-bundled two-port bracket.
Like all motherboards with an 875P/ICH5(R) chipset combination, there are two Serial ATA connectors located next to the ICH5 South Bridge (ICH5R in the 875P Neo-FIS2R's case). As you may or may not already know, this new South Bridge controls both SATA connectors and in fact allows a stream of 266MB/s of data instead of the slower, PCI bus constrained 133MB/s which can get awfully clogged with having to attend to other needy components. Read through our 875P chipset review to understand the benefits of placing the Serial ATA controller in the South Bridge as opposed to a separate PCI Serial ATA controller.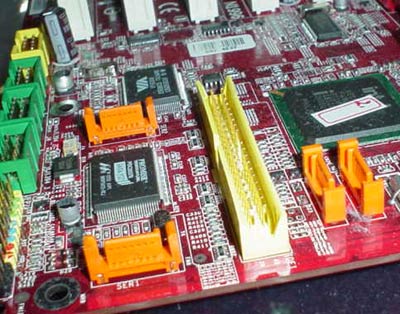 We are very pleased to see that the 875P Neo-FIS2R contains exceptional IDE/Serial ATA drive support. As is always the case there are two standard IDE connectors, dubbed the Primary and Secondary IDE connectors, which support two channels each or up to four IDE drives total.
The 875P Neo-FIS2R's Promise PDC20378 controller powers the third IDE controller on this motherboard, and is capable of supporting exactly two IDE drives. This same Promise PDC20378 controller also powers two Serial ATA connectors in addition to the two ICH5-bound Serial ATA connectors. You'll be able to connect one drive to each of the four SATA connectors powered by the ICH5 and Promise SATA connectors. So in total, you'll be able to connect four SATA and six IDE drives to this motherboard, which equals a grand total of ten possible drives that can be connected to this motherboard. As we said in our ASUS P4C800 Deluxe review, most desktop users will find this feature to be nice instead of necessary; but there will always be those who desire this capability for something a little more potent than desktop usage.
One of the most interesting features MSI has introduced with the 875P Neo-FIS2R is a new proprietary technology dubbed CoreCell. From what we can gather, CoreCell acts as a system "health" monitoring device. In theory, CoreCell is supposed to be able to regulate four things: fan speeds (CPU, North Bridge, etc.) to reduce noise and keep temperatures low, onboard components durability, power savings during idle system activity, and higher overclocking potential (read: performance) through efficient voltage management. Of course, MSI merely provides their own in-house testing as proof, and even these four claims can't be validated by our own labs as there isn't any way of controlling or testing CoreCell; that is, there are no CoreCell options of any kind available in the 875P Neo-FIS2R's BIOS (version 1.0). However, there is a nice CoreCell Windows utility that allows you to adjust fan speeds, but this still doesn't explain MSI's other claims (onboard components durability, power savings during idle activity, etc.). CoreCell seems like a great idea on paper, but until we can reproduce MSI's claims of "better durability" or "50% less fan noise in idle mode", CoreCell will stay a nice idea on paper.
It's nice to see IEEE 1394 FireWire support is included onboard the 875P Neo-FIS2R. The IEEE 1394 FireWire controller is bound to the PCI bus and is powered by the VIA VT6306. One of the few negative things about the ICH5's new features is the lack of native IEEE 1394 FireWire support, and this is why we see the VT6306 controller included with the 875P Neo-FIS2R.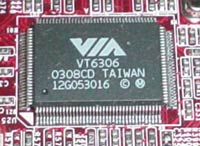 MSI picked a good IEEE 1394 FireWire chip to implement compared to what ASUS picked for their P4C800 Deluxe. That is, the MSI 875P Neo-FIS2R's IEEE 1394 FireWire controller (VIA VT6306) is capable of supporting three independent ports while the ASUS P4C800 Deluxe's VIA VT6307 controller supports just two independent IEEE 1394 FireWire ports. You can activate the 875P Neo-FIS2R's FireWire ports by simply plugging in the three-port FireWire bracket that MSI bundles with the 875P Neo-FIS2R. If you'd like to read more about this controller, visit this web page.