GA-Z170X-Ultra Gaming Board Features
The core selling features of the GA-Z170X-Ultra Gaming are its Thunderbolt 3 support and U.2 port. Thunderbolt 3 supports up to 40 Gbps data rates (over an active cable), USB 3.1 (up to 10 Gbps) and Mini DisplayPort 1.2. The U.2 support is, for the time being, mainly limited to Intel's 750 series SSD drives and a few Samsung Enterprise (PM953) drives, however we want to see more consumer focused drives coming to the market in the near future.
GA-Z170X-Ultra Gaming
Warranty Period
3 Years
Product Page
Link
Price
$150
Size
ATX
CPU Interface
LGA1151
Chipset
Intel Z170
Memory Slots (DDR4)
Four DDR4
Supporting 64GB
Dual Channel
Up to 4133 MHz
Memory Slots (DDR3L)
None
Video Outputs
HDMI 1.4
DisplayPort 1.2
Network Connectivity
Intel I219-V
Onboard Audio
Realtek ALC892
PCIe Slots for Graphics (from CPU)
2 x PCIe 3.0 (x16, x8/x8)
PCIe Slots for Other (from PCH)
1 x PCIe 3.0 x4
3 x PCIe 3.0 x1
Onboard SATA
Six, RAID 0/1/5/10
Onboard SATA Express
Two, RAID
Onboard M.2
1x PCIe 3.0 x4 or SATA, RAID 0/1, NVMe
Onboard U.2
1x PCIe 3.0 x4
USB 3.1
1 x Type-A
1 x Type-C
Intel DSL6540 (Alpine Ridge) Controller
USB 3.0
4 x Rear Panel
2 via headers
USB 2.0
2 x Rear Panel
4 via headers
Power Connectors
1 x 24-pin ATX
1 x 8-pin CPU
Fan Headers
1 x CPU (4-pin)
1 x Pump (4-pin)
3 x CHA/SYS (4-pin)
IO Panel
1 x Combination PS/2
2 x USB 2.0
4 x USB 3.0
1 x USB 3.1 Type-A
1 x USB 3.1 Type-C
1 x Network RJ-45
HDMI 1.4
Mini DisplayPort 1.2
Mini DisplayPort In
Audio Jacks
Optical Sound Cable Insert
Other Features
Thunderbolt Header
TPM Header
Front Audio Header
In The Box
We get the following:
Driver Disk
Manual
Rear IO Shield
Four clear SATA cables
Easy Front Panel Connector
Flexi-SLI cable
Two long cable straps
Cable labels
Case badge
Door notice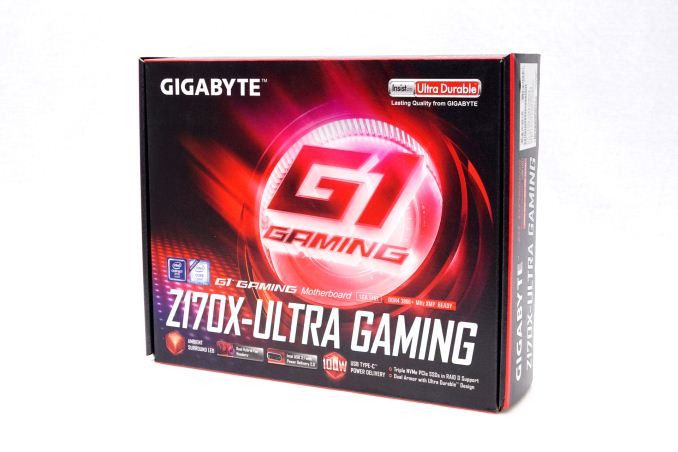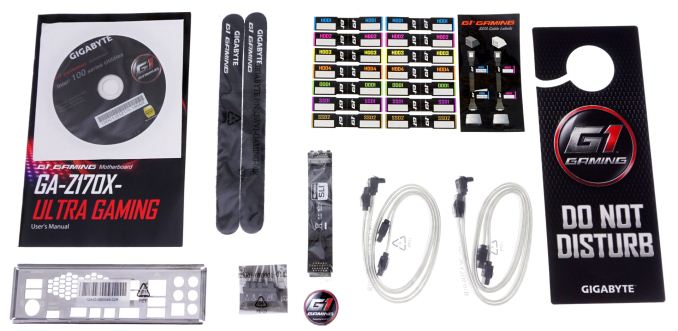 The bundle of the GA-Z170X-Ultra Gaming is good considering the price range of the motherboard. GIGABYTE includes cable labels and two large cable straps that can be especially useful into systems with a large number of devices installed. There are four SATA cables included, even though the motherboard supports more devices, but four should be enough for the majority of this model's target group. We did not find any USB 3.1 front panel attachments, Thunderbolt 3 or Type-C cables included, but that is not unexpected with a keyboard around this price range. As with the target market, the door notice is there as a fun extra, as is the case badge.
Visual Inspection
Much of the company's designing efforts were focused on aesthetics. It is an all-black board, with entirely black, plain heatsinks. It has red LEDs installed, subtly illuminating the system area. GIGABYTE is also implementing "shielding" on the PCIe and DIMM slots, in the form of a metal brace. The metal brace assists in rigidity, preventing wrapping and damage due to excessive force, weight, or the combination of the two. It can be highly practical for users who transport their system or change cards/DIMMs often.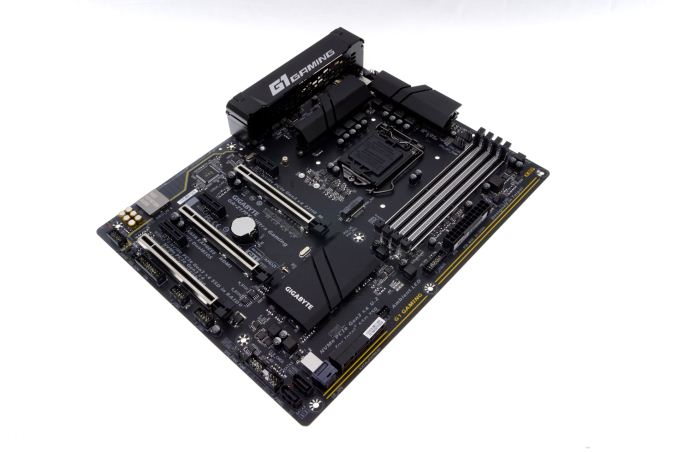 The GA-Z170X-Ultra Gaming is built on a six-layer PCB. There is no mention of the thicker copper layers that some of the Gigabyte Ultra Durable series motherboards had but there are a few other improvements and features aimed to improve the long term reliability of the motherboard. The metallic braces on the DIMM and PCIe slots is such a feature and it does seem to be working well. The PCIe slots have two locking brackets and the shield is soldered onto the board, significantly increasing the strength of the slots and reducing the chances of a heavy card tearing the slot off the board while transporting the system. There are only Fujitsu solid-state capacitors on the GA-Z170X-Ultra Gaming.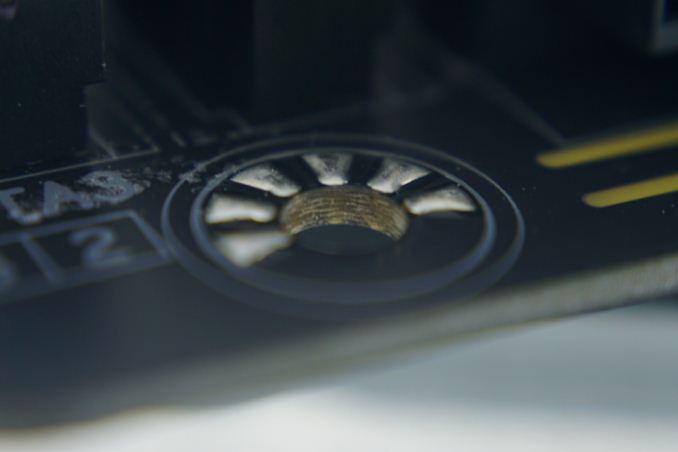 The general layout of the motherboard is versatile and functional. Gigabyte expanded the space between the two primary PCIe 16x slots, allowing better cooling when up to two cards are installed. Despite the expanded space between the slots, the designer placed the M.2 slot between the CPU socket and the first PCIe slot which, depending on the cooling system installed, might allow for easier access to it when the system has been fully assembled. The M.2 slot supports up to 110 mm (22110 type) M.2 drives. There are four fan headers, plus an extra header for a pump. The CPU fan header and the pump header can be seen together to the left of the DIMM slots. This combination should be highly functional for advanced users that combine liquid cooling solutions with air cooling. The three system fan headers are found to the right of the DIMM slots, the top left corner and to the bottom right of the motherboard. We can also notice a "demo LED" header next to the TPM connector, but Gigabyte does not mention anything about it into the board's manual or in their website.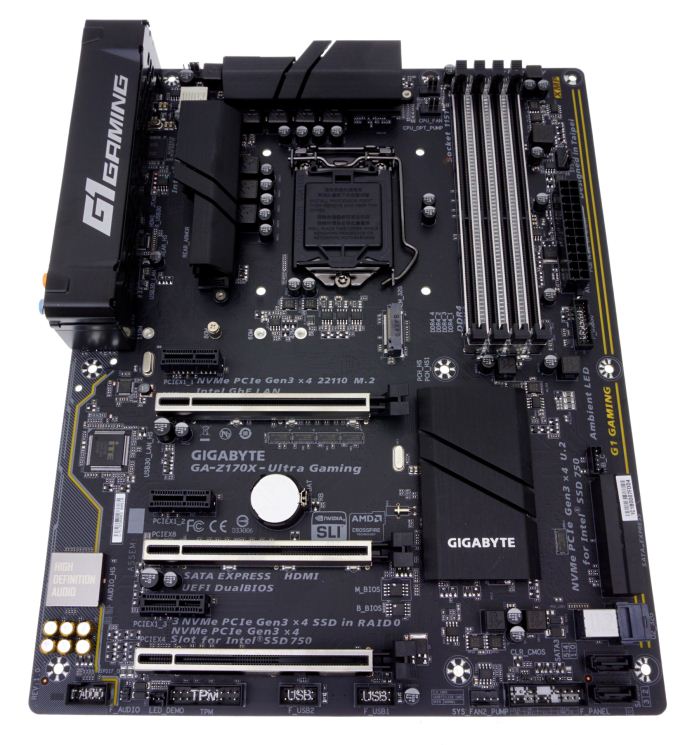 A look at the rear panel of the GA-Z170X-Ultra Gaming reveals a PS/2 port, two USB 2.0/1.1 ports, four USB 3.0 ports, a LAN cable connector, five 3.5 mm audio jacks and one optical audio cable insert, an HDMI 1.4 connector, one Mini DisplayPort 1.2 and one Mini DisplayPort In, one USB 3.1 Type-C and one USB 3.1 Type-A connector. Most new motherboard tend to have HDMI 2.0 connectors nowadays, but the use of an HDMI 1.4 on a motherboard aimed towards gamers is not a significant omission, as no gamer would ever dream about running games at a 4K resolution using the onboard graphics. It does become an issue if the user wants to connect a secondary device, such as a 4K TV, on the onboard graphics card.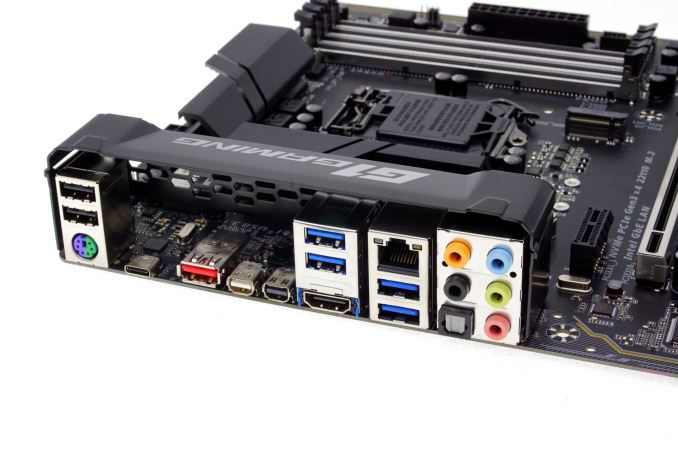 Removing the heatsinks, we found that the chipset heatsink is barely making contact with the chipset core. The chipset however does not have high cooling requirements; with the exception of serious overclockers, who are certain to at least properly add quality thermal paste there, this should not be an issue for typical users.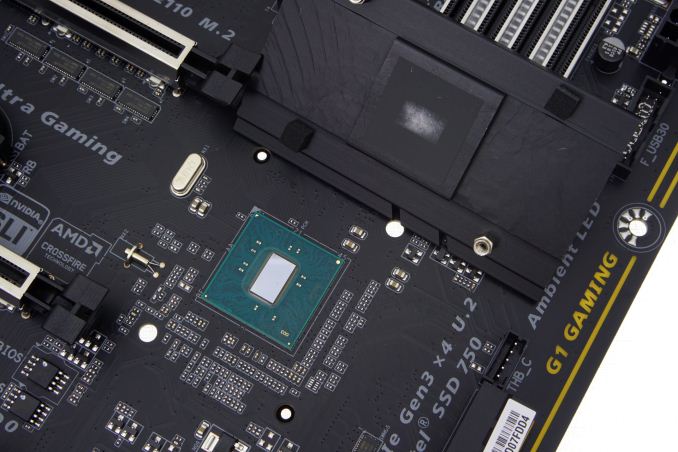 Having a closer look at the CPU power delivery circuit, we can see an Intersil 95856 controller driving a combination of Vishay SIRA18 and SIRA12 MOSFETs. It might appear as if the motherboard has a 7-phase CPU rail but remember that modern CPUs require more than one voltage. Specifically, the 1151 CPU requires four different input voltages (Core, I/O, Graphics and System). This motherboard has only a 2-phase Core rail and a 2-phase Graphics rail, which do get the job done but are not exactly ideal for overclocking. A two-phase circuit using Vishay SIRA12 MOSFETs powers the RAM modules. Near the I/O panel we can see the Intel's DSL6540 (formerly known as Alpine Ridge) Thunderbolt 3 controller, the Intel I219V network controller, the TPS65982 USB Type-C power delivery controller and the NXP PTN3360DBS HDMI/DVI level shifter. The Realtek ALC892 is beneath a small metallic heatsink/shield that reads "high definition audio". An iTE IT8628E provides onboard monitoring and thermal controls. Numerous Asmedia ASM1480 multiplexer chips can be found thorough the board for managing the PCIe lanes.