We have already discussed a couple of the other aspects of the Banias architecture from tidbits of information revealed at previous Intel Developer Forum conferences. The name of the game with Banias is efficiency, and thus the Israel design team introduced a technology called micro-ops fusion into the Banias core.
The idea behind micro-ops fusion is to bundle micro-ops (decoded instructions) together before sending them down the pipeline to the execution units. The idea behind micro-ops fusion is that the pipeline is not used unless a fixed number of micro-ops are ready to be sent down the pipe, thus the efficiency of the overall pipeline is improved. Obviously the downside to this approach is increased latency, but as you will see with a number of the design decisions behind Banias, the power savings enable higher overall performance at the end of the day.
Banias' dedicated stack manager is another power saving tool integrated into the Banias architecture that is designed to manage stack pointers and other stack-related data. Remember that stacks are used to store information about the current state of the CPU including data that cannot be kept in registers due to limits in the number of available registers, thus a dedicated manager can help performance considerably. As usual, whenever efficiency is improved power consumption is optimized which is the case with Banias here as well.
The combination of a very advanced branch predictor, micro-ops fusion and a dedicated stack manager make Banias a very interesting architecture. Despite having a 20 - 50% longer pipeline, Banias still maintains a significantly higher IPC than the Pentium III, which is not an insignificant achievement. Remember from our discussions about the Pentium 4 that IPC (Instructions executed Per Clock) is generally reduced by moving to a longer pipeline, but is made up for by the fact that longer pipeline architectures can reach higher clock speeds. With Banias, we have an architecture that already has a longer pipeline than the Pentium III, thus enabling higher clock speeds, all while boasting a higher IPC - you're in fact getting the best of both worlds with Banias.
In order to feed the higher IPC execution core, Intel outfitted the Banias with a 64-bit 100MHz quad-pumped FSB, identical in design to the Pentium 4's FSB. The Banias' FSB is even electrically compatible to the Pentium 4's FSB, which is why any Pentium 4 chipset is able to interface with the chip as we saw at IDF with this E7501/Banias setup: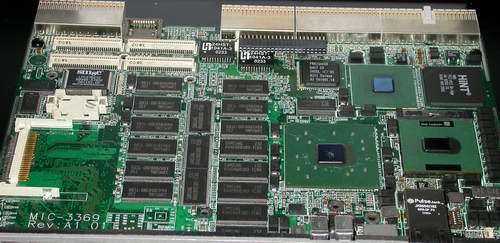 Click to Enlarge
If you're picking up on the fact that Banias is significantly different from the Pentium III, then you're on the right track…