Although NVIDIA launched their nForce2 chipset back in July of last year, it took another four months before it evicted VIA from the top of the Athlon XP market. After the lackluster performance of the original nForce, we took no chances in wholeheartedly recommending a NVIDIA chipset before seeing it in action; NVIDIA failed to deliver on their first attempt, why should we believe that they would deliver on their second try?
It just so happened that NVIDIA's second try was an extremely strong effort, and the nForce2 quickly dethroned the KT333/KT400 as the chipset to have for Athlon XP systems.
Since those days last October, we haven't heard much from VIA. On the Pentium 4 side, VIA's chipsets continue to be outsold by their SiS counterparts, entirely thanks to the legal issues surrounding VIA's ability to manufacture Pentium 4 chipsets. For Socket-A platforms, VIA's market share was slowly eroding as new users began purchasing nForce2 motherboards instead of VIA based solutions. What kept VIA around all this time was actually their lesser performing products; the C3 and all its integrated glory continue to sell very well in countries like India, and thus VIA continued to thrive, without the public presence they had in previous years.
If you remember back to how VIA got into the position of a leader in the chipset industry, you'll note that it wasn't innovation, superior performance or engineering excellence that finally thrust VIA into the limelight - it was a series of poor decisions on Intel's part to force the high-end market towards RDRAM that gave VIA the opportunity to be more than just a low-cost manufacturer. After being put in a leadership position seemingly overnight, VIA managed to adapt quite well and ended up producing some very solid designs; the KT266A & KT333 were quite possibly the most impressive chipsets to ever come out of VIA, but after being knocked out of the ring by NVIDIA, would VIA ever return?
At the beginning of November of last year we mentioned that VIA had just started the KT400A project just one month prior. Having started the project that late in the year, it was almost a certainty that we wouldn't see anything until this year, but we still saw a few reference boards come Comdex time. VIA contemplated going dual-channel DDR with KT400A and contemplated it seriously enough that when confronted about it, they even mentioned that it may be necessary, a complete 180 from their old policy on a 128-bit memory interface.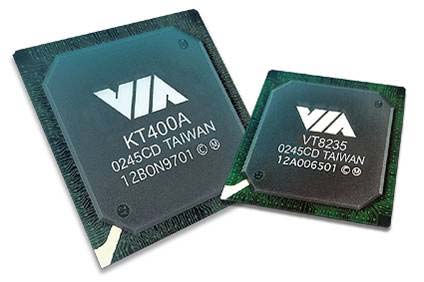 The dual-channel DDR version of the KT400A was eventually scrapped and VIA went ahead with their usual methods of updating a chipset - fine tuning the memory controller and bringing a new South Bridge to market. Designed by the same woman that has done virtually all of VIA's memory controllers, the KT400A was born - equipped with a faster memory controller and with a new South Bridge coming down the pipe.