There's a lot to talk about on the second day of IDF; we just finished the keynote and there's a wealth of information to report so let's get to it...
Anand Chandrasekher talks about Centrino
With Intel's Centrino mobile technology due to be launched on March 12, it's no surprise that the first topic of discussion for today's keynote was Centrino and the Pentium M processor.
To clear up the confusion, the Centrino brand name can only be used in mobile solutions where the following components are in place - Intel Pentium M processor (formerly known as Banias), Intel 855 chipset and Intel Pro/Wireless 2100 networking hardware. So when we talk about Centrino, we're actually talking about a mobile technology and not an individual CPU.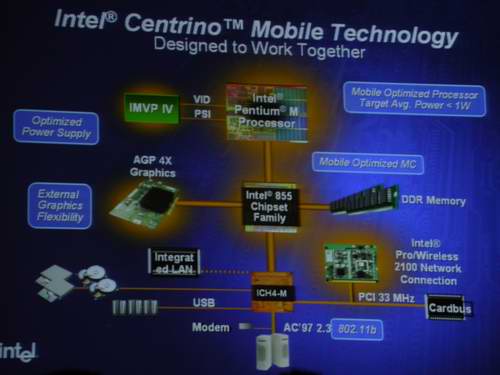 Intel's strategy with Centrino is to offer an incredible amount of marketing dollars to aid their partners that choose to implement the Centrino mobile technology over the next two years (on the order of $2 billion). By doing this, Intel effectively pushes all competing chipset manufacturers out of the mobile business (remember, you need to use the 855 chipset if you want to call your notebook a Centrino), since no manufacturers would even dream of turning down Intel's marketing dollars. Looking at Intel's desktop chipset strategy, it's clear that Intel is intent on being the single chipset provider for as much of the PC industry as possible by using their marketing muscle to their benefit. Thankfully Intel currently makes the most reliable, high performing chipsets around, so there's nothing to complain about here.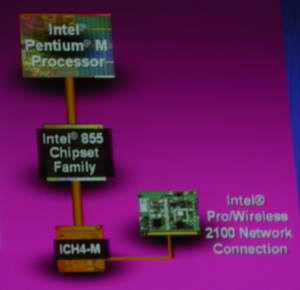 As we've mentioned before, the Pentium M (Banias) borrows a significant architecture base from the Pentium III core but with a handful of power enhancements. Performance enhancements include a 1MB L2 cache, the largest for any desktop/mobile 0.13-micron CPU as well as a 400MHz NetBurst FSB identical to the one used in the first Pentium 4s. In order to save power you won't see 533MHz FSB support, nor will you see anything other than DDR266 memory used on Centrino platforms.