The Witcher 3
The third game in CD Projekt RED's expansive RPG series, The Witcher 3 is our RPG benchmark of choice. Utilizing the company's in-house engine, REDengine 3, The Witcher makes use of an array of DirectX 11 features, all of which combine to make the game both stunning and surprisingly GPU-intensive. Our benchmark is based on an action-heavy in-engine cutscene early in the game, and Hairworks is disabled.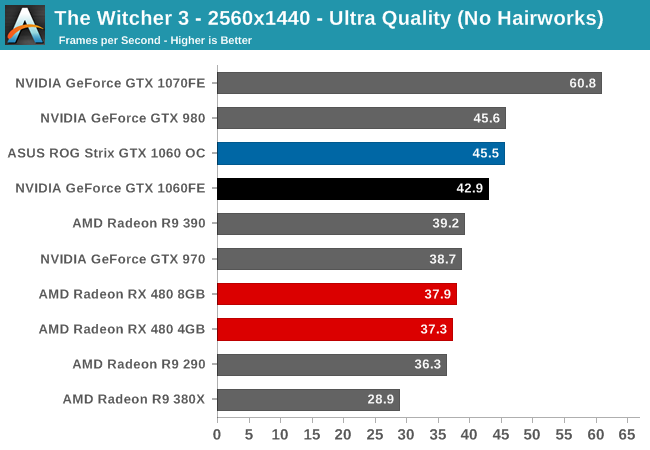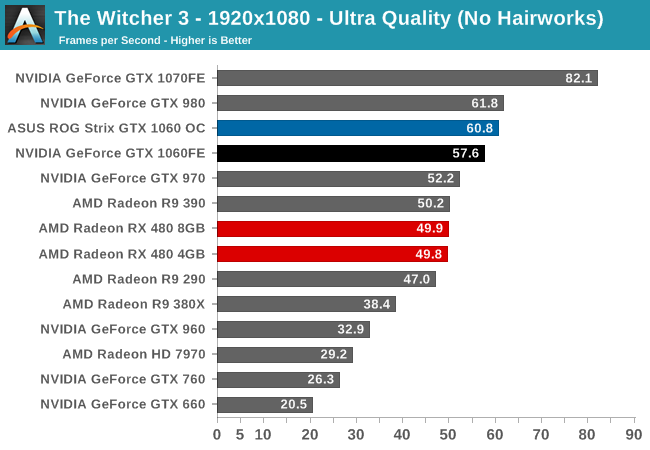 In terms of absolute performance, I'm a bit surprised that the GTX 1060 can't crack 60fps at 1080p. 57.6 isn't too far off the mark, but for what's otherwise meant to be NVIDIA's ultimate 1080p gaming card, it's not quite ultimate enough to hit 60fps on a year-old game.
In any case this does put GTX 1060 a bit farther behind the GTX 980 than usual, delivering around 94% of its high-end predecessor's performance. Or to compare the card to GTX 960, it nets a 75% performance gain. Otherwise this also happens to be a game where the GTX 1060/1070 gap is a smidge larger than usual, with GTX 1060 delivering 70% of GTX 1070's performance.
Finally, as for the RX 480 comparison, GTX 1060 is yet again solidly in the lead. Here we see it deliver 12-15% more performance than the 8GB RX 480, depending on the resolution.