System Performance
The Meizu M3 note and Xiaomi Redmi Note 3 share similar hardware specifications, but one difference stands out: the SoC. The M3 note uses an octa-core MediaTek Helio P10 with four Cortex-A53 CPU cores running at up to 1.8GHz and four more restricted to 1.0GHz. This arrangement is pretty common in this price range; the Huawei Honor 5X we reviewed uses a Qualcomm Snapdragon 616 SoC with eight A53 cores too, with four running at up to 1.5GHz and four more at up to 1.2GHz.
The Xiaomi Redmi Note 3 stands out, however, with its Snapdragon 650 SoC. It also uses four "LITTLE" A53 cores at up to 1.4GHz, but uses two Cortex-A72 cores for its "big" cluster. Running at up to 1.8GHz, the A72 cores use an out-of-order architecture that's capable of much higher performance than the simpler, in-order A53 cores, which should give the Redmi Note 3 an advantage over its peers.
In a bid to help extend battery life, Meizu's Flyme OS provides three different power modes: Saving, Balance, and Performance. The Saving mode sacrifices performance for longevity, shutting down the "big" cluster and limiting the M3 note to a quad-core A53 CPU running at up to 1.0GHz. The Balance mode disables two of the slower 1.0GHz cores, but leaves the other six cores available at their max frequencies, while the Performance mode allows all eight cores to run at their max frequencies if necessary. In our Meizu PRO 5 review, we tested both the Balance and Performance modes and noticed a small increase in battery life accompanied by a small reduction in performance that generally was not noticeable. When testing the M3 note, however, we see no appreciable difference in either performance or battery life between the Balance and Performance modes. Most threads doing any significant work migrate to the faster cluster, so shutting down two of the slower 1.0GHz cores has little effect, and the small amount of leakage current saved from the two A53 cores is small relative to the phone's overall dynamic power. For this reason we're only showing results for the M3 note in Performance mode.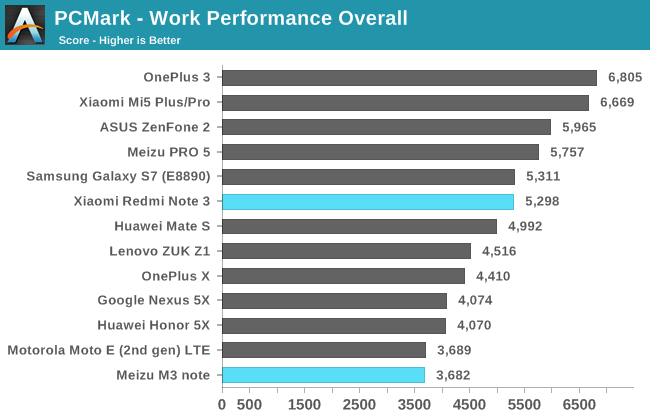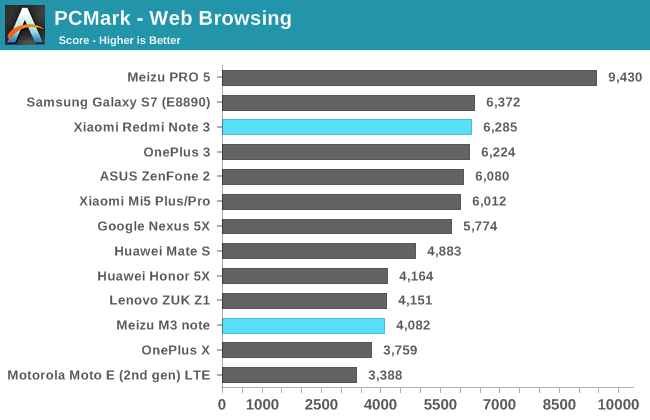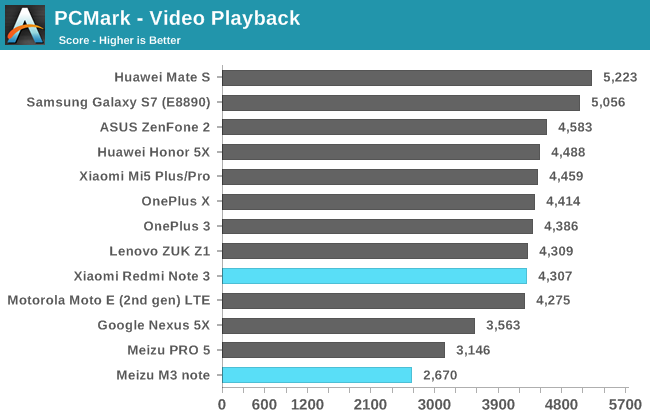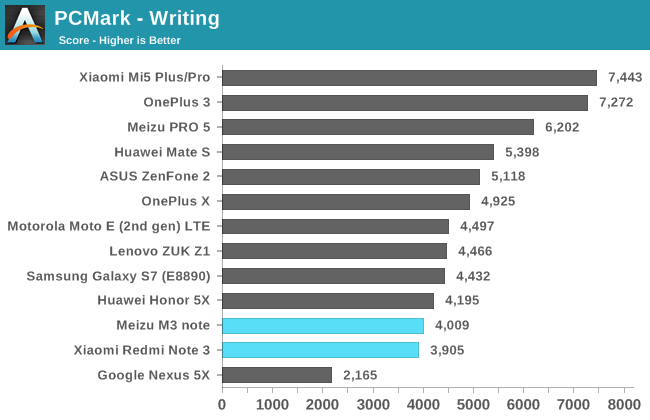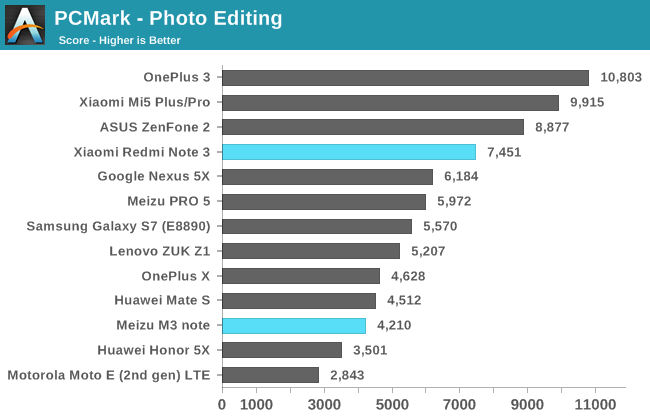 Synthetic micro-benchmarks are useful when evaluating architectural differences between processors, but the results do not always correlate with real-world experience. This is why we use PCMark, whose real-world workloads stress overall system performance by using the CPU, GPU, RAM, and NAND storage. It also realistically captures the CPU governor's behavior, which makes it easier to extrapolate its results to apps we use everyday.
The PCMark Overall score shows the M3 note performing on par with the Moto E and its Snapdragon 410 SoC, indicating a rather slow experience, while the Redmi Note 3 manages to equal the flagship Galaxy S7's (Exynos version) score! Digging a little deeper shows the Redmi Note 3 performing well in the web browsing and photo editing tests, equaling the Galaxy S7's performance in the former and surpassing it in the latter. It only falters in the writing test, where it tends to keep core clocks below their max frequency, resulting in performance similar to the M3 Note and Honor 5X.
The Mate S and its higher-clocked, octa-core A53 CPU predictably outperforms the M3 note in all PCMark tests. Other than the video playback test, where both of Meizu's phones perform rather poorly, the M3 note performs as expected, with results similar to the Honor 5X and Snapdragon 801-powered OnePlus X and ZUK Z1.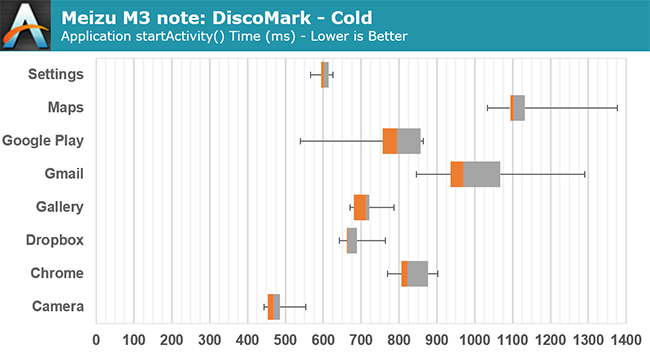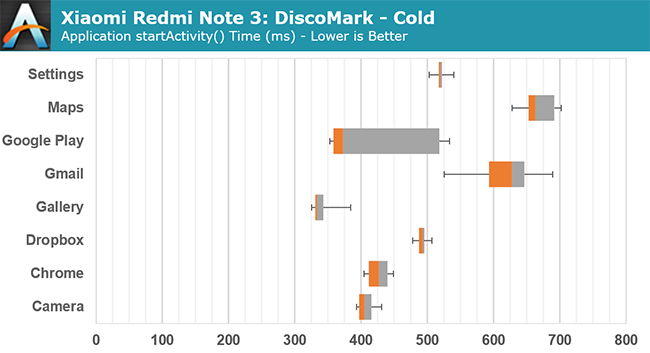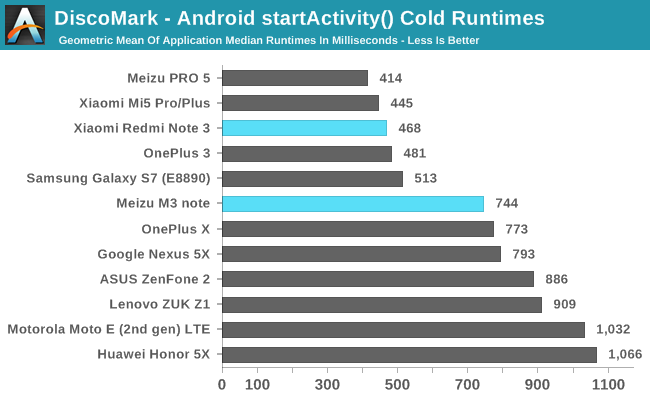 DiscoMark is a recent addition to our test suite that measures application launch times by taking advantage of Android's accessibility services to monitor an application's startActivity() method. Our LG G5 review has a more in-depth explanation of how this test works and our testing methodology.
When it comes to opening apps, the Redmi Note 3 performs as well as current flagships, which is quite an impressive feat for a phone that costs so much less. The M3 note is quite a bit slower, although its performance is not bad relative to other phones in this price range. The Redmi Note 3 is just a step ahead here. Using these two phones side by side, the performance delta is very noticeable; the M3 note just feels slow by comparison.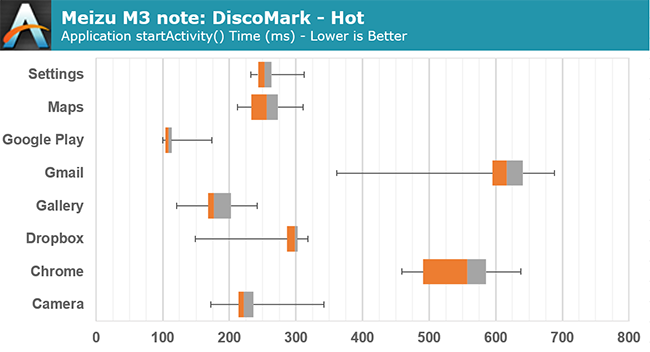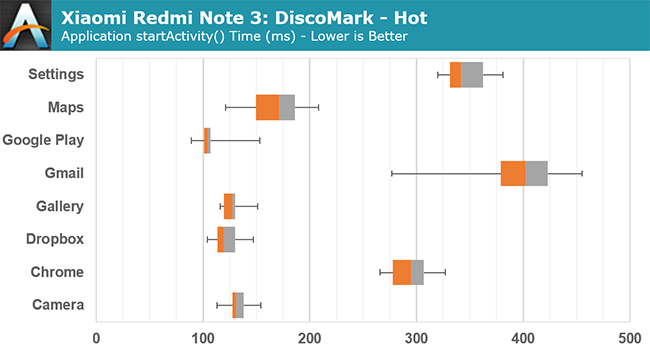 We see a tighter grouping when switching between apps that are already loaded in RAM, with all of the phones shown in the chart above performing pretty well except for the Moto E. The Redmi Note 3 manages to outperform the M3 note by 31%, which again is noticeable during use. This is all the more impressive considering the M3 note performs about the same as the OnePlus 3 and Galaxy S7 Exynos in this test.
Our real-world test results correlate well with my subjective experience using these two phones. The M3 note definitely lags behind the Redmi Note 3 when opening and switching between apps as well as workloads that require more than a short burst of CPU activity. The perceived performance delta between these two phones is smaller in other areas, however. Both phones do a good job keeping the UI fluid. Browser scrolling performance is not bad either, although the Redmi Note 3 is definitely quicker with fewer dropped frames. Neither phone seems overly aggressive at evicting open apps or content from memory, maintaining a pretty good multitasking experience. Our Redmi Note 3 review unit with 3GB of RAM experiences fewer reloads than our M3 note with 2GB of RAM, which is to be expected.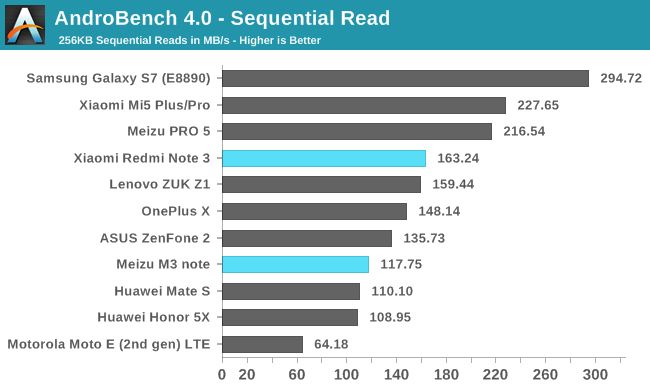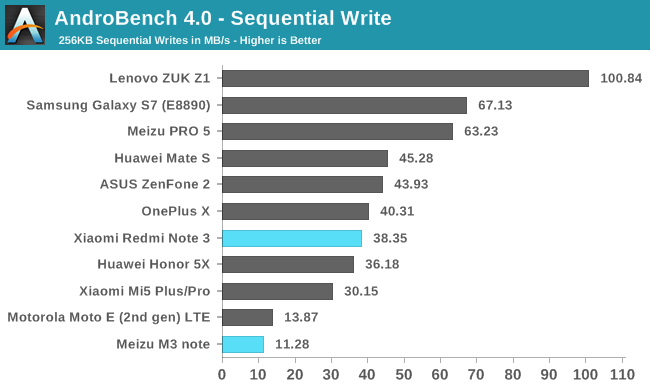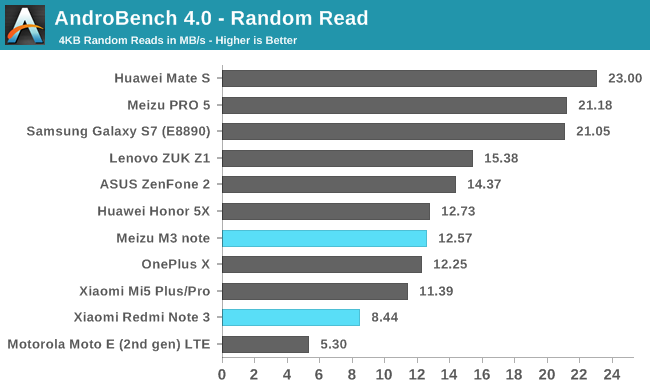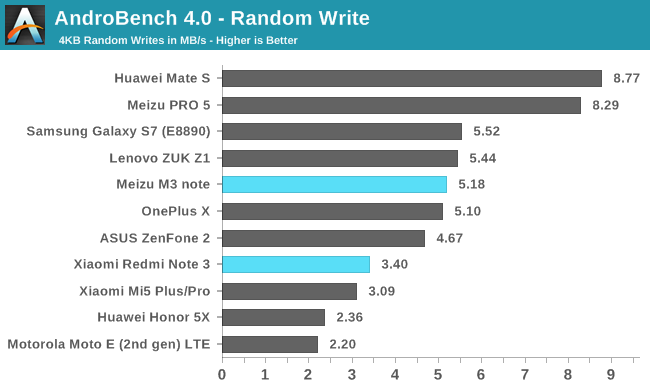 Turning to our internal storage test, neither phone matches the sequential read performance of the more-expensive phones, but the Redmi Note 3 is almost 40% faster than the M3 note. Its sequential write performance is more in line with its peers, while the M3 note does rather poorly in this metric, trailing even the Moto E. The M3 note seems better tuned for random performance, outperforming the Redmi Note 3 in both random reads and writes by about 50%.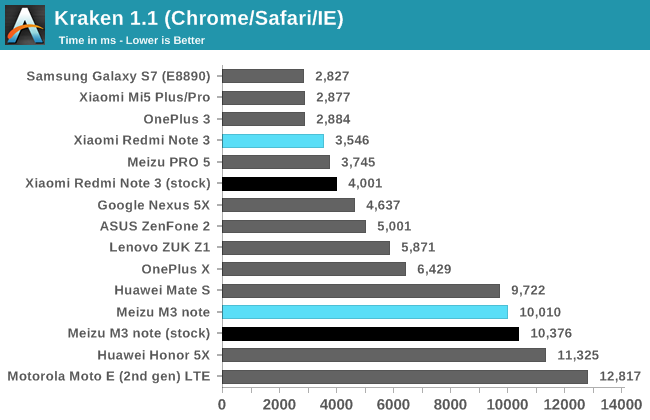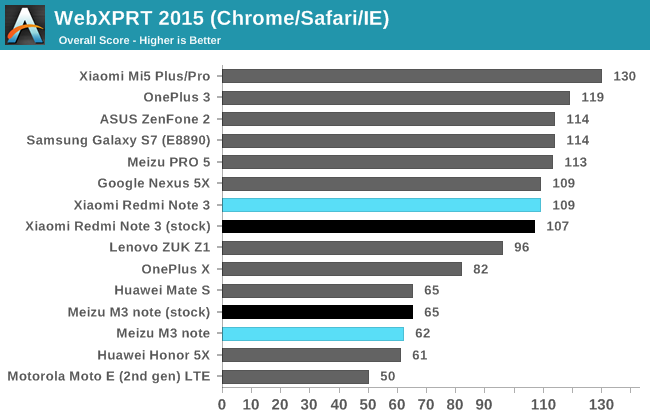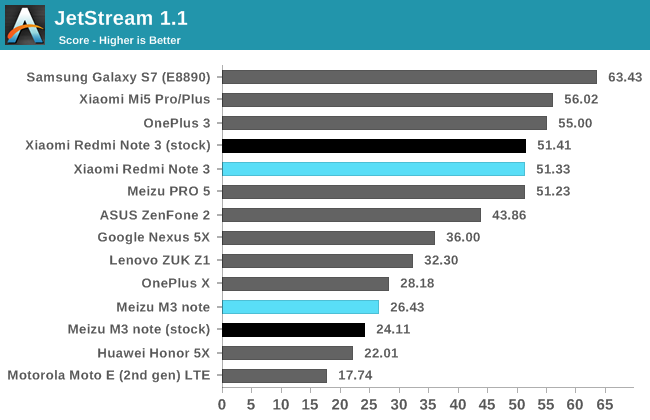 In the JavaScript tests, the M3 note and the other phones using octa- and quad-core A53-based CPUs all cluster towards the bottom of our charts, falling behind the OnePlus X and ZUK Z1, which both use the older Snapdragon 801 SoC. The Redmi Note 3 offers similar performance to the Meizu PRO 5 and its Exynos 7420 SoC in both Kraken and JetStream, and delivers twice the performance of the M3 note. Both Meizu's Flyme OS and Xiaomi's MIUI have their own stock browsers, but their JavaScript performance is not any better than Chrome's.
Overall the M3 note and its octa-core Helio P10 SoC perform about the same as other phones around its price point that also use A53-based SoCs. The only area where it falls a little behind is with sequential reads and writes to internal storage. I would consider the M3 note's performance to be good enough for casual smartphone users that rely on their phone primarily for communication and some web browsing, but more demanding users will likely feel bottlenecked by its performance.
The Redmi Note 3, however, offers a completely different experience. The A72 CPU cores in its Snapdragon 650 SoC elevate performance to near flagship levels. It feels quite fast in everyday use, significantly more so than the other devices we tested that cost around the same price. The Redmi Note 3 is definitely a great value in terms of system performance.