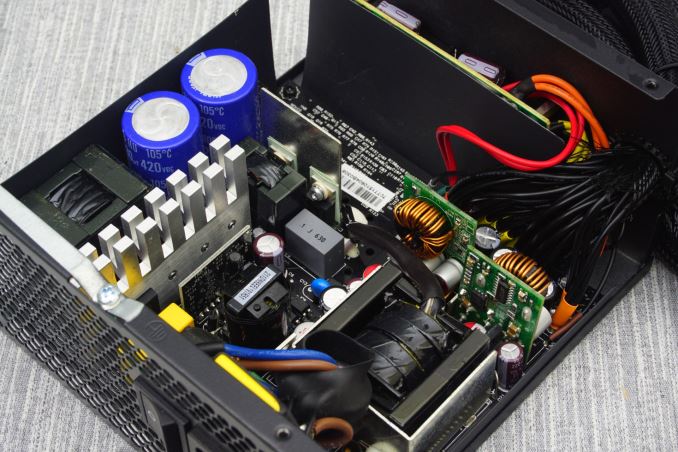 Founded back in 1988, Raidmax is one of the oldest PC case and PSU manufacturers. Due to the lack of brand management, the company is not very well known in several parts of the world, but they are highly regarded in Asia and relatively well-known in the American market. The primary philosophy of the company was, and still is, the provision of unique but cost-effective designs. Over the last few years, the company has released several high performance products that stray away from their typical base philosophy to appeal to enthusiasts.
Introduction
Today we will be having a look at the Monster Power RX-700AT, one of Raidmax's most advanced PSUs currently available. The RX-700AT is a product that strays away from the company's main philosophy, as it is an 80Plus Titanium certified, top tier performance PSU with a hefty price tag of $160 plus shipping at the time of this review. 80Plus Titanium certified units generally are very expensive, so Raidmax has stepped in to try and offer one at a relatively reasonable price that could appeal to a larger user base. It has rather impressive specifications but it remains to be seen whether it can also be a competitive product with such a retail price.
Power specifications ( Rated @ Unknown °C )
AC INPUT
100 - 240 VAC, 50 - 60 Hz
RAIL
+3.3V
+5V
+12V
+5Vsb
-12V
MAX OUTPUT
20A
20A
58A
2,5A
0,3A
100W
696W
12.5W
3.6W
TOTAL
700W
Packaging and Bundle
Raidmax supplies the RX-700AT inside a well-designed, sturdy cardboard box. The artwork on the box is attractive without being extravagant, mainly focused on pictures of the PSU itself and icons denoting its main features. Inside the box, the PSU is well protected sandwiched between two thick pieces of polystyrene foam.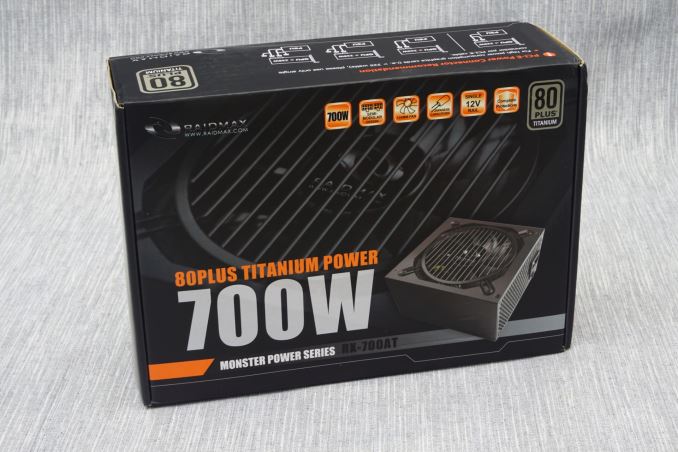 Raidmax supplies a fairly rich bundle alongside their top tier PSU. Inside the box we found a standard AC power cable, four silver mounting screws and four black thumbscrews, several cable ties in two lengths, three classic cable straps and a fairly informative manual.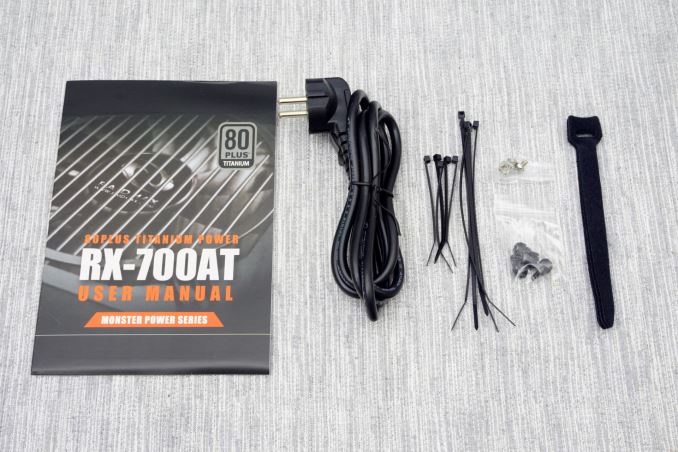 The modular cables of the Monster Power RX-700AT PSU come supplied in a reusable nylon bag with a zipper. All of the wires and the connectors are black. Moreover, the thicker PCI-E cable is the only modular cable with a single sleeving encompassing all of the wires. The Molex and SATA connector cables have per-wire sleeving.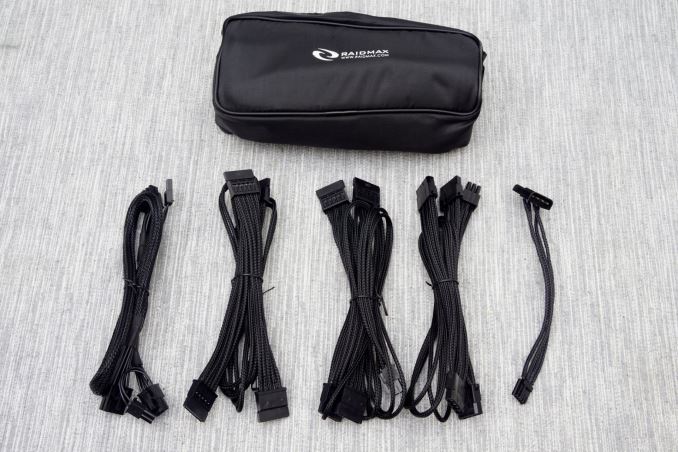 RaidMax RX-700AT 700W 80Plus Titanium
Connector type
Hardwired
Modular
ATX 24 Pin
1
-
EPS 4+4 Pin
1
-
EPS 8 Pin
-
-
PCI-E 6+2 Pin
2
2
PCI-E 8 Pin
-
-
SATA
-
8
Molex
-
4
Floppy
-
1