Middle-Earth: Shadows of Mordor at 3 GHz
The final title in our testing is another battle of system performance with the open world action-adventure title, Shadows of Mordor. Produced by Monolith using the LithTech Jupiter EX engine and numerous detail add-ons, SoM goes for detail and complexity to a large extent, despite having to be cut down from the original plans. The main story itself was written by the same writer as Red Dead Redemption, and it received Zero Punctuation's Game of The Year in 2014.
For testing purposes, SoM gives a dynamic screen resolution setting, allowing us to render at high resolutions that are then scaled down to the monitor. As a result, we get several tests using the in-game benchmark, taking results as the average and minimum frame rates.
For this test we used the following settings with our graphics cards:
Shadow of Mordor Settings
Resolution
Quality
Low GPU
Integrated Graphics
1280x720
Low
ASUS R7 240 1GB DDR3
Medium GPU
MSI GTX 770 Lightning 2GB
1920x1080
Ultra
MSI R9 285 Gaming 2G
High GPU
ASUS GTX 980 Strix 4GB
1920x1080
3840x2160
Ultra
Ultra
MSI R9 290X Gaming 4G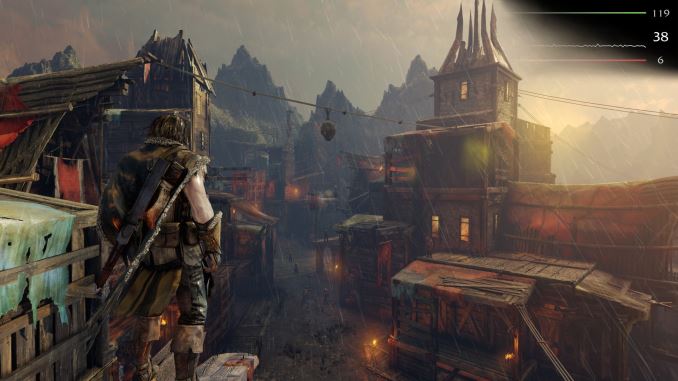 Carrizo takes miniture solace here in that it beats the Kaveri CPU at 4K with a GTX 980, albeit within the margin of error. SoM typically performs very similar no matter the processor, especially on NVIDIA cards. We haven't included the R9 285 results, as there seems to have been a recent update pushing values 30% higher than expected for the Kaveri on this GPU, and given the results trend it would seem to be more than simply L2 or PCIe lane difference, especially to the Trinity/Richland parts.