Grand Theft Auto V at 3 GHz
The highly anticipated iteration of the Grand Theft Auto franchise finally hit the shelves on April 14th 2015, with both AMD and NVIDIA in tow to help optimize the title. GTA doesn't provide graphical presets, but opens up the options to users and extends the boundaries by pushing even the hardest systems to the limit using Rockstar's Advanced Game Engine. Whether the user is flying high in the mountains with long draw distances or dealing with assorted trash in the city, when cranked up to maximum it creates stunning visuals but hard work for both the CPU and the GPU.
For our test we have scripted a version of the in-game benchmark, relying only on the final part which combines a flight scene along with an in-city drive-by followed by a tanker explosion. We record both the average frame rate and the percentage of frames under 60 FPS (16.6ms).
For this test we used the following settings with our graphics cards:
Grand Theft Auto Settings
Resolution
Quality
Low GPU
Integrated Graphics
1280x720
Lowest
ASUS R7 240 1GB DDR3
Medium GPU
MSI GTX 770 Lightning 2GB
1920x1080
Very High
MSI R9 285 Gaming 2G
High GPU
ASUS GTX 980 Strix 4GB
1920x1080
Very High
MSI R9 290X Gaming 4G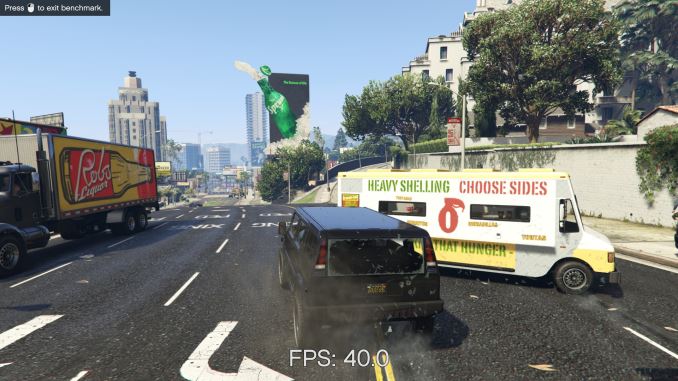 If we look purely at the average frame rates first, the same pattern as the other tests shows here. Carrizo sits between Kaveri and Trinity, anywhere from 3-7% behind Kaveri.



If we compare the time spent under 60 FPS, again Kaveri takes the lead over Carrizo. The low end GPU is interesting, showing a good trend towards the newer microarchitectures, but still in favor of Kaveri with 4 MB of L2 cache over Carrizo with 2 MB of L2.