Construction
The first thing we noticed about the Samsung 763MB CRT is that its not really a CRT at all.  Samsung has dropped the term "Cathode Ray Tube" in favor of CDT, or "Color Display Tube."  CDT specifically refers to computer displays, while CPT (color picture tubes) specifically refer to TV tubes.  That aside, there are several key features that drew our attention on the 763MB.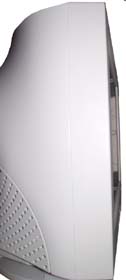 The first thing we noticed about the monitor was its perfectly flat MagicBright tube.  We will talk more about the MagicBright tube later.  The 763MB has a maximum resolution of 1280x1024.  For our partical purposes, this resolution seems very fit for a 17" monitor.  Samsung also has two other 17" CDT's with higher resolutions, the 765MB and the 757MB.  A resolution of 1600x1200 seems to be a little high on a 16" viewable screen.  Unless you plan on doing advanced imaging, the Samsung 763MB appears to be the most practical monitor in the 7xxMB series.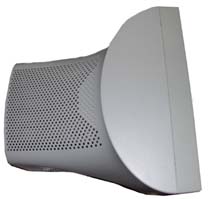 The design of the 763MB was simple and clean.  Samsung went through a lot of care to round as many edges as possible.  Other than that, the 763MB is fairly ordinary in design as CRT's go.  The CDT sits on a swiveling base, so that the monitor is able to rotate a few degrees in each direction.  Unlike the L17AT, this basic design feature is only for fine position adjustment, rather than presentation.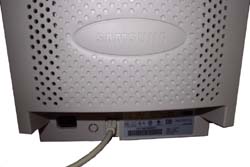 The only disappointing feature in the construction of the monitor was the lack of a removable 15-Pin D-sub.  Even for Samsung, we have found the included analog input cables are often mediocre quality.  We have a strong feeling that a higher quality cable would decrease the amount of ghosting and streaking in the benchmark suite near the end of the review.  From our experience, it does not take much interference to create streaking and ghosting on the monitor.  Except for a few rare occasions, we have found the investment of a 20USD high quality 15-pin analog cable can go along way to preventing interference.
CDT

17'' MagicBright (16'' Viewable)

pixel pitch: 0.2mm (H/V)
MultiLayer Coating

Scanning Frequency

Horizontal: 30-70kHz
Vertical: 50-160Hz

Compatibility

1280x1024 @ 65Hz

1152x864 @ 77Hz

1024x768 @  86Hz

800x600 @ 109Hz

640x480 @ 134Hz

Dimensions (WxHxD)

16.4" x 17.7" x 8.2"

Power

Working : 81W Max

Standby/Off: 3W

Weight

16.0 Kg

Warranty

3 years parts and labor