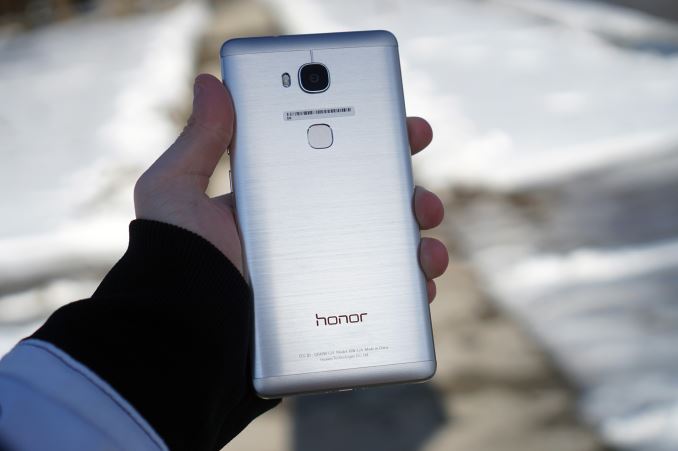 Late last year Huawei introduced the Honor 5X, a phone branded and sold under their Honor sub brand for their home Chinese market. A few months later, the company announced that it would be the first Honor branded smartphone to launch in the United States, and we were first given access to the phone during Honor's launch event in Las Vegas. With the Honor 5X the company is hoping to bring a great smartphone experience with capable specifications to a relatively low $199 price point, delivering a phone at the tail-end of the mid-range category that should be able to punch above its weight.
Unlike some of Honor's more expensive devices like the Honor 6, the Honor 5X doesn't come with one of HiSilicon's Kirin SoCs, and opts for a Qualcomm part instead. You can view the entire spec sheet for the Honor 5X in the table below.
Huawei Honor 5X Specifications
SoC
Qualcomm Snapdragon 616
4 x 1.5GHz Cortex A53 (Performance)
4 x 1.2GHz Cortex A53 (Efficiency)

Adreno 405
RAM
2GB LPDDR3-800
NAND
16GB + microSD
Display
5.5" 1920x1080 IPS LCD
Modem
2G / 3G / 4G LTE Category 4
(Integrated Qualcomm X5 Modem)
Dimensions
151.3mm x 76.3mm x 8.15mm; 158g
Camera
Rear Facing
13MP
f/2.0 28mm equivalent IMX214
Front Facing
5MP
f/2.4 22mm equivalent OV5648
Battery
3000 mAh (11.4Wh)
Launch OS
Android 5.1.1 with EmotionUI 3.1
Connectivity
802.11 b/g/n 2.4 GHz Only, Bluetooth 4.1
GPS/GNSS, Micro USB 2.0
Launch Price (US)
$199
At $199, the Honor 5X certainly gives you a lot for your money. It's powered by Qualcomm's Snapdragon 616 SoC. This is essentially a revised 615 with the Cortex-A53 performance cluster clocked at 1.5GHz and the efficiency cluster at 1.2GHz. It's worth noting that we've actually seen Snapdragon 615 designs clocked at 1.5GHz and 1.11GHz, so this is just a small frequency bump on the second cluster and it isn't something I'd expect to see significantly affect performance in the real world.
Snapdragon 616 uses Qualcomm's Adreno 405 GPU. This is something that sets the Honor 5X apart from other Snapdragon 400-series based mid-range devices like the Moto G, as we've observed Adreno 405 perform three times faster than Adreno 305 and 306 in some situations. While Adreno 405 isn't a GPU that will run the newest 3D games in 1080p, it's enough to run simpler 3D titles at a lower resolution, and it should have no problems with the majority of simple 2D smartphone games.
The Honor 5X's display is a 5.5" 1920x1080 IPS panel. I'm surprised that 1080p displays have come to the mid range market as quickly as they have, and it's looking like we won't be seeing many 720p displays outside of the sub $200 range going forward.
Huawei has chosen Sony's IMX214 for the rear-facing camera, and OmniVision's OV5648 for the front-facing camera. IMX214 has become one of the choice cameras for mid range devices, with the 2015 Moto G also using it. Since it wasn't long ago that flagship smartphones like the Nexus 6 were shipping with it one can hopefully expect good photos, although the quality of an OEM's image processing and the capabilities of the SoC's image signal processor will also have a significant impact on image quality.
The rest of the Honor 5X's specs are fairly standard for this price point. You have 2GB of LPDDR3 memory, 16GB of NAND and a MicroSD slot, and 2.4GHz 802.11n WiFi plus Bluetooth 4.1 and GPS. The Honor 5X is powered by a 3000mAh battery, which is about what you'd expect from a 5.5" device with a roughly 8mm profile.
Design
One of Huawei's big marketing points with the Honor 5X is the fact that it sports an aluminum chassis, which definitely helps to set it apart from most other mid range devices that are primarily made of plastic. While the materials used in a phone play a large role in whether it feels like a high quality device, there are many other factors that also contribute to whether it feels nice to hold in the hand.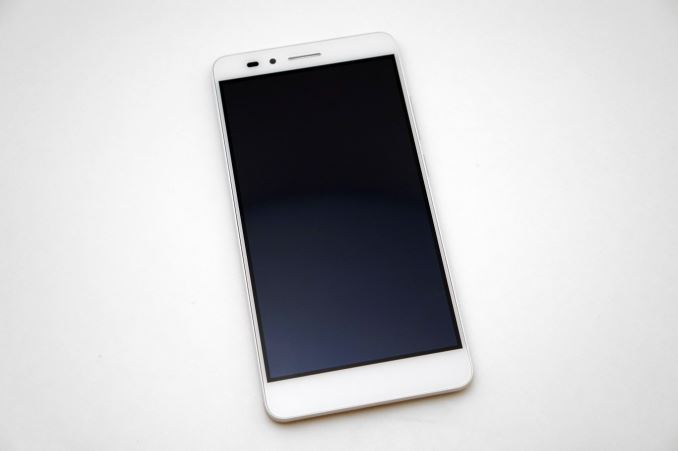 In the case of the Honor 5X, the front of the phone actually looks a lot like the Huawei P8 and P8 Lite, although I would say it's closer to the latter of the two. Comparing it to a photo from my P8 Lite review you can see how both phones have their sensors and earpieces placed in similar positions, and unfortunately both have the relatively large black border around the display that also exists on other Huawei smartphones. I really don't understand this design choice, especially on the phones with white face plates.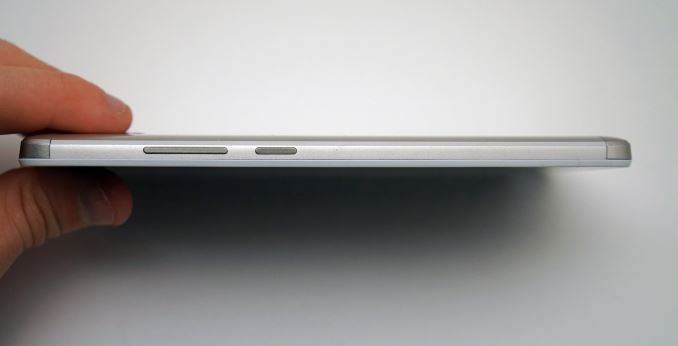 The sides and back of the Honor 5X are made of aluminum. The sides have a sand blasted finish, while the back has a brushed finish. As far as $200 phones go, it's definitely one of the best that I've seen. Of course, there's still a huge difference between something like the Honor 5X and an aluminum unibody device. The low mass of the Honor 5X makes it pretty clear that the phone isn't a complete aluminum shell with a front plate put in, and that you're really dealing with a much thinner aluminum cover on the back. Even so, it's a welcomed improvement over what you'll get with most other smartphones at this price.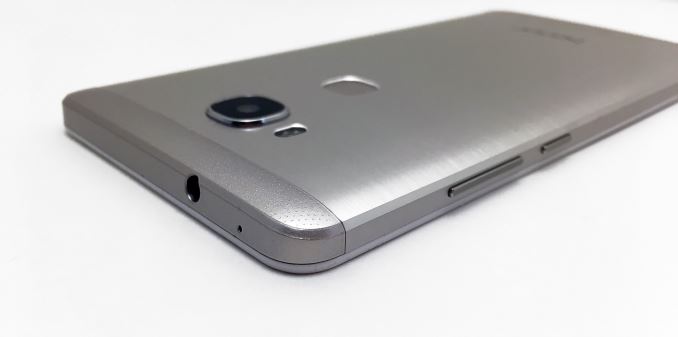 Although the Honor 5X is mostly made of aluminum, there are two plastic RF windows on the top and bottom. You don't ever end up feeling these, but I wish that Huawei hadn't gone and put a dimpled pattern on the inserts, because it just looks out of place and takes away from the otherwise high quality chassis.
The right side of the Honor 5X has the volume rocker and sleep/wake button, while the right side has two different removable trays. The first tray holds a Nano SIM card and a MicroSD card, while the second tray holds a Micro SIM. Dual standby support is a big feature in markets like India and China so it's not surprising to see it show up on the Honor 5X.
Overall, I think Huawei has done a good job with the design of the Honor 5X, especially when you consider its $199 price point. Often when you see something that looks like metal on a $199 phone, it ends up really being plastic designed to look like aluminum or chrome. In the case of the Honor 5X, it really is an aluminum chassis, and that's a big point of differentiation compared to something like the Moto G or the ASUS Zenfone 2.