Hangouts Launch
Moving away from browser-based scenarios, we move onto real application use-cases. We start off with Google Hangouts. The first scenario is simply launching the application from the home-screen. The application was not cached in memory, so this is a cold launch.
First we open the app itself, and then we open up a chat conversation activity.
The duration of the test this time is only 3.6 seconds. During the initial application launch, we don't see much activity on the little cores. Cores 1-3 are mostly power-gated and we see that there's little to no threads placed onto the cluster during that period. Once the app opened, we see the threads migrate back onto the little cluster. Here we see full use of all 4 CPU cores as each core has threads placed on it doing activity.
This is the perfect burst-scenario for the big cores. The application launch kicks in the cores into high gear as they reach the full 2.1GHz of the SoC. We see that all 4 cores are doing work and have thread placed on them. Because of the fine granularity of the load, we see the CPUs rarely enter the power-gating state in this burst period as the CPU Idle governor prefers the shallower WFI clock-gating state. As a reminder, on the Exynos 7420 this state is setup for target residency times of 500µS.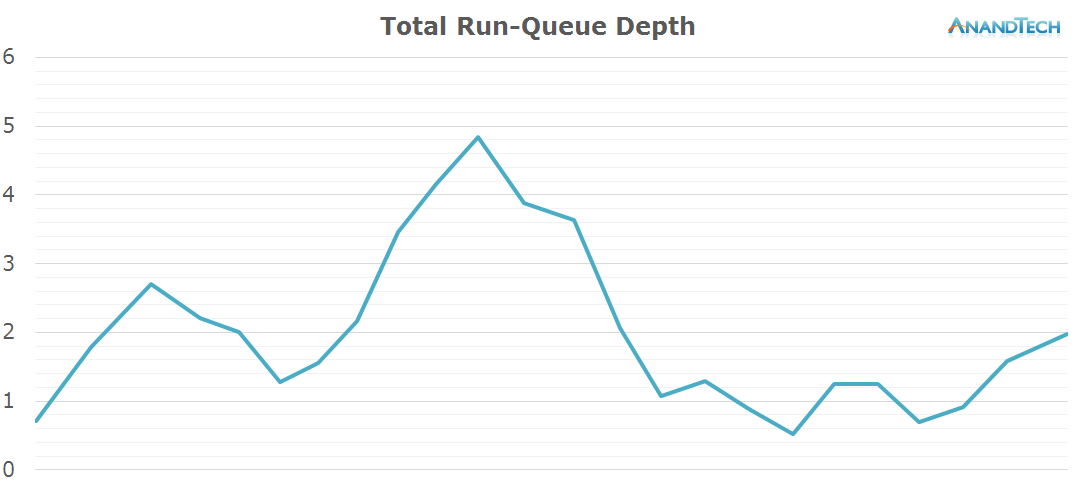 In general, the workload is optimized towards 4-core CPUs. Because 4x4 big.LITTLE SoCs in a sense can be seen as 4-core designs, we don't see an issue here. On the other hand, symmetric 8-core designs here would see very little benefit from the additional cores.