CPU Real World Performance
A small note on real world testing against synthetic testing – due to the way that DRAM affects a system, there can be a large disconnect between what we can observe in synthetic tests against real world testing. Synthetic tests are designed to exploit various feature XYZ, usually in an unrealistic scenario, such as pure memory read speeds or bandwidth numbers. While these are good for exploring the peak potential of a system, they often to not translate as well as CPU speed does if we invoke some common prosumer real world task. So while spending 10x on memory might show a large improvement in peak bandwidth numbers, users will have to weigh up the real world benefits in order to find the day-to-day difference when going for expensive hardware. Typically a limiting factor might be something else in the system, such as the size of a cache, so with all the will in the world a faster read speed won't make much difference. As a result, we tend to stick to real world tests for almost all of our testing (with a couple of minor suggestions). Our benchmarks are either derived from areas such as transcoding a film or come from a regular software format such as molecular dynamics running a consistent scene.
Handbrake v0.9.9
For HandBrake, we take two videos (a 2h20 640x266 DVD rip and a 10min double UHD 3840x4320 animation short) and convert them to x264 format in an MP4 container. Results are given in terms of the frames per second processed, and HandBrake uses as many threads as possible.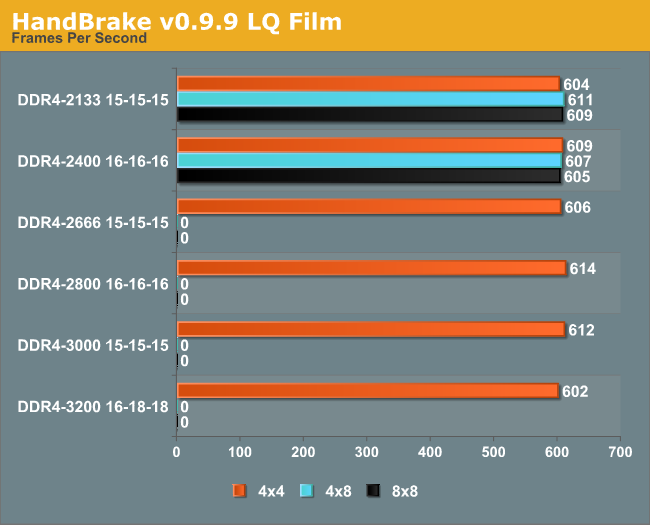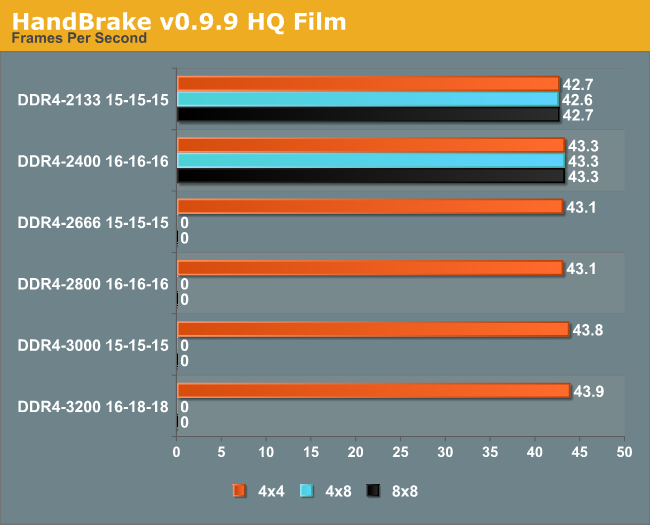 The low quality conversion is more reliant on CPU cycles available, while the high resolution conversion seems to have a very slight ~3% benefit moving up to DDR4-3000 memory.
WinRAR 5.01
Our WinRAR test from 2013 is updated to the latest version of WinRAR at the start of 2014. We compress a set of 2867 files across 320 folders totaling 1.52 GB in size – 95% of these files are small typical website files, and the rest (90% of the size) are small 30 second 720p videos.
The biggest difference showed a 5% gain over DDR4-2133 C15, although this seemed at random.
FastStone Image Viewer 4.9
FastStone Image Viewer is a free piece of software I have been using for quite a few years now. It allows quick viewing of flat images, as well as resizing, changing color depth, adding simple text or simple filters. It also has a bulk image conversion tool, which we use here. The software currently operates only in single-thread mode, which should change in later versions of the software. For this test, we convert a series of 170 files, of various resolutions, dimensions and types (of a total size of 163MB), all to the .gif format of 640x480 dimensions. Results shown are in seconds, lower is better.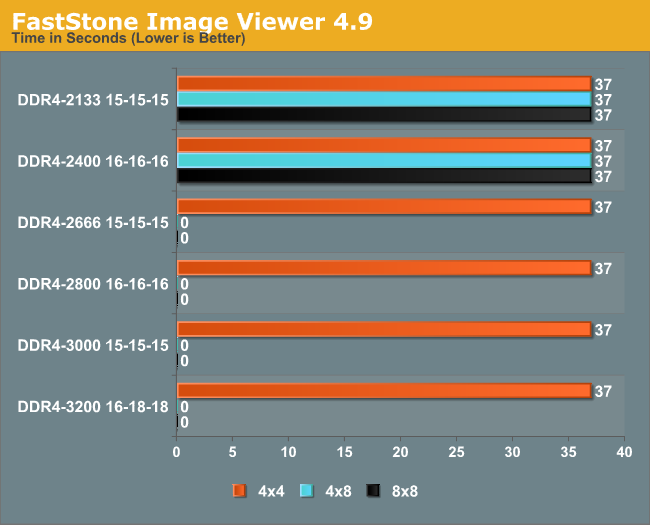 No difference between the memory speeds in FastStone.
x264 HD 3.0 Benchmark
The x264 HD Benchmark uses a common HD encoding tool to process an HD MPEG2 source at 1280x720 at 3963 Kbps. This test represents a standardized result which can be compared across other reviews, and is dependent on both CPU power and memory speed. The benchmark performs a 2-pass encode, and the results shown are the average frame rate of each pass performed four times. Higher is better this time around.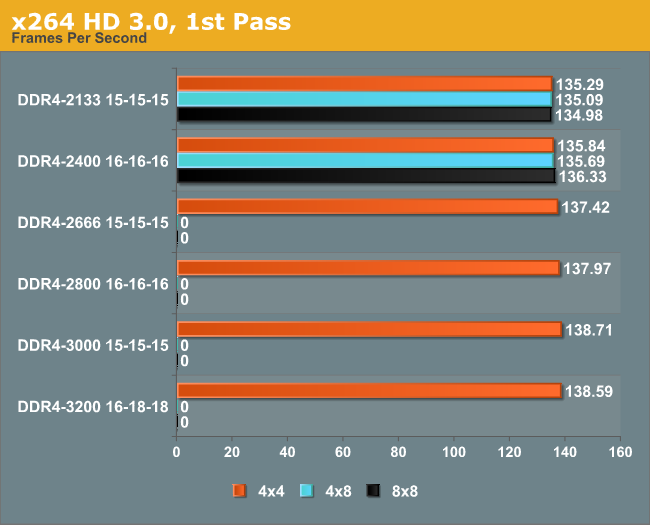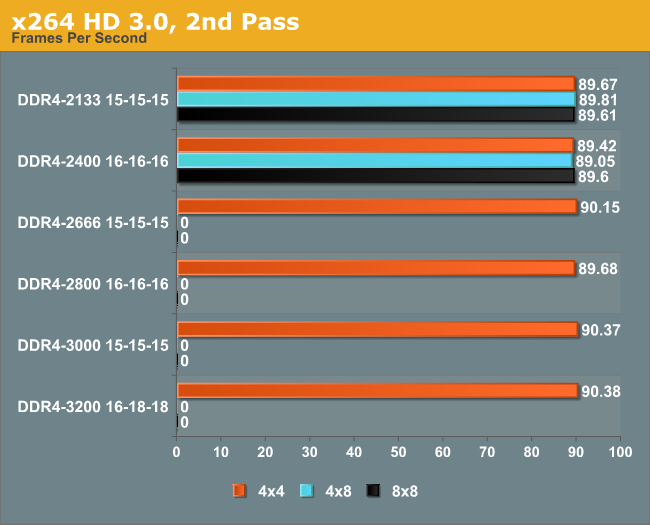 The faster memory showed a 2.5% gain on the first pass, but less than a 1% gain in the second pass.
7-Zip 9.2
As an open source compression tool, 7-Zip is a popular tool for making sets of files easier to handle and transfer. The software offers up its own benchmark, to which we report the result.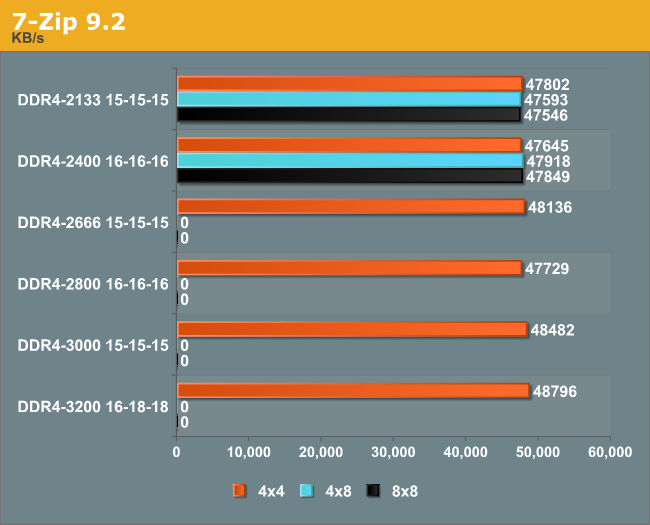 At most a 2% gain was shown by 3000+ memory.
Mozilla Kraken 1.1
One of the more popular web benchmarks that stresses various codes, we run this benchmark in Chrome 35.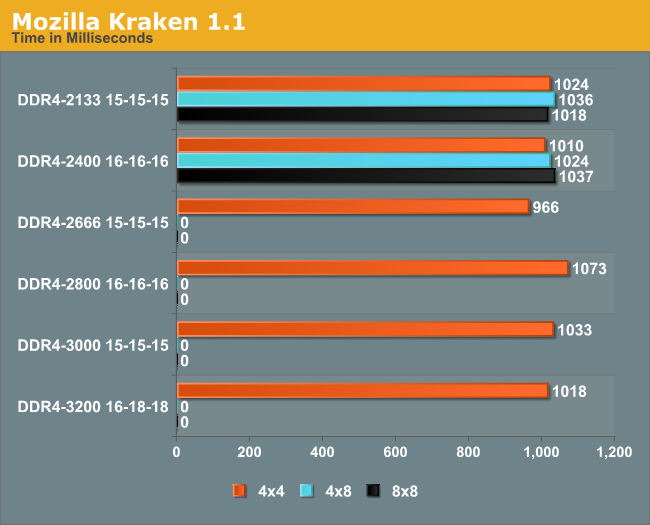 Kraken seemed to prefer the fast 1.2V memory, giving a 4.8% gain at DDR4-2800 C16, although this did not translate into the faster memory.
WebXPRT
A more in-depth web test featuring stock price rendering, image manipulation and face recognition algorithms, also run in Chrome 35.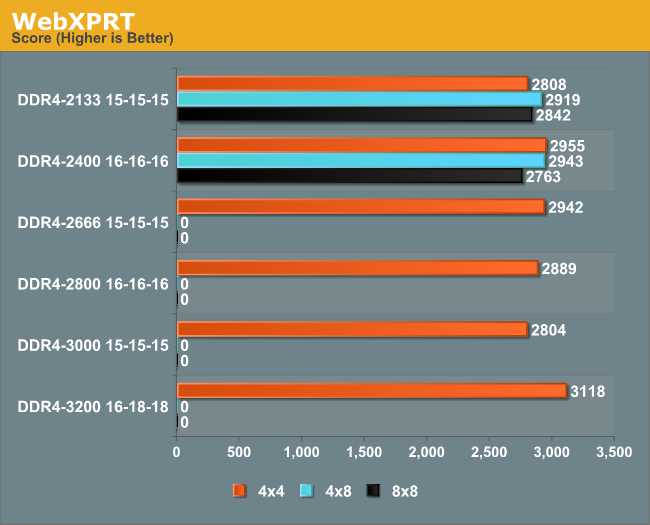 The DDR4-3200 gave an 11% gain over the base JEDEC memory, although this seemed to be more of a step than a slow rise.