Workstation Performance
For our performance analysis, we will split this into two parts. Firstly we will add in the data for the system as it was sent, in a 1x8GB DRAM configuration. After this is a discussion with 2x4GB results, showing the importance of maintaining a dual configuration setup. For comparison points, we are picking up Dustin's array of workstation review results, although a couple of the newer benchmarks have fewer data points.
Lenovo ThinkStation P300 (Xeon E3-1276 v3 + Quadro K4000)
vs
DigitalStorm Slade Pro (Xeon E5-2687W v2 + Quadro K4000)
BENCHMARK
DigitalStorm Slade Pro
ThinkStation P300
PCMark 8 (Home, OpenCL)
4879
3834
PCMark 8 (Creative, OpenCL)
4094
3160
PCMark 8 (Work, OpenCL)
4591
4505
Cinebench R15 (OpenGL)
102.85
118.6
Cinebench R15 (Single-Threaded)
123
158
Cinebench R15 (Multi-Threaded)
1218
769
x264 5.0 (Pass 1)
95.53
69.16
x264 5.0 (Pass 2)
25.43
16.58
Point Calculations – 3D Movement Algorithm Test: link
3DPM is a self-penned benchmark, taking basic 3D movement algorithms used in Brownian Motion simulations and testing them for speed. High floating point performance, MHz and IPC wins in the single thread version, whereas the multithread version has to handle the threads and loves more cores.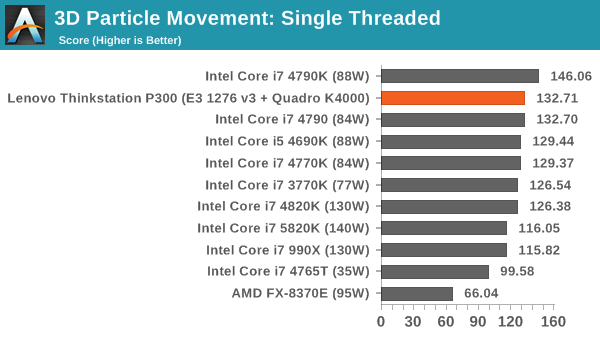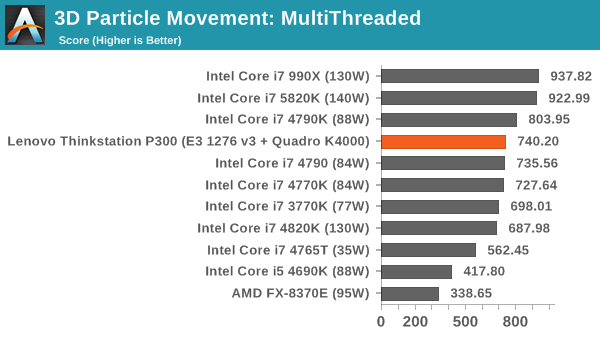 Compression – WinRAR 5.0.1: link
Our WinRAR test from 2013 is updated to the latest version of WinRAR at the start of 2014. We compress a set of 2867 files across 320 folders totaling 1.52 GB in size – 95% of these files are small typical website files, and the rest (90% of the size) are small 30 second 720p videos.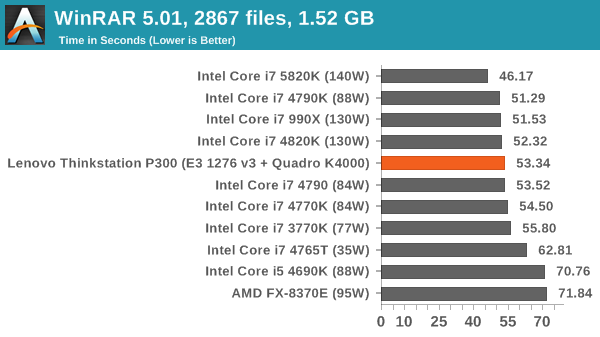 Image Manipulation – FastStone Image Viewer 4.9: link
Similarly to WinRAR, the FastStone test us updated for 2014 to the latest version. FastStone is the program I use to perform quick or bulk actions on images, such as resizing, adjusting for color and cropping. In our test we take a series of 170 images in various sizes and formats and convert them all into 640x480 .gif files, maintaining the aspect ratio. FastStone does not use multithreading for this test, and thus single threaded performance is often the winner.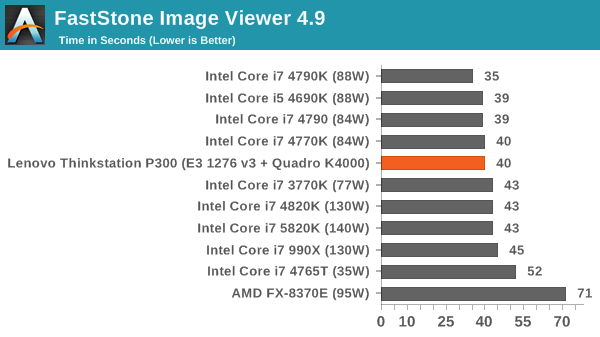 Video Conversion – Handbrake v0.9.9: link
Handbrake is a media conversion tool that was initially designed to help DVD ISOs and Video CDs into more common video formats. The principle today is still the same, primarily as an output for H.264 + AAC/MP3 audio within an MKV container. In our test we use the same videos as in the Xilisoft test, and results are given in frames per second.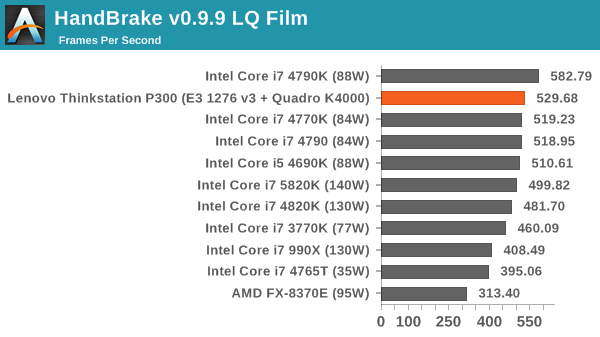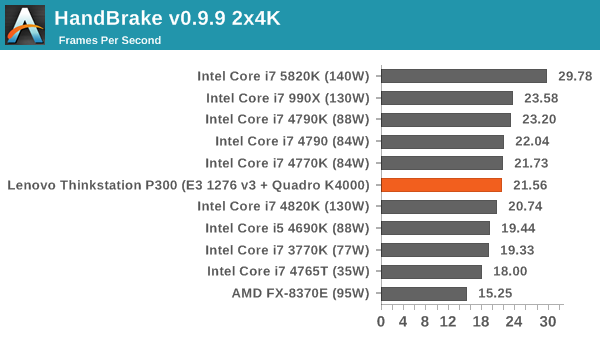 Rendering – PovRay 3.7: link
The Persistence of Vision RayTracer, or PovRay, is a freeware package for as the name suggests, ray tracing. It is a pure renderer, rather than modeling software, but the latest beta version contains a handy benchmark for stressing all processing threads on a platform. We have been using this test in motherboard reviews to test memory stability at various CPU speeds to good effect – if it passes the test, the IMC in the CPU is stable for a given CPU speed. As a CPU test, it runs for approximately 2-3 minutes on high end platforms.