Synthetics
Our synthetic benchmarks can sometimes tell us a lot about what an architecture is capable of. In this case, we do have some unanswered questions about why Intel falls short of the GT 650M in some cases but not in others. We'll turn to 3DMark Vantage first to stress ROP and texel rates.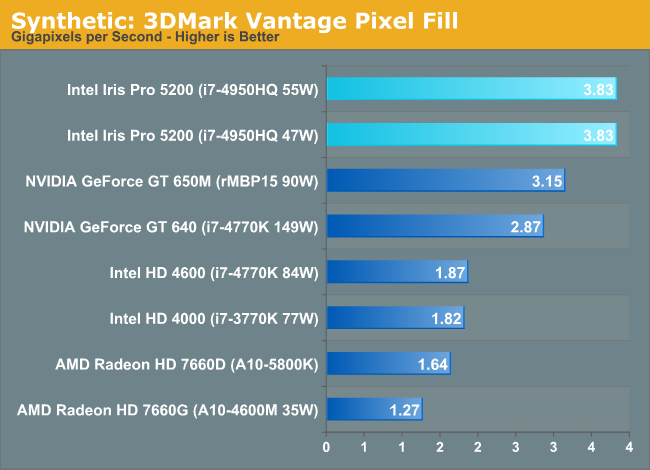 Iris Pro doesn't appear to have a ROP problem, at least not in 3DMark Vantage. NVIDIA can output more pixels than Iris Pro though, so it's entirely possible that we're just not seeing any problems because we're looking at a synthetic test. Comparing the HD 4600 to the Iris Pro 5200 we see near perfect scaling in pixel throughput. Remember the ROP hardware is located in slice common, which is doubled when going from GT2 to GT3. Here we see a near doubling of pixel fillrate as a result.
Moving on, we have our 3DMark Vantage texture fillrate test, which does for texels and texture mapping units what the previous test does for ROPs.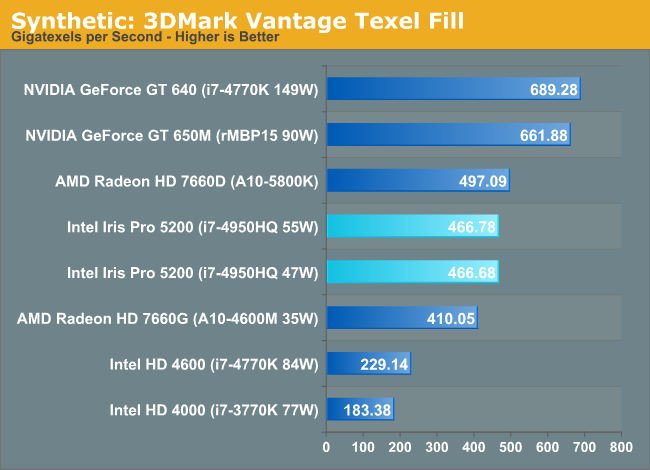 Now this is quite interesting. NVIDIA has a 50% advantage in texturing performance, that's actually higher than what the raw numbers would indicate. It's entirely possible that this is part of what we're seeing manifest itself in some of the game benchmarks.
Finally we'll take a quick look at tessellation performance with TessMark.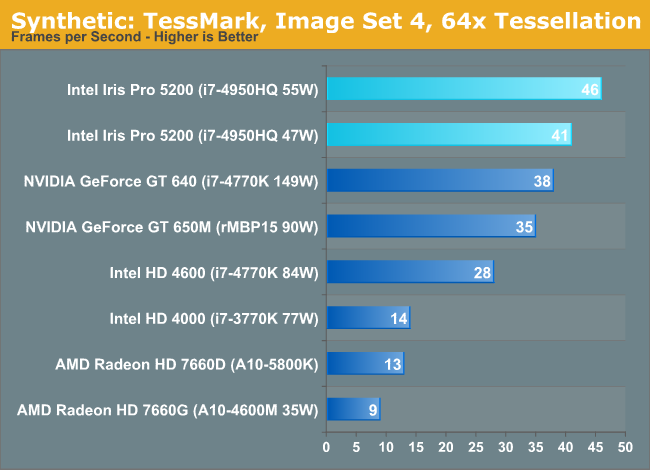 Iris Pro doesn't appear to have a geometry problem. Tessellation performance is very good.