Application and Futuremark Performance
Testing the CompuLab Intense PC is almost an academic exercise; mostly we want to make sure the Intel Core i7-3517UE is performing up to snuff and not being thermally throttled. I've hopped a lot of my desktop benchmarks over to the new mobile suite to keep everything lined up, so there isn't a tremendous amount of comparative data here. Still, you should get a pretty good idea of how the Intense PC stacks up against similar low-noise or no-noise boxes.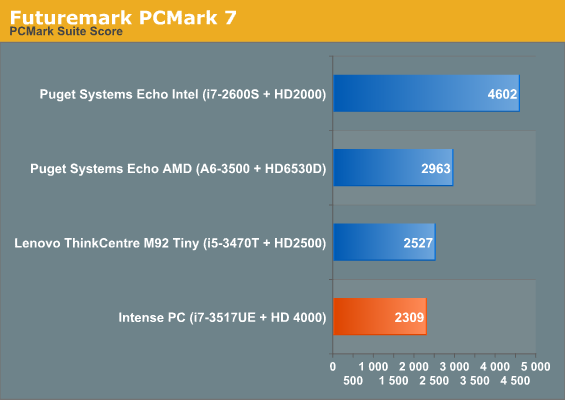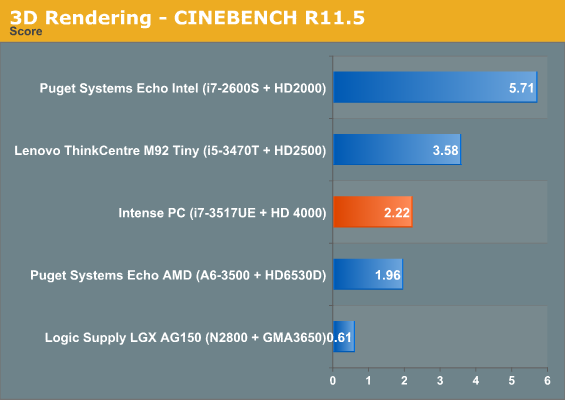 Unfortunately these are currently the only comparative results I can offer, but they paint a fairly clear picture. Any system running an SSD is going to perform better in PCMark 7, that's a given, and both Puget Systems boxes are operating off of SSDs. The Lenovo ThinkCentre M92 Tiny is a different beast, offering superior CPU performance with its low-wattage quad-core processor.
| | | |
| --- | --- | --- |
| | Intense PC | Dell XPS 12 (i7-3517U) |
| 3DMark (Ice Storm) | 24472 | 32841 |
| 3DMark (Cloud Gate) | 2997 | 3721 |
| x264 HD 5.x Pass 1 | 21.69 | 29.83 |
| x264 HD 5.x Pass 2 | 4.19 | 5.51 |
Above are the remaining benchmark results compared against Dell's XPS 12 ultrabook featuring the non-embedded Intel Core i7-3517U. It doesn't look good. While actual core temperatures for the Intense PC are pretty good, I suspect the embedded CPU is throttling more, and/or the BIOS for the Intense PC is keeping the chip from hitting higher thermals. Since the chassis is one big heatsink, the CPU would need to be kept under a certain temperature to avoid actually burning anyone who chooses to use the system. Performance isn't bad, but we're clearly looking at about 20% of the i7-3517U's potential left on the table.
Update: The embedded i7-3517UE actually has a nominal clock of 200MHz less than the standard i7-3517U, so the Intense PC's performance is actually pretty close to where it should be.