The Elder Scrolls V: Skyrim
Bethesda's epic sword & magic game The Elder Scrolls V: Skyrim is our RPG of choice for benchmarking. It's altogether a good CPU benchmark thanks to its complex scripting and AI, but it also can end up pushing a large number of fairly complex models and effects at once, especially with the addition of the high resolution texture pack.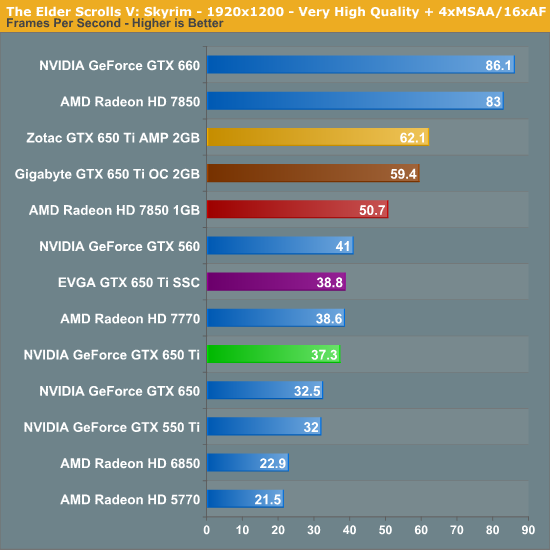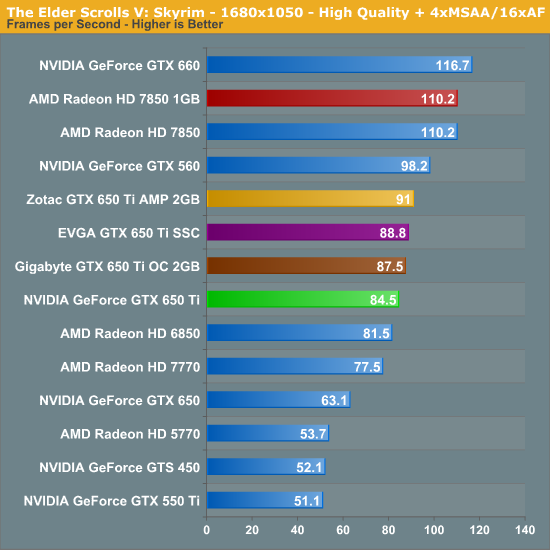 Skyrim with its optional high resolution texture pack is the textbook case for 2GB cards right now. At 1680x1050 (with lower quality settings) matters aren't so bad, but at 1920x1200 1GB cards flat out run out of VRAM. This goes for both the GTX 650 Ti 1GB and the 7850 1GB, leaving the field to 2GB cards such as the 7850 2GB and the 2GB factory overclocked retail cards. To that end with enough VRAM the GTX 650 Ti cards can just hit 60fps with their factory overclocks, but the 7850 2GB, which was already just trailing the GTX 660, is well ahead.
Dropping down to 1680x1050 is enough to mitigate the lack of VRAM, but even then the GTX 650 Ti doesn't fair particularly well. On an absolute basis it's at 84fps, which is more than smooth, but the 7850 still enjoys a 30% lead. On that note, along with a lack of total VRAM, a lack of memory bandwidth seems to really be hammering the GTX 650 Ti, which is why we not only see the Zotac card pop to the head of that pack, but is why the 7850 and even the GTX 560 do so well here.