Starcraft II
Our next game is Starcraft II, Blizzard's 2010 RTS megahit. Much like Portal 2 it's a DX9 game designed to run on a wide range of hardware so performance is quite peppy with most high-end cards, but it can still challenge a GPU when it needs to.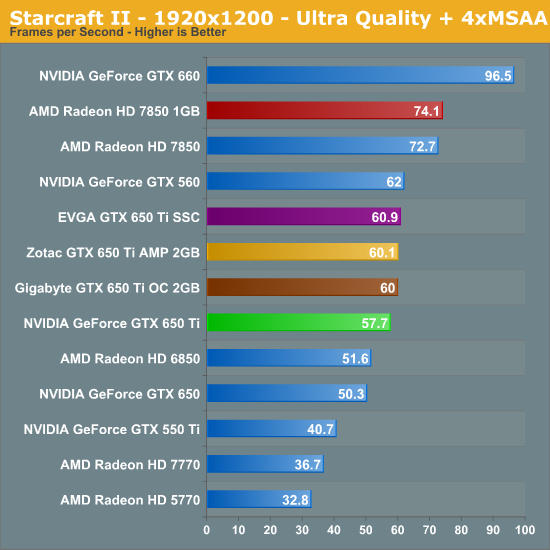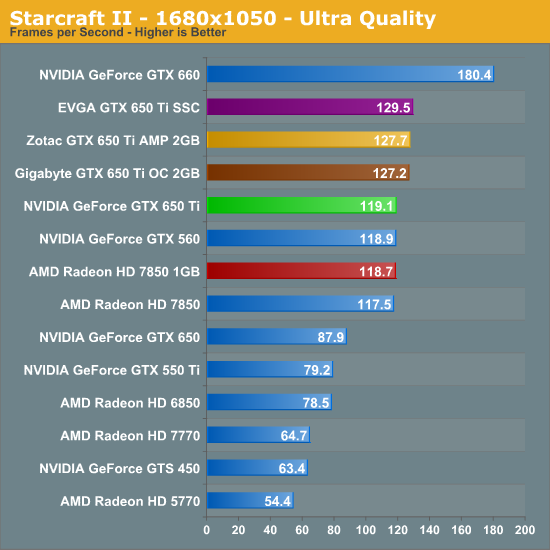 As opposed to Battlefield 3, Starcraft II is light enough that the GTX 650 Ti can generally get away with 1920x1200, even with MSAA. It isn't 60fps, but for a RTS it's good enough. The bad news from this view is that while the GTX 650 Ti falls short of 60fps the 7850 can blow past it. Otherwise at 1680x1050 without MSAA we see something similar to Batman, where the GTX 650 Ti hangs with the 7850 as these lower settings do not penalize the GTX 650 Ti's lack of ROP throughput and memory bandwidth nearly as hard.
Meanwhile the factory overclocked cards see the typical performance gains. Without memory bandwidth being hit so hard, it's the EVGA card and its top core overclock that edges out the others. Notably, all 3 can just hit 60fps at 1920.