Civilization V
Our final game, Civilization 5, gives us an interesting look at things that other RTSes cannot match, with a much weaker focus on shading in the game world, and a much greater focus on creating the geometry needed to bring such a world to life. In doing so it uses a slew of DirectX 11 technologies, including tessellation for said geometry, driver command lists for reducing CPU overhead, and compute shaders for on-the-fly texture decompression.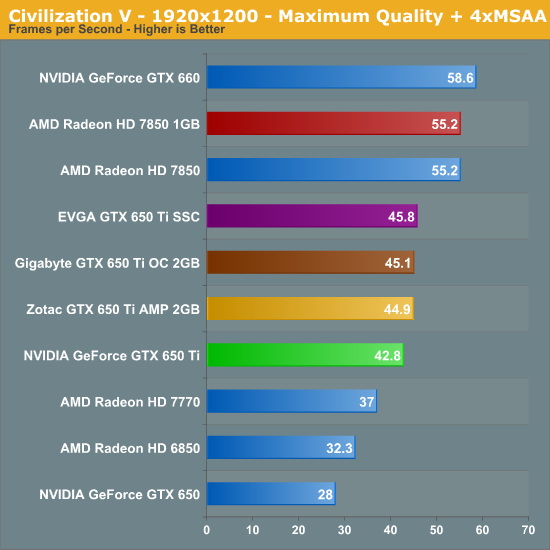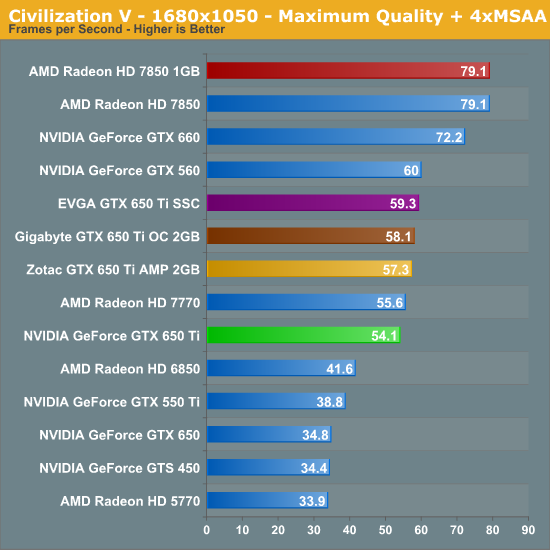 Just as how the GTX 650 Ti went into these game benchmarks behind the competition, so will it leave. At 1680 the 7850 enjoys a massive 46% lead, similar to the massive lead it had at the start with Crysis. Interestingly that lead greatly diminishes at 1920 where it becomes 28%, but that's still more than twice the 13% price spread.
Looking to our factory overclocked cards, the EVGA card comes out on top if only by a hair, indicating that the GTX 650 Ti's biggest bottleneck at the moment is either shader or ROP throughput.