Meet The EVGA GeForce GTX 650 Ti Super Superclocked Edition 1GB
Our first retail card of the day and the other 1GB card in our roundup is EVGA's GeForce GTX 650 Ti 1GB Super Superclocked Edition. This is EVGA's factory overclocked model, with EVGA giving it a rather massive factory overclock of 146MHz (16%), pushing the shipping clockspeed to 1071MHz core while the memory clockspeed remains unchanged at 5.4GHz. Due to the size of the overclock this is one of the few occasions where EVGA skips a Superclocked card and just moves straight to Super Superclocked, which is why the GTX 650 Ti SSC doesn't have a SC counterpart.
GeForce GTX 650 Ti Partner Card Specification Comparison
GeForce GTX 650 Ti(Ref)
EVGA GTX 650 Ti SSC
Zotac GTX 650 Ti AMP!
Gigabyte GTX 650 Ti OC
Base Clock
925MHz
1071MHz
1033MHz
1033MHz
Memory Clock
5.4GHz
5.4GHz
6.2GHz
5.4GHz
Frame Buffer
1GB
1GB
2GB
2GB
Width
Double Slot
Double Slot
Double Slot
Double Slot
Length
5.75"
5.75"
5.75"
9.3"
Warranty
N/A
3 Year
2 Year + Life
3 Year
Price Point
$149
$159
$179
$174
Factory overclock aside, as is typical for EVGA the GTX 650 Ti SSC is very similar to NVIDIA's reference design. Here EVGA is using the NVIDIA reference PCB but with their own cooler. EVGA's design uses a larger, mid-profile aluminum heatsink, with a partial shroud covering it. This is still an open air cooler, but compared to the NVIDIA reference design EVGA is channeling a larger portion of air towards the card's exhaust, which uses EVGA's increasingly common high-flow bracket. Other than the factory overclock and the larger cooler, the GTX 650 Ti SSC is identical to the NVIDIA reference design, right down to connector placement and the display connectivity options.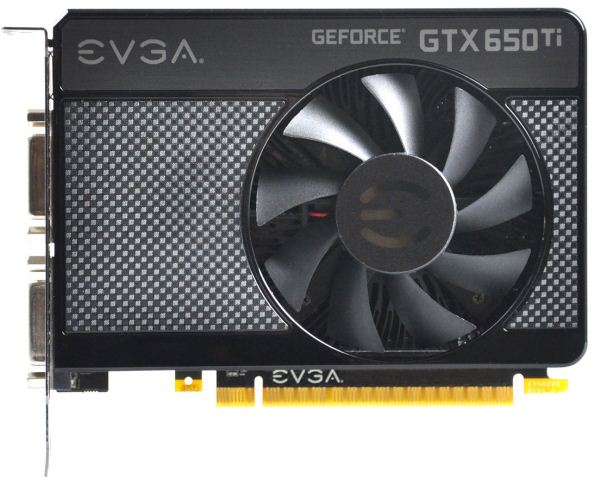 Of course no EVGA card would be complete without EVGA's software suite. EVGA has continued to update PrecisionX and OC Scanner X as newer GeForce 600 cards have come out, both of which are going to be more important than usual for the GTX 650 Ti SSC due to its overclocking capabilities. PrecisionX remains as the gold standard for video card overclocking utilities (alongside its sibling MSI Afterburner) thanks to its UI, and in this case voltage control support. OC Scanner X meanwhile is one of the best artifact scanners we've seen, though like other artifact scanners its ability to find problems is hit & miss; Crysis tends to trip up an overclock before OC Scanner X does.

Rounding out the rest of package is EVGA's typical collection of accessories and knick-knacks. In the box you'll find a molex power adapter, a quick start guide, and some stickers. As with all EVGA cards, the GTX 650 Ti SSC comes with EVGA's standard 3 year transferable warranty, with individual 2 or 7 year extensions available for purchase upon registration, which will also unlock access to EVGA's step-up upgrade program. Finally, the EVGA GeForce GTX 650 Ti Super Superclocked 1GB will be hitting retail with an MSRP of $159, $10 over the MSRP for reference 1GB cards. EVGA will also be offering a 2GB version of this card at $179.