Meet The Zotac GeForce GTX 650 Ti AMP! Edition 2GB
Our next card is also our first 2GB GTX 650 Ti, Zotac's GeForce GTX 650 Ti AMP Edition 2GB. Like the other retail cards in our article the Zotac is from their factory overclocked lineup, with Zotac being unique among the bunch for overclocking both the core and the memory. The GTX 650 Ti AMP 2GB ships at 1033MHz for the core clock and 6.2GHz for the memory clock, which is a 107MHz (12%) core overclock and 800MHz (15%) memory overclock respectively. This is a lower core overclock than EVGA's SSC, but because the GTX 650 Ti is ROP and memory bandwidth limited out of the box, the memory overclock could prove to be very potent.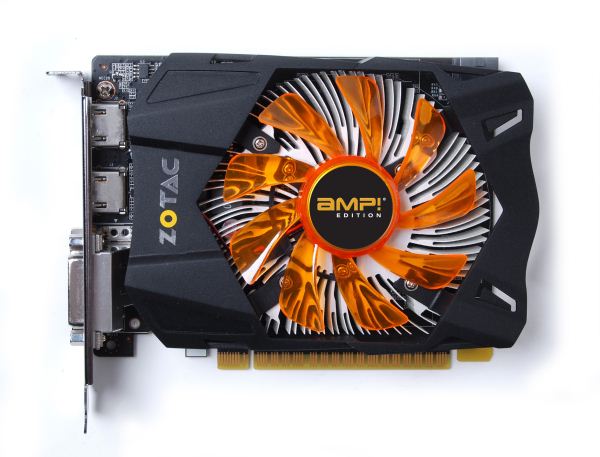 The Zotac GTX 650 Ti AMP is also unique for being the only card in our review that's not clearly based upon an NVIDIA reference design. We don't have a Zotac GTX 650 on hand, but a quick search indicates that this is the same PCB Zotac used on their GTX 650 cards, so while Zotac is using a unique PCB it's still a PCB taken from a GTX 650 card. With that said, Zotac's PCB is not significantly different from the reference PCB – at 5.75" long it's even the same size – and based on our testing it doesn't appear to be any better or worse at overclocking, particularly since Zotac is using the same 6GHz Hynix GDDR5 as everyone else.
Zotac's cooler of choice is also lifted from their GTX 650, and like NVIDIA's reference design is a variation on the open air cooler. Zotac is using an 85mm fan suspended over a mid-profile aluminum heatsink that covers just over half the card. Like the reference design Zotac's shroud is minimal, so this is a rather typical open air design.

Meanwhile by changing the PCB Zotac was able to change the display ports on their card, opting to use a stacked DVI design to fit on 4 ports. The GTX 650 Ti AMP comes with 1 DL-DVI-I, 1 DL-DVI-D, and 2 full size HDMI ports, meaning it can drive 4 digital displays out of the box. The dual HDMI ports is a bit odd – we don't see too many users hooking the card up to two TVs – and in this case the HDMI ports are serving more as a compact SL-DVI port. This change also means that part of the second slot is blocked by a DVI port, so the card has less than a slot's worth of ventilation (not that it should need too much more).
Rounding out the package is the usual collection of a molex power adapter and quickstart guides. Zotac is attaching a $179 MSRP to the GeForce GTX 650 Ti AMP, a full $30 over the 1GB MSRP, but only $10 over what they're changing for a stock-clocked 2GB card. Meanwhile for the warranty Zotac is offering a base 2 year warranty, which is extended to a rather generous full limited lifetime warranty upon registration of the card.