Many thanks to...
We must thank the following companies for kindly donating hardware for our test bed:
OCZ for donating the Power Supply and USB testing SSD
Micron for donating our SATA testing SSD
G.Skill for donating our memory kits
ASUS for donating AMD GPUs and some IO testing kit
and ECS for donating NVIDIA GPUs
Test Setup
Power Consumption
Power consumption was tested on the system as a whole with a wall meter connected to the OCZ 1250W power supply, while in a dual 7970 GPU configuration. This power supply is Gold rated, and as I am in the UK on a 230-240 V supply, leads to ~75% efficiency > 50W, and 90%+ efficiency at 250W, which is suitable for both idle and multi-GPU loading. This method of power reading allows us to compare the power management of the UEFI and the board to supply components with power under load, and includes typical PSU losses due to efficiency. These are the real world values that consumers may expect from a typical system (minus the monitor) using this motherboard.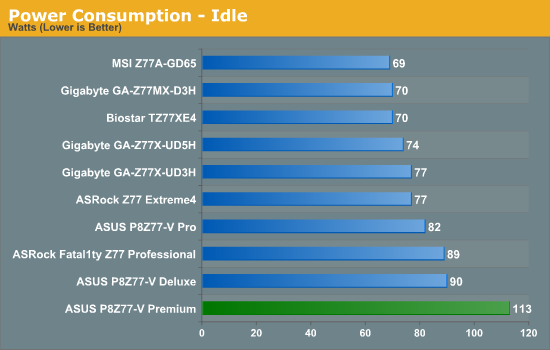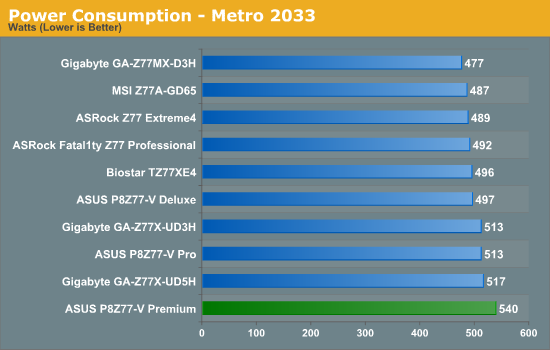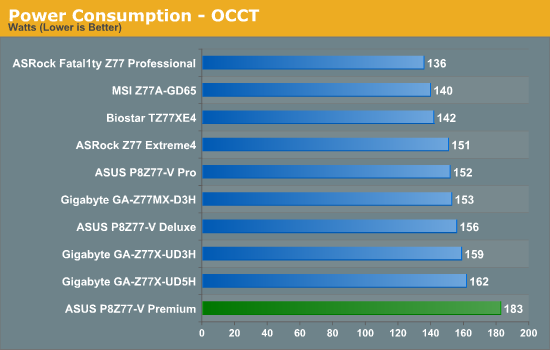 Power consumption on the Premium is markedly higher than any other Z77 motherboard we have tested. This is attributed presumably to the extra controllers on board - the PLX 8747 and the Thunderbolt controller perhaps being the culprits if they are unable to power gate themselves down, as well as the mSATA SSD. The ASUS P8Z77-V Premium also features an enhanced power phase system to maintain stability, which may be another factor.
Note: In our future PLX 8747 review, we find that these power results are a common sight on PLX 8747 motherboards.