POST Time
Different motherboards have different POST sequences before an operating system is initialized. A lot of this is dependent on the board itself, and POST boot time is determined by the controllers on board (and the sequence of how those extras are organized). As part of our testing, we are now going to look at the POST Boot Time - this is the time from pressing the ON button on the computer to when Windows starts loading. (We discount Windows loading as it is highly variable given Windows specific features.) These results are subject to human error, so please allow +/- 1 second in these results.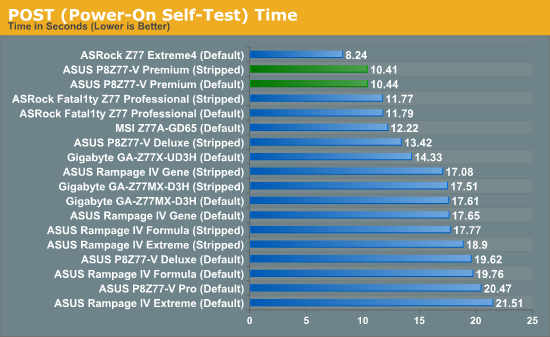 I am not sure exactly what ASUS has done with the Premium, but the boot times are excellent compared to other Z77 motherboards. Only a single ASRock motherboard we have tested gives better boot times at default.
Update: It turns out ASUS has moved from a legacy ROM format to a CAP format in their BIOS system - this allows for quicker booting. This is being rolled out on their X79 and Z77 range as we speak, and should be ready for Windows 8 as well.
Overclock Comparison
Here at AnandTech we want to provide quick and easy ways to determine if a board is good for you (with in-depth analysis of course). So here is a quick round up of our overclocking results. Overclocks are tested for stability with PovRay and OCCT - while these may not be the most strenuous of stability tests, it does offer a quick check for memory errors under high load (and also balances testing time with getting the next board on for review!).
CPU Speed
(MHz)
Voltage
(Volts)
PovRay Peak
Temp (ºC)
OCCT Peak
Temp (ºC)
Notes
ASRock
Fatal1ty Z77
Professional
4700
1.200
89
89
PLL Overvoltage enabled
ASRock
Z77 Extreme4
4700
1.175
86
86
LLC Level 1
ASRock
Z77 Extreme6
4700
1.175
81
82
LLC Level 1
ASUS
P8Z77-V Deluxe
4700
1.225
89
84
PLL Overvoltage enabled
ASUS
P8Z77-V Pro
4700
1.200
83
86
PLL Overvoltage enabled
ASUS
P8Z77-V Premium*
4700
1.225
93
96
*High Ambients
Biostar
TZ77XE4
4700
1.180
84
85
None
Gigabyte
Z77X-UD5H
4700
1.225
88
88
LLC Extreme
Gigabyte
Z77X-UD3H
4700
1.200
82
86
LLC Extreme
Gigabyte
Z77MX-D3H
4700
1.200
80
84
LLC Extreme
MSI
Z77A-GD65
4700
1.250
90
-
PLL Overvoltage enabled