Battery Life
The MacBook Air sees no increase in battery capacity over the previous generation, as a result any improvement in battery life boils down to what we get from Ivy Bridge. I'm stuck rebuilding the battery life results database from scratch now that I've built a new suite of tests for OS X. I've run all three generations of 11-inch MacBook Air through the new suite but I don't have numbers for the older 13-inch MBAs unfortunately. As I mentioned in the rMBP review, the new suite is designed to give accurate data points at three usage models: one light, one medium and one heavy. The combination of all three should give you an idea of the behavior of these systems on battery.
Across the board battery life of the 13-inch MacBook Air is actually quite similar to the Retina MacBook Pro, just from a much smaller battery and without the variability introduced by the rMBP's discrete GPU. If anything the lack of a discrete GPU makes using the MacBook Air much simpler from a battery life perspective. As much as I love Cody Krieger's gfxCardStatus application, it's nice not having to keep an eye on it to see if something silly has triggered the dGPU.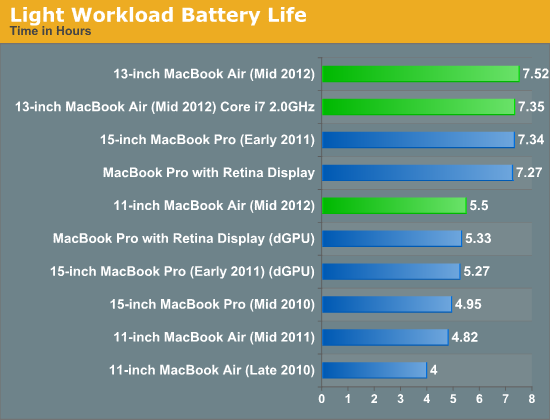 Under light usage the new 13-inch MacBook Air is easily able to meet Apple's claim of 7 hours of battery life. The 11-inch model does the same to its 5 hours rating, beating it by the same 30 minute margin as the 13.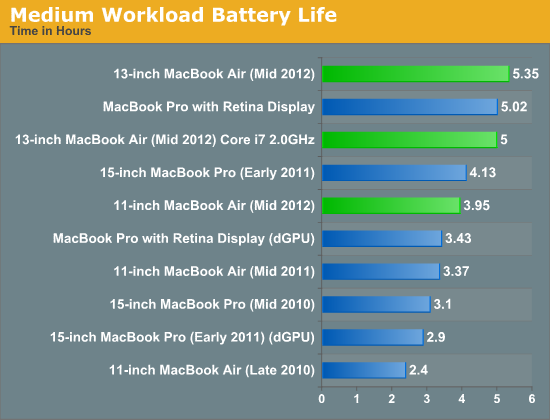 The medium workload thins the herd a bit, with the 13-inch Air still coming out on top but at 5.35 hours. The 11-inch Air drops below 4 hours, which is an improvement over the previous two generations of 11-inch Airs. Once again we see an example of Ivy Bridge doing better than Sandy Bridge when it comes to mobile power usage.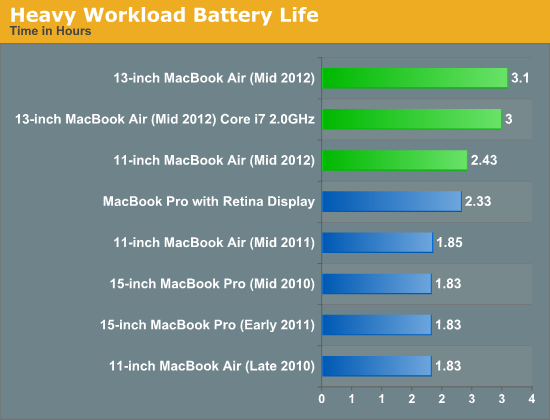 Under heavy load is really where we see Intel's 22nm process deliver the gold. Here both of the 2012 MacBook Air models do very well. With the 13-inch MBA significantly outpacing even the rMBP with its 95Wh battery, while doing the exact same amount of work.
The 13-inch MacBook Air continues to be Apple's best notebook for those who care about battery life. The 11 offers portability but you do take a significant hit in battery life.