The SoC: TI's OMAP 4460
The launch platform for Ice Cream Sandwich was TI's OMAP 4460. Unlike previous Android releases however, it seems that other SoCs will see their ICS ports done in a much quicker manner. It took a very long time for Honeycomb to be ported to other SoCs, whereas a number of companies have already demonstrated ICS running on their hardware (e.g. Intel, NVIDIA). If this is the case going forward, the launch vehicle for a new Android version may not mean what it used to.
The OMAP 4460 is a fairly standard, yet full featured dual-core ARM Cortex A9 SoC. You get two A9 cores complete with MPE (NEON support), behind a shared 1MB L2 cache. The SoC features two 32-bit LPDDR2 memory channels as well. The GPU is provided by Imagination Technologies in the form of a PowerVR SGX 540.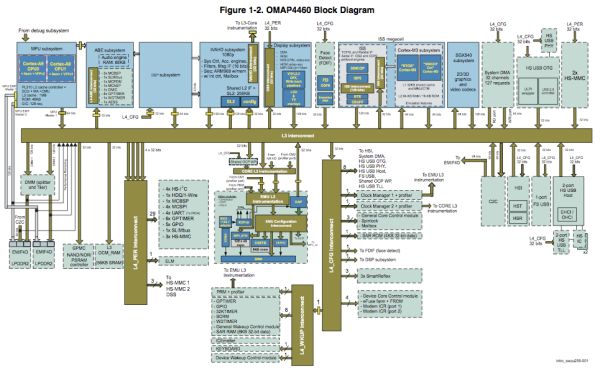 Max clocks for the OMAP 4460 are 1.5GHz for the CPUs and 384MHz for the GPU. As with all SoCs, all final clocks are OEM customizable to hit their desired point on the performance/battery life curve. Google and Samsung settled on 1.2GHz for the cores and 307MHz for the GPU, both exactly 80% of the OMAP 4460's max frequencies. Sprint recently announced its Galaxy Nexus would run at 1.5GHz. It's quite possible that we'll see a jump in GPU clocks there as well since the two may run in lockstep.
From a CPU standpoint the 4460 is competitive with pretty much everything else on the market (A5, Exynos, Tegra 2, Snapdragon S3). The 4460 does have more memory bandwidth than Tegra 2, Tegra 3 and Snapdragon, but it's comparable to Apple's A5 and Samsung's Exynos 4210. It's the GPU that's a bit dated at this point; the PowerVR SGX 540 typically delivers Tegra 2-class performance. A quick look at GLBenchmark and Basemark results echoes our findings: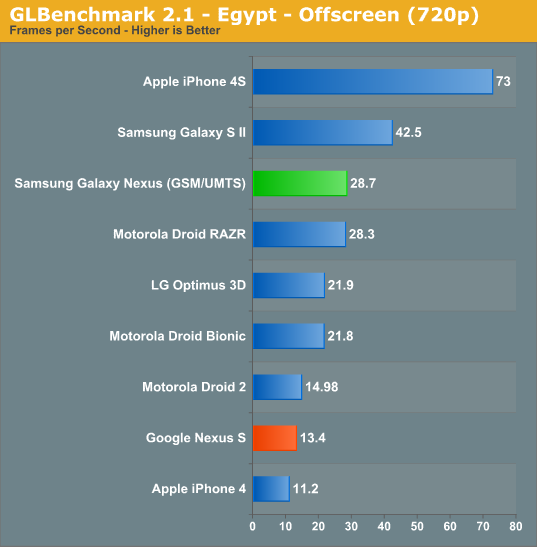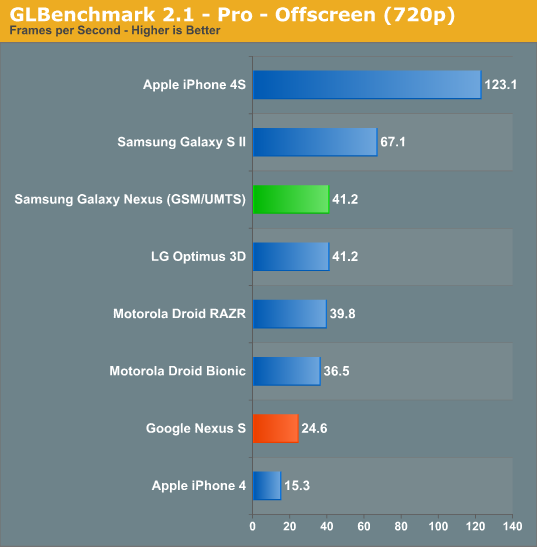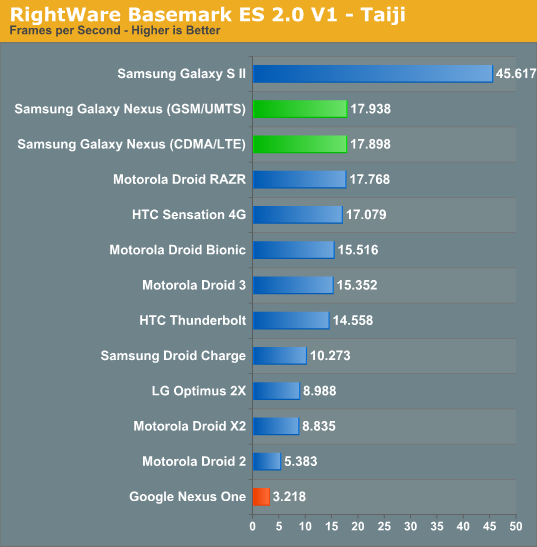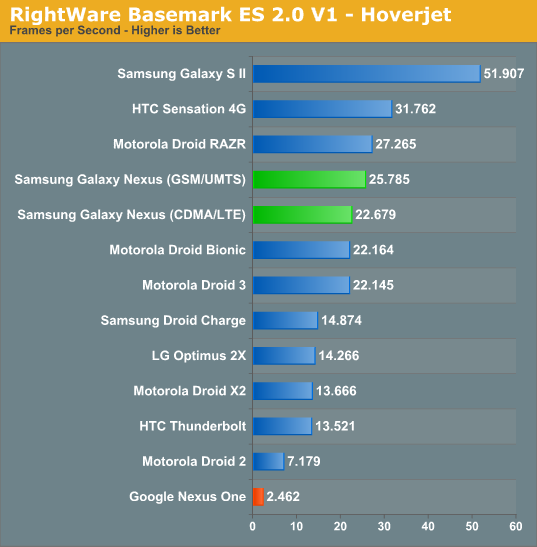 At 720p, which happens to be the GN's native resolution, the OMAP 4460 is much faster than Tegra 2. It's also important to note just how much faster Tegra 3's GPU is by comparison.
I understand why Google didn't wait for a Krait based SoC, however I don't believe the OMAP 4460 was the best bet given the launch timeframe of the Galaxy Nexus. Based on performance alone, Google should have picked Tegra 3 as the launch platform for ICS. GPU performance is much better than the SGX 540 and there's comparable CPU performance. It's possible that Google needed the memory bandwidth offered by OMAP 4, but we'll find out for sure soon enough as the first Tegra 3 device (ASUS' TF Prime) is slated to get ICS this week.
I'm also less concerned about power consumption being an issue since NVIDIA added full power gating to all of the cores in Tegra 3. With a conservative enough power profile Google could have guaranteed battery life similar to OMAP 4460 out of Tegra 3.
I get the feeling that Google wasn't very pleased with NVIDIA after Honeycomb and chose to work with TI this time around for reasons other than absolute performance. If it weren't for the fact that Tegra 3 and other SoCs appear to be getting ICS in fairly short form I'd be more upset over this decision. To be honest, the choice of SoC simply hurts the Galaxy Nexus as a phone. If I were you, I'd wait for a Krait based device.