I hate taking big quotes from past articles and using them as the premise for an introduction because it feels like I'm using previous work as a crutch. That being said, I've been meaning to reference something I wrote about HP three years ago and now is as good a time as any to dust it off:
"These PC OEMs could either wait for Microsoft to deliver with Windows 7 and hope that it will be enough to compete with Apple, or begin to try and solve the problem themselves....While these are mostly unpolished attempts at freeing OEMs from being Microsoft dependent, this is just a starting point. I'm not suggesting that PCs in the future will be completely devoid of Microsoft software, there will simply be another option.
HP noticed this same Microsoft dependency issue, just like the rest of the PC OEMs and over the coming years you're going to see companies like HP and Dell become more like Apple, offering systems as complete packages of hardware and software solutions. We'll see broader adoption of Linux and open source software and finally some out of the box thinking."
The lesson I learned back then wasn't that everyone had to be free of Microsoft in order to survive in the future, but rather that you need to actually own some tangible IP in order to differentiate yourself. There's this entire category of manufacturers that I like to call glorified parts assemblers. They simply pull technologies from other companies, bundle them all together and sell the final product without contributing anything substantial on their own. These companies are the gift wrappers at the mall, they don't really contribute to the gift inside, they just make it look pretty. When times get tough, they are going to be the first to go.
It's not just device manufacturers I'm talking about either. The SoC market has over half a dozen players in it today, and based on how pretty much every market matures over time - the majority of them aren't going to be players over the long term.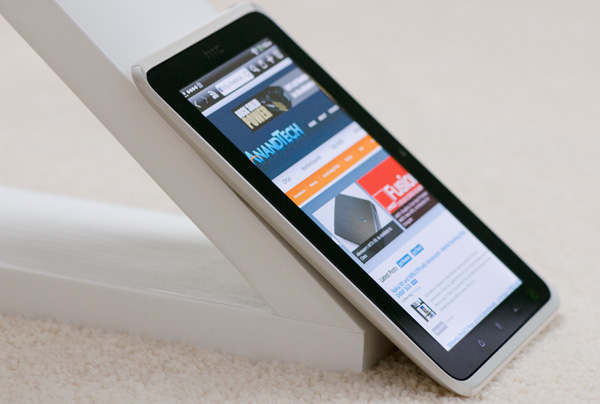 I bring this up at the beginning of a HTC device review because I feel like HTC is really trying to be more than just a gift wrapper at the mall. Sure HTC makes a whole lot of smartphones, many of which look very similar and rely on the underlying hardware to make them successful, but HTC is also pretty active in software development as well. Its Sense UI started as a bandaid to fix shortcomings in Google's Android OS. Over time, as the Android experience improved, I questioned the need for 3rd party skins. Most of them are just cumbersome and don't really contribute much positively to the overall experience. For the most part I do prefer the stock Android experience. The UI skins and enhancements are generally not as polished, cohesive or functional as the plain old Android. However, as I alluded to above, the mobile market today is far from mature. There are no right answers today, only a mixed bag of attempts that make varying degrees of sense. The fact that HTC is still trying with its custom UI and apps isn't just a sign that it needs differentiation to remain relevant, but also that perhaps Google doesn't yet have all of the answers. There is room for improvement, or at least an alternative take on functionality, and HTC wants to have a hand in providing it.
Which brings us to the device at hand: the HTC Flyer. This is HTC's first tablet and unlike the Android tablets that launched last year, it doesn't suck. At the same time, unlike those that came out this year - it doesn't run Honeycomb. You see, NVIDIA was Google's target partner for Honeycomb and Qualcomm was pretty behind on porting the OS to its hardware. As a result the only Honeycomb tablets on the market today use Tegra 2.
Qualcomm is a minority shareholder in HTC and as a result the Taiwanese manufacturer tends to only ship Qualcomm SoCs in its products. With the NVIDIA option pretty much off the table, so was Honeycomb.
2011 Tablet Comparison
Apple iPad 2
ASUS Eee Pad Transformer
HTC Flyer
Samsung Galaxy Tab 10.1
SoC
Apple A5 (Dual ARM Cortex A9 @ 1GHz)
NVIDIA Tegra 2 (Dual ARM Cortex A9 @ 1GHz)
Qualcomm APQ8055 (Scorpion @ 1.5GHz)
NVIDIA Tegra 2 (Dual ARM Cortex A9 @ 1GHz)
GPU
PowerVR SGX 543MP2
NVIDIA GeForce
Adreno 205
NVIDIA GeForce
RAM
512MB
1GB
1GB
1GB
Display
1024 x 768 IPS
1280 x 800 IPS
1024 x 600
1280 x 800 PLS
NAND
16GB
16GB
16GB
16GB
Dimensions
241.2mm x 185.7mm x 8.8mm
271mm x 175mm x 12.95mm
195.4mm x 122mm x 13.2mm
256.6 x 172.9 x 8.6mm
Weight
601g
695g
420g
565g
Price
$499
$399
$499
$499
Yet HTC clearly saw it as very important to deliver a tablet this year. I'm getting close to overusing this quote but I will never forget what AMD's Eric Demers told me: the best way to lose a fight is to not show up. The tablet battle has only just begun and only through tireless iteration will we see clear leaders emerge, so not showing up to this early fight isn't an option for most of the players.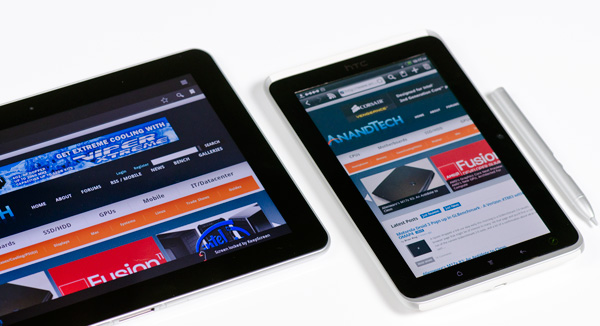 If you don't have the hardware platform to ship Honeycomb on time and all non-Honeycomb tablets seem to fail horribly, what is a company left to do? Try something different of course.