Compute Performance
With the 11.3 Catalyst drivers AMD started including their OpenCL runtime with the drivers, a long-awaited development that we're hoping spurs additional OpenCL development. With that change AMD's marketing posture has once again shifted towards advertising their GPGPU capabilities, though the 6450 isn't a great platform for this. With 160 SPs its twice as capable as the 5450, but this is still around 1/10 the theoretical capabilities of their high-end cards, and there the difference between the GPU and the CPU often isn't the same 10x difference.
In short the 6450 isn't very fast for GPGPU computing tasks, and indeed Cyberlink's MediaEspresso won't even allow hardware encode acceleration on the 6450. This is probably the only notable weakness for the 6450 as an HTPC platform—the decoding is great, but it has no hope of catching up to Intel's Quick Sync for encoding.
Our first compute benchmark comes from Civilization V, which uses DirectCompute to decompress textures on the fly. Civ V includes a sub-benchmark that exclusively tests the speed of their texture decompression algorithm by repeatedly decompressing the textures required for one of the game's leader scenes. Note that this is a DX11 benchmark.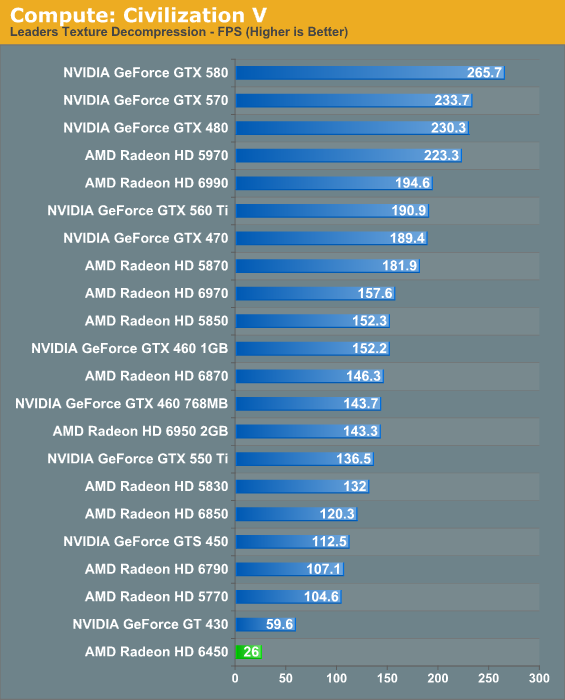 With only 160 SPs the 6450 achieves very limited performance here.
Our second compute benchmark of the day is SmallLuxGPU, the GPU ray tracing branch of the open source LuxRender renderer. While it's still in beta, SmallLuxGPU recently hit a milestone by implementing a complete ray tracing engine in OpenCL, allowing them to fully offload the process to the GPU. It's this ray tracing engine we're testing. Note that as Intel doesn't currently offer an OpenCL driver for their HD Graphics iGPUs, we're only looking at dGPUs here.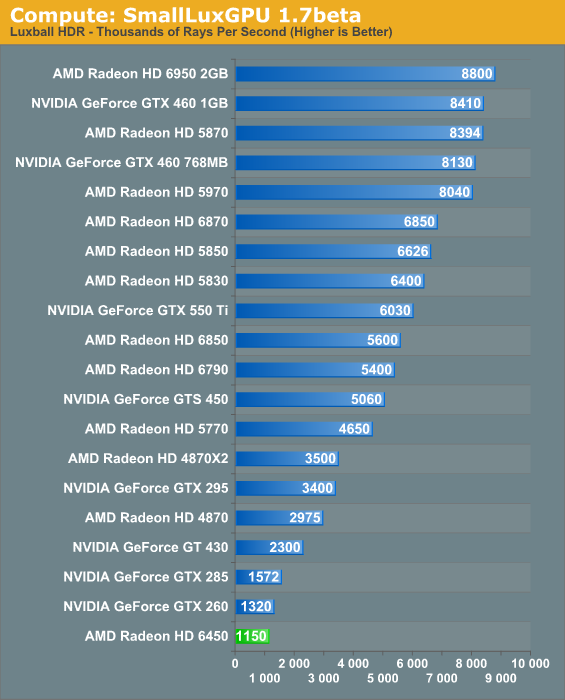 We've cut off all the scores above 10K rays/second just to make the 6450 fit, which should give you an idea of the relative performance. The 5770 at $50 more easily gets 4x the performance.