What About the Games?
Our HP dm1z review already covered gaming, so we'll start with a retread of the current status quo for modern games. While the 3DMark results on the previous page may be somewhat useful, they're no replacement for real games. First up is our usual suite of eight titles from the last year or so, many with support for advanced rendering features like DX11. While the HD 6310M does technically support DX11, so far we haven't found any games where the feature is beneficial, as performance is too slow with it enabled.
Here are the minimum detail performance results for our test laptops, compared to a recent selection of other laptops. We have everything from Arrandale's HD Graphics and Sandy Bridge's HD 3000 Graphics to discrete GPUs like the GT 335M and HD 5650. We've also got AMD's older IGPs (HD 4225 and HD 4250) for comparison, and the MacBook's 320M thrown in for good measure. This isn't going to be very pretty….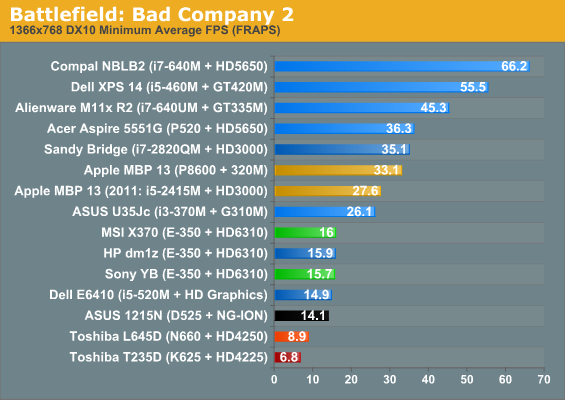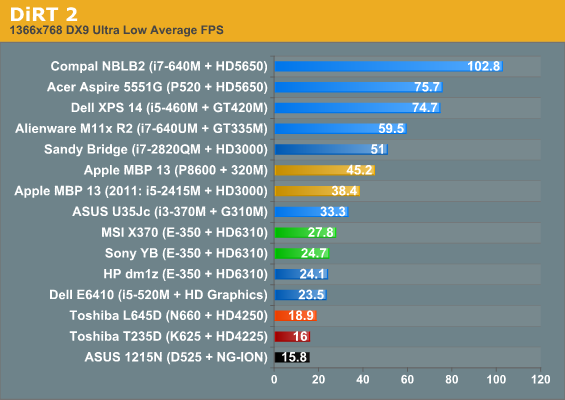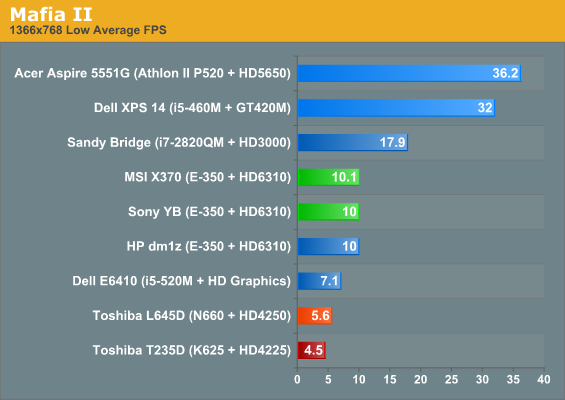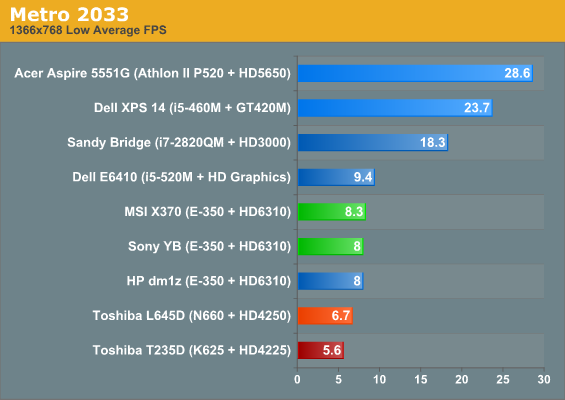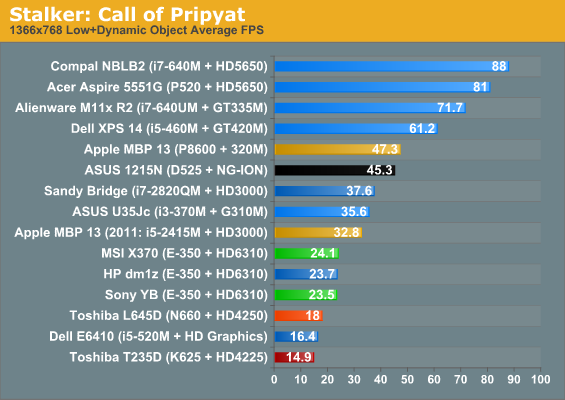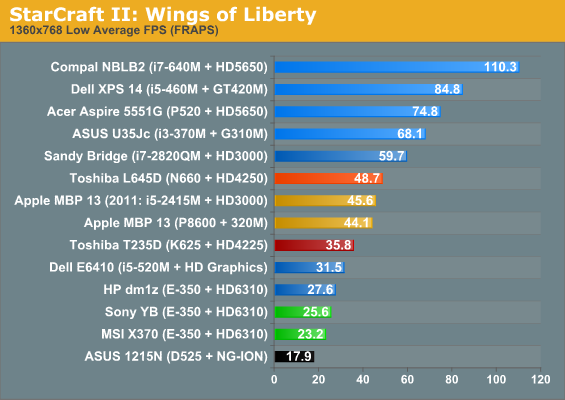 So running at the native 1366x768 found on so many consumer laptops today, the E-350 manages to break 30FPS in exactly zero out of eight games. Ouch. Scores from all the E-350 laptops are close enough that we won't worry about it too much—the biggest gap is the dm1z lead of 19% in SC2, while there's also an MSI X370 lead of 15% in DiRT 2; the other titles are single-digit percentage differences. E-350 does manage to beat the HD4250 and HD4225 laptops in every game, with the exception of StarCraft II where the CPU bottleneck is bigger than the GPU bottleneck at minimum details. E-350 is also generally faster than Atom + ION, but ION does lead in ME2 and Stalker. Another interesting comparison is the Dell E6410 with Intel's HD Graphics; we're looking at a CPU that's easily twice as fast as E-350, but with a slightly slower IGP. The result is that (similar to the HD4250 with P660) the only case where E-350 loses in terms of gaming potential is StarCraft II, and even there HD Graphics is only 14% faster.
Move up into the next category of performance, though, and HD 6310M can't compete. Sandy Bridge is faster than Arrandale, with roughly double the IGP performance, so the high-end i7-2820QM has an easy lead over E-350. Going off the numbers of the newer MacBook Pro 13, the dual-core Sandy Bridge models will be a bit slower than the quad-core in terms of GPU performance, but still 35 to 120% faster than E-350. More importantly, the dual-core SNB managed to break 30FPS in six out of eight titles. (Vivek didn't test Mafia II or Metro 2033, but you really need a discrete GPU to come anywhere near playability in those games.) Similarly, the 2010 MacBook/MacBook Pro 13 is much faster than E-350, posting frame rates that are 63 to 150% higher. We hardly even need to mention discrete GPUs like the HD 5650, but we will: it's up to 260% faster with a P520 CPU, and 315% faster with the i7-640M.
It would be interesting to see just how far the HD 6310 could go if it were untethered from the Bobcat core. Ultimately, once Llano launches in a few months it won't matter, but for now many modern titles need something more than the current AMD IGP. But what about older games? You asked, and I've been pulling out a bunch of older stuff to put the E-350 through its paces….