Application Performance: Better than Atom, Worse than CULV
We've already covered AMD's E-350 twice: once on the desktop in Mini-ITX form, and a second time in the HP dm1z. Anand's review uses some different benchmarks as well as an SSD, but if you're interested in a preview of my SSD testing with the X370 that's a good place to start. Using conventional HDDs and running the same test suite as we use with other laptops, all of the E-350 units are within spitting distance of each other, just as you'd expect. I'm switching up the list of laptops in our benchmark suite from the HP review, just to give a broader picture of the market. This time we've got single-core and dual-core CULV, single-core and dual-core Atom (both nettop and netbook models), an Arrandale ULV laptop, a couple ION equipped models, AMD's Nile and Danube platforms, and even the 2010 MacBook Pro 13 running Windows 7 (note that this is the same as the current MacBook, only with a better LCD and chassis).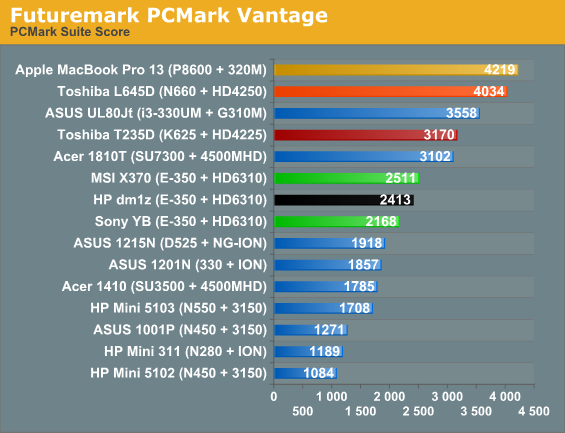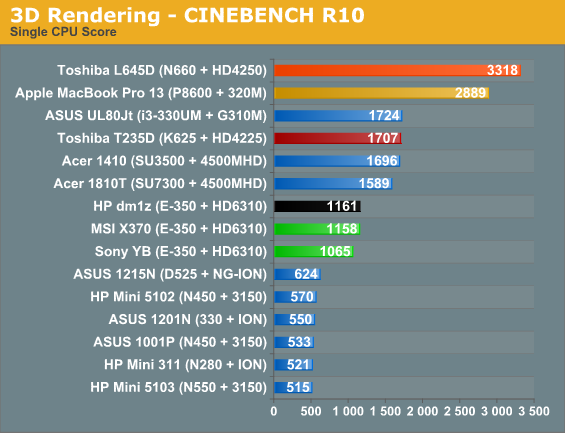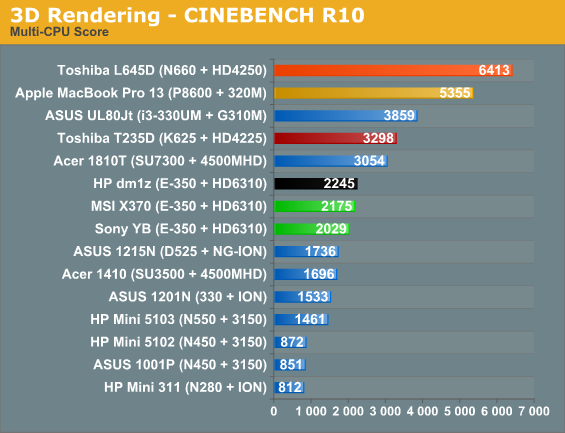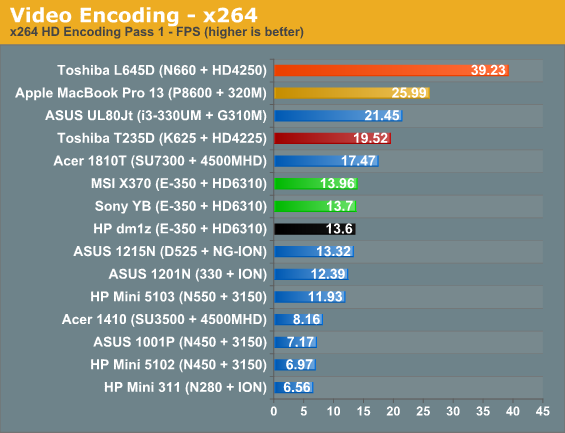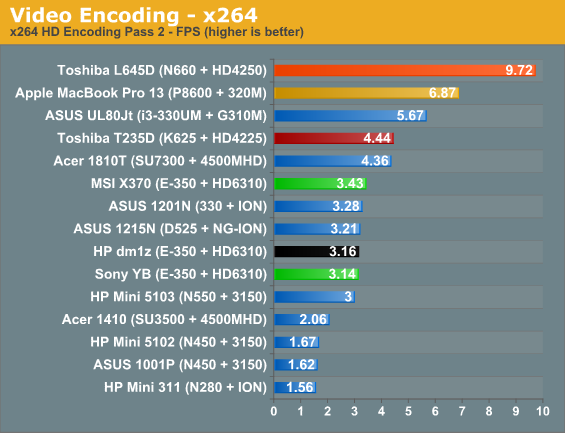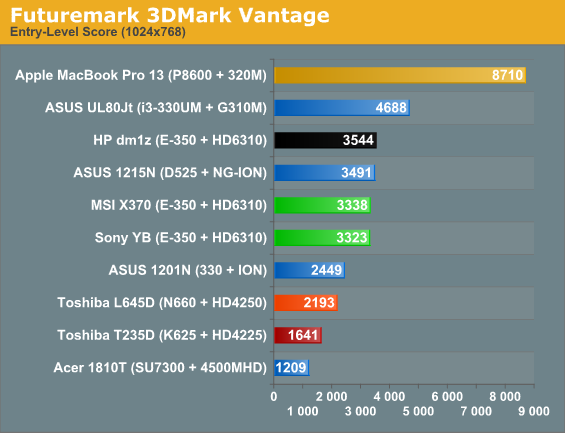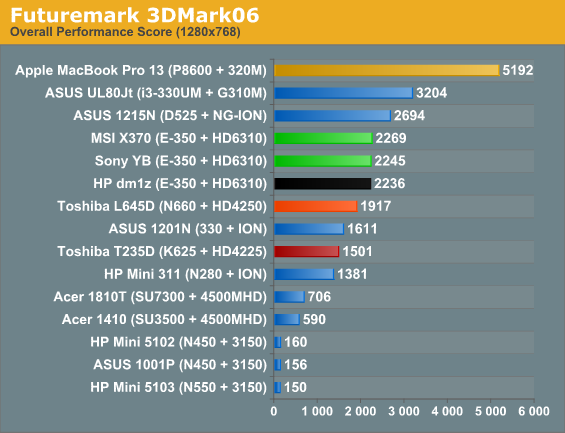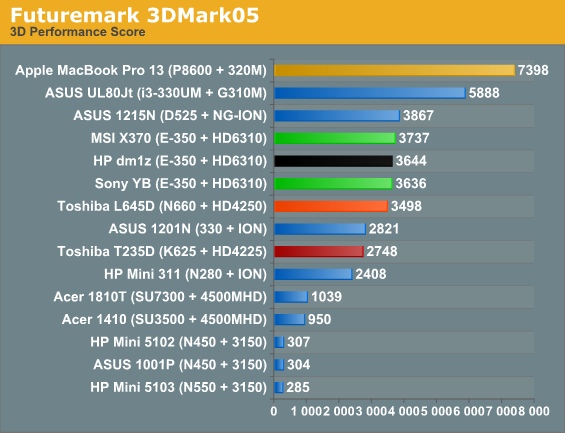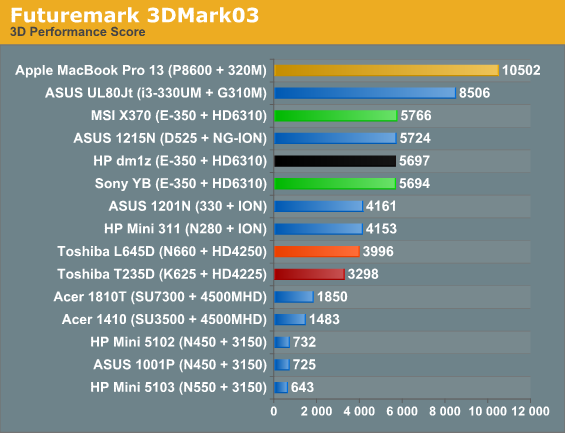 The E-350 systems post numbers that are relatively close, though not quite as close as we would have guessed. The PCMark results do more HDD related tests, so a difference there isn't as surprising. We see the 7200RPM drives in the HP and MSI systems push ahead of the Sony; Vantage is more particular about your storage, representing an updated suite that's more indicative of modern OS performance, so it looks like the 500GB Seagate 7200.4 beats the 320GB Western Digital Black. In PCMark05, though, WD turns the tables and the HP is back in the lead. Cinebench is nearly a pure CPU test, so seeing the MSI and HP leading the Sony by as much as 10% is a bit of a surprise. Oh, but wait... the Sony has a 32-bit version of Windows 7 on there, which can easily account for the PCMark Vantage and Cinebench results (two tests where we normally use 64-bit executables). x264 encoding is also heavily dependent on the CPU, particularly the second pass, but again we see variance with the MSI taking an 8-9% lead over the other two E-350 laptops. Still, even a 10% lead isn't going to be particularly noticeable in day-to-day use.
When we start comparing E-350 with other platforms, things get interesting. Atom is clearly drawing the short stick, with the single-core variants placing at the bottom of our application performance charts. Dual-core Atom doesn't fare much better, as even in heavily-threaded workloads like Cinebench SMP the E-350 is still faster, though x264 encoding is one area where the 330 and D525 manage to take a slight lead—it's close enough to call it a draw, really. In single-threaded apps, though, all those extra cores go to waste and E-350's Out of Order execution engine manages roughly double the performance of Atom. So, as far as Atom goes, even with ION the AMD E-350 is a superior platform—let's not even bother with the 3DMark results.
Shift to CULV and things start to get a bit more difficult. CPU performance is in favor of the dual-core SU7300 across the board (PCMark05 factors in a decent amount of GPU performance, so toss out the 10% lead for Brazos there). PCMark Vantage puts the SU7300 almost 30% ahead of the E-350, though in turn Brazos leads the single-core SU3500 by a similar 35% margin. The other CPU tests give SU7300 a lead of anywhere from 28 to 38% over E-350, so the lead is pretty consistent. The single-core CULV actually leads in the single-threaded Cinebench result (not too surprising), but in multi-threaded tests the E-350 is anywhere from 30 to 70% faster. The problem with CULV is that you're typically stuck with Intel's GMA 4500MHD graphics; they're enough for basic video decoding and Windows work, but in graphics the HD 6310 is three to four times as fast. We ran the Firefox 4 Beta/RC on both platforms, and it performed quite nicely on the E-350. While there's no denying the fact that CULV is a faster CPU, as a platform we give the edge to E-350, especially when priced like the HP dm1z.
Comparing AMD's Brazos to the recent Nile and Danube platforms, the story is similar to CULV: better CPU performance for the older platforms, but better graphics performance for Brazos. The K625 is anywhere from 30 to 50% faster than E-350, and the Phenom II N660 widens the gap to 60% to over 200% faster—yeah, that 3.0GHz core clock with a faster CPU architecture will get you there—but unlike CULV the battery life proposition isn't all that compelling with Nile and Danube. Even with the CPU deficit, E-350 posts 3DMark results that are 30 to 115% higher than the K625 + HD4225; the lead over the faster N660 + HD4250 ranges from a scant 4% to as much as 62% depending on which 3DMark you look at.
Finally, let's look at some of the newer and faster options with better graphics. The MacBook is twice as expensive as the HP dm1z, it's also 50 to 150% faster in CPU/application performance. In the graphics tests, the 320M with P8600 is roughly twice the performance of the E-350. While we can certainly recommend the HP dm1 as an alternative, the higher priced Sony and MSI start to look very questionable. Arrandale ULV paired with a G 310M is likewise a better performing platform in every test. It provides 50 to 80% more CPU performance, and it also leads by 30 to 60% in 3DMark.
While perhaps the ASUS UL80Jt price is too high to be in direct competition, with Sandy Bridge now starting to show up we expect to see discounted Arrandale laptops for the next six months. One example of this is the recently launched ASUS U31Jg-A1; for $700 you get a Core i3-380M and NVIDIA GT 415M, plus NVIDIA's Optimus Technology and the U-series' 84Wh battery standard. If you can afford the extra $200 (40% higher price), and you're not interested in an 11.6" chassis, such laptops are really going to put the squeeze on Brazos E-350. With a lower price than the MSI X350 (and presumably X370), we can't come up with a single reason why anyone would skip the U31Jg and instead go for the MSI.