An Inexpensive Vaio?
Notice in the headline I didn't use the word "cheap," and there's a reason for that. While there's a decent amount of glossy and matte black plastic and the overall build quality does feel a little more chintzy than some of Sony's more upscale models, as a whole the EE34 doesn't actually feel like a cheap machine.
Writing about the Sony Vaio EE34's looks is going to result in a fairly short review, and that's due largely to the prevalence of black matte plastic all over the build. Sony wisely eschews using glossy plastic on the lid, and though I've found it can still pick up dust it isn't a grease and fingerprint magnet. It thankfully seems like the era of glossy plastic really is finally drawing to a close.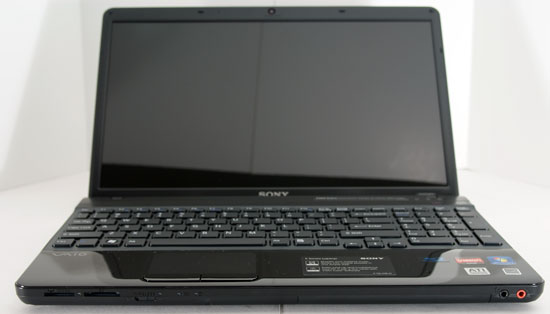 The hinge of the lid allows the screen to tilt back about 135 degrees, allowing for a decent range for finding that sweet spot viewing angle, and the screen bezel itself is thankfully also a matte plastic. At this point only a couple of manufacturers seem to be persisting in putting that gloss where it doesn't belong; most of the others have moved on.
That matte plastic follows down to the inside panelling of the Vaio, through the speaker grille above the chiclet-style keyboard and stopping at the palm rest. Sony has opted to employ glossy plastic for the palm rest, integrated touchpad, and mouse buttons, but at least it kind of makes sense here. Because the gloss is a deep black it doesn't show fingerprints quite as badly as it could, and it's actually fairly attractive. This is probably how glossy plastics should have been used to begin with.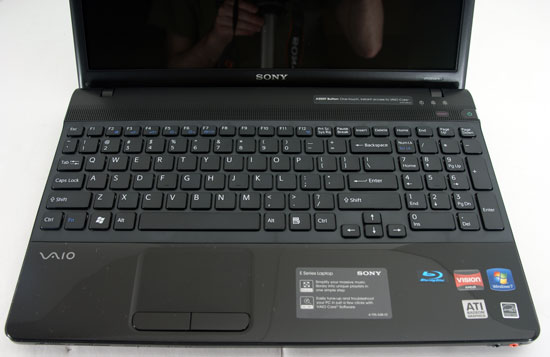 If you're a fan of chiclet-style keyboards you're liable to be at home with the Vaio EE34's. The keyboard has a smart layout that makes full use of the width of the notebook while having minimal flex, and the 10-key is comfortable to use with document navigation keys wisely placed above it. About the only complaint one could reasonably make about Sony's keyboard is that the keys themselves feel a bit on the small side, but most users should be able to get used to them without too much trouble.
The touchpad is textured and is fine for general use, but it's still another perpetrator of one of those cheapest of crimes: being a part of the inside panel instead of being apart from the inside panel. This is something that has very seldom looked good, and while Sony almost pulls it off with the EE34 it still feels like a cut corner. Given the budget nature of this notebook that's something that we can overlook, and the touchpad (and accompanying mouse buttons) has a good enough feel to it that you're not going to be cursing their engineers every time you have to use it.
Upgrading the Vaio EE34 is thankfully not too arduous a task, although a series of little details on the bottom just scream Sony eccentricity. The battery hinges into the notebook in a way that's going to seem unusual; you'd expect it to just slide into the back the way most laptop batteries do, but this one actually has to be inserted at an angle, then canted in and snapped into place. And while the hatch for upgrading the RAM is easy enough to access (single screw, panel pops off), the hard drive bay winds up being sillier than it looks. After unscrewing that panel, you actually have to slide it off instead of just lifting it up. None of these are major problems and they're really only worth mentioning because they're fitfully amusing. If you're used to removing these things in a lot of other notebooks you'll pause for a second and go "wait, what?"
As a whole the EE34 doesn't feel particularly chintzy and at least looks better than a lot of other budget notebooks in its price range. Some users aren't big fans of Sony's designs, but I've always found Vaios to be attractive, stylish notebooks and this one is no different.