Battery Life
With everyone sharing the same base hardware and software there are only two items that will ultimately impact battery life between vendors: screen type and battery size. The pecking order is pretty easy to follow. Smaller LCDs will be the best on battery, larger Super AMOLED screens will be the worst. The battery scale is even easier to define: bigger is better, but heavier.
We've been testing three Windows Phones: HTC's Surround, Samsung's Focus and the LG Optimus 7. The HTC and LG use standard LCD displays, while the Focus uses the same type of Super AMOLED screen we saw in the Fascinate and Epic 4G.
The LG uses a 5.55Whr battery compared to 4.55Whr on the HTC Surround. As a result LG gets the best battery life out of the three with the Focus coming in last due to its Super AMOLED display.
Microsoft mandates three discrete display brightness settings on all phones: low, medium and high, coupled with an automatic brightness mode. The three phones delivered very different levels of brightnes at each setting:
Brightness Comparison (White Point)
Phone
Low
Medium
High
HTC Surround
10.4 nits
183.1 nits
405.7 nits
LG Optimus 7
130.4 nits
259.1 nits
381.2 nits
Samsung Focus
61.9 nits
143.1 nits
234.3 nits
Brightness Comparison (Black Point)
Phone
Low
Medium
High
HTC Surround
0.03 nits
0.39 nits
0.88 nits
LG Optimus 7
0.28 nits
0.56 nits
0.82 nits
Samsung Focus
0
0
0
Overall battery life of these Windows Phones ranges from average to above average in the case of the LG Optimus 7. The use of Qualcomm's 65nm SoC definitely doesn't help battery life, but Microsoft appears to have done a reasonable job with power management.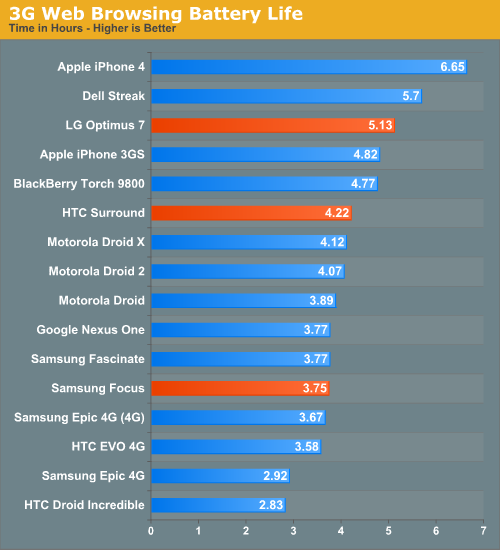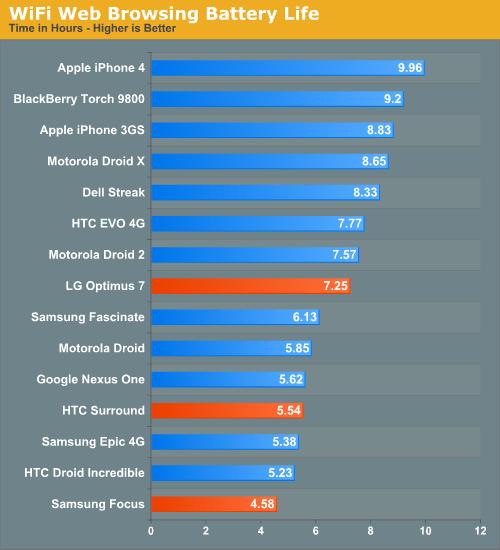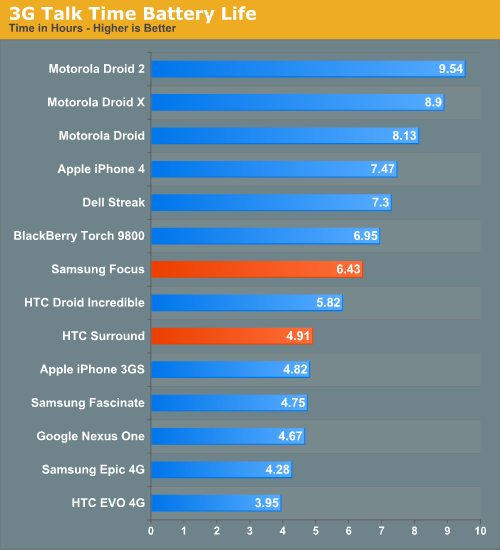 The first Windows Phones won't be in the same realm of battery life as the iPhone 4, but it's a reasonable starting point. Given a normal/light workload you can easily make one of these things last a full day on a single charge, but heavier users will probably find themselves charging once in the early evening. As with most aspects of the platform, we need to see significant improvement in the next 6 months for Microsoft to be taken seriously. Luckily for Microsoft, where it is today isn't a bad place to be.