The First Phones: LG Optimus 7
We will have full reviews of all of these devices in the coming days, but we didn't want to leave you with nothing on the hardware at launch so here are some brief thoughts on the three Windows Phones we've been playing with.
The LG Optimus 7 isn't actually destined for US sale, it'll be available tomorrow in Europe and Asia. The phone sports a 3.8" 480 x 800 TN LCD and unfortunately that's both its biggest asset and its biggest weakness. The LCD sips power compared to the Super AMOLED in the Samsung Focus, but LG also sacrificed quality. Viewing angles and black levels just aren't very good. The orange theme looks yellow on the phone when viewed at an angle.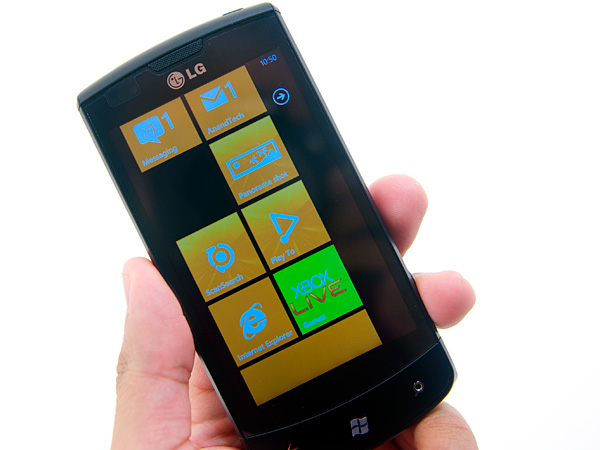 The display is bright but it lacks the integrated design that you get from the iPhone 4 or Samsung's Focus. There's a perceivable gap between the touch screen and the LCD beneath it.
The display is the biggest problem, the rest is smooth sailing. The form factor is great, albeit a little thick. LG opted for quality materials including a brushed aluminum battery cover. The device is heavy compared to other WP7 phones but it's a luxurious sort of heavy, not a brick-like heavy.
The Optimus 7 comes with 16GB of NAND on board with an empty microSD slot for future expansion. Remember the rules though, you need to perform a factory restore on the phone with the microSD installed to use it.
LG preloads the device with three apps: Play to, Panorama shot and ScanSearch.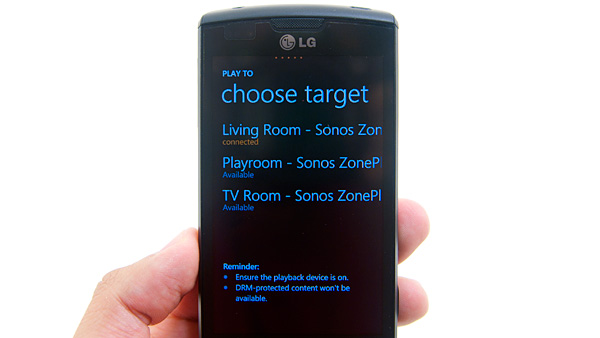 The Play to app is the most interesting as it supports streaming of all of your non-HDCP content to DLNA devices.
The Panoramic photo stitching app is super easy to use and works well in practice. My only complaint is the live view frame rate leaves a lot to be desired.
ScanSearch is a location based augmented reality app for Windows Phone 7. Eventually it'll be able to identify products but today all it can do is point out nearby locations of points of interests using your GPS and WiFi.
Battery life is the best out of the three phones we tested here today. We got over 7 hours in our WiFi browsing test and just over 5 hours on 3G. We're still running talk time tests.