Cellular & WiFi Performance
The Epic 4G is the second smartphone we've reviewed that has a WiMAX radio for use on Sprint's 4G network. This is actually why I'm reviewing the phone and not Brian, Raleigh, NC happens to be one of the 40 US cities with Sprint WiMAX coverage.
Those of you who read my EVO 4G review will remember that I did't have the best experience with WiMAX in Raleigh back then. I'm sorry to say that the situation hasn't really improved much since.
The best download speeds I've seen are still in the low 3Mbps range, and upload is usually stuck around 1Mbps while on 4G. On a good day, AT&T's 3G network is anywhere from 1 - 2Mbps down and 1 - 1.5Mbps up in my area. As with the EVO 4G, Sprint charges a mandatory $10 per month Premium Data fee for 4G support regardless of whether or not you use it.
The other issue is consistency. I usually don't get those 3/1 numbers, often times I'll see speeds more like 1/1 or 1/0.5Mbps. I'm always seeing screenshots of users in other WiMAX areas with speeds 2 - 3x my best case in Raleigh, so this may just be a problem with coverage in Raleigh. Either way I'd suggest looking into what to expect in your area before making a decision based on 4G alone.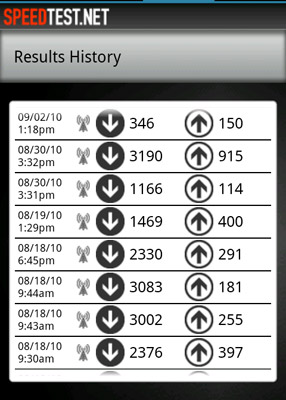 Speedtest Results for the Epic 4G, all results on 4G except for the topmost result
I will say that I no longer have the problem where 4G performance is worse than Sprint's 3G in my area. I usually get around 0.5/0.5Mbps on 3G, so there's a noticeable performance increase when WiMAX is enabled.
And just as was the case with the EVO 4G, 4G isn't actually more of a battery drain as long as you're stationary. If you have it enabled while you're moving around (rather than just turning it on once you've gotten to a location) you'll see a drop in battery life.
Whether or not Sprint itself is a good network for you depends entirely on coverage in your area. In my experience, AT&T is usually either great or absolutely horrible - there's very little in between. While Sprint (and Verizon) are consistently good. Compared to areas with great AT&T coverage, Sprint can't compete in performance - but where AT&T's coverage is weak, Sprint's average performance is usually better. Awesome occasionally or consistently reliable - those are the two choices it seems.
WiFi performance was better than the Motorola Droid X and the Nexus One, but behind the iPhone 4.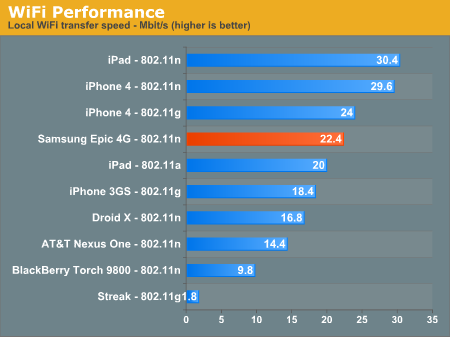 Like all other smartphones we've reviewed, the Epic 4G's cellular signal does attenuate based on how you hold the phone. Given the sheer thickness of the device it's harder to get the large signal drops by holding the phone that we see on thinner devices.
Signal Attenuation Comparison in dB - Lower is Better
Cupping Tightly
Holding Naturally
On an Open Palm
Samsung Epic 4G
10.0
5.0
0.0
Droid X
15.0
5.1
4.5
iPhone 4
24.6
19.8
9.2
iPhone 3GS
14.3
1.9
0.2
HTC Nexus One
17.7
10.7
6.7
The biggest drop I noticed was 5 dB when I held the phone normally, and 10 dB when I held it tightly trying to cover as much of the antenna as possible with my hands. This is in line with other Android smartphones (actually a bit better), and obviously better than the iPhone 4.