Let's start off with the basic compares: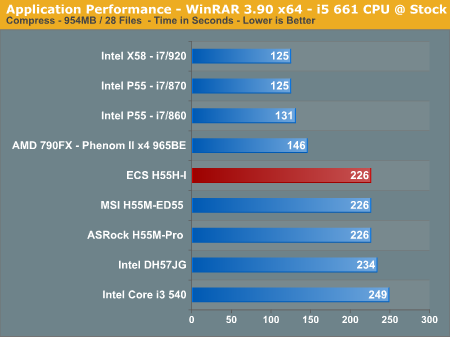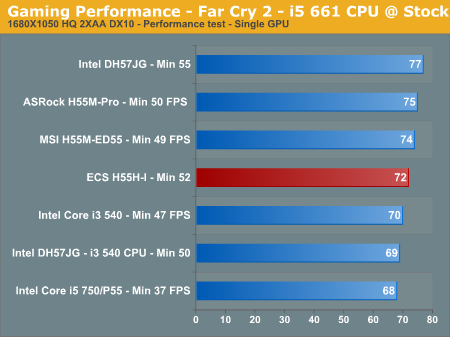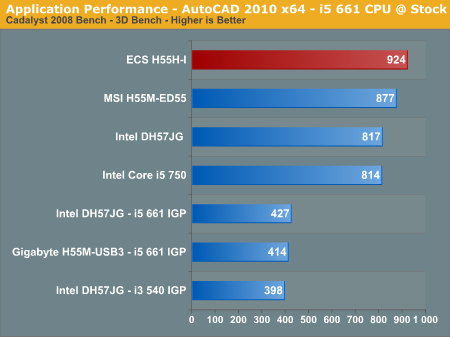 The H55H-I performs admirably in our benchmark suite, placing mid to top tier in every benchmark we threw at it.
Power Consumption
Our power consumption testing utilizes the same batch of components under similar circumstances in a bid to monitor variances between idle and CPU load conditions. We install the vendor supplied power saving utilities on each board (when available) and enable power saving modes that don't involve any kind of underclocking or CPU core frequency modulation in order to run an apples to apples comparison.
ATX PSU switching losses are absent from our figures because we monitor power consumption directly at the DC rails of the PSU. These figures measure only the CPU, motherboard and memory DC power draw and exclude any other peripherals, such as cooling fans and hard drives etc. AC power consumption at the wall will be anywhere from 15~40% higher than these figures depending upon the efficiency of your power supply.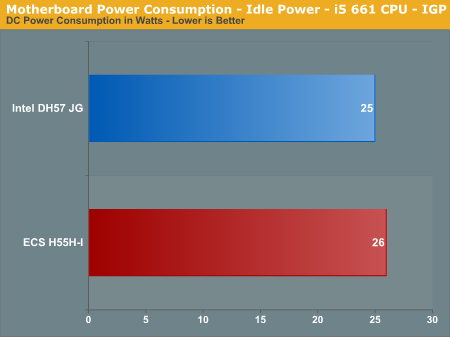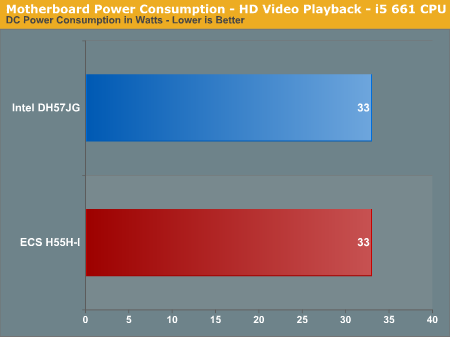 The DC power consumption figures are almost identical to Intel's DH57JG in every day usage.
Overclocking
The inclusion of over-voltage options for CPU VCore, VTT and VDIMM open the door to a reasonable level of overclocking with Clarkdale processors: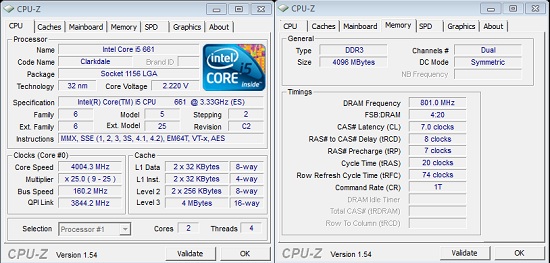 4GHz is attainable on the H55H-I, surpassing the Intel DH57JG.
We added a 0.1V voltage boost to CPU VCore (ignore the 2.20V shown in the CPU-Z screenshot, it's around 1.23V), VTT and VDIMM for the above screenshot and proceeded to pass two hours of Linpack without a glitch. The BIOS does allow you to push higher if you want to, although we think it's probably safe to stick at a 4GHz limit given the perceived abilities of ECS' VRM (3 Phase for VCC using 30 amp FETs, giving a theoretical 90 amp maximum under a best case scenario). Bear in mind that if running with the IGP active, you'll be limited somewhere around 165BCLK anyway, because there is no way to change the IGP clock ratio in BIOS or increase voltage to the graphics core.
For those of you wondering about Lynnfield overclocking, do yourself a favor and don't take any of the four core processors above stock on this board - there's not enough power on tap to sustain the load.