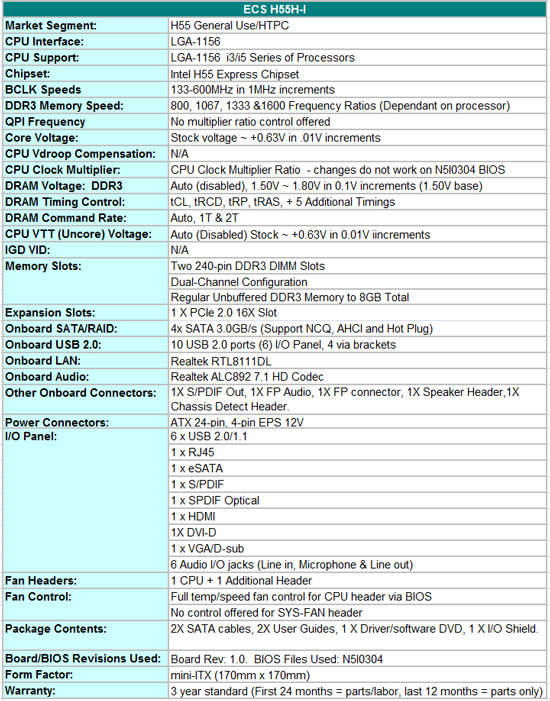 It's pleasing to see that ECS have decided to go with the more popular Realtek Codec for audio rather than using the VIA VT1705 we saw used on the H55H-M model earlier this year.
Component choices elsewhere on the board are pretty much the norm at this price, so we don't have any real nit-picking to do.
What's in the box?
2 SATA Cables
2 Manuals
Rear I/O Shield
An unremarkable bundle, It's exactly what we expected to find. We'd probably have liked a couple more SATA cables, but won't beat ECS up over it because RAID is off the menu with H55.
Software
The only thing included on the driver disc as an extra is ECS's eJiffy: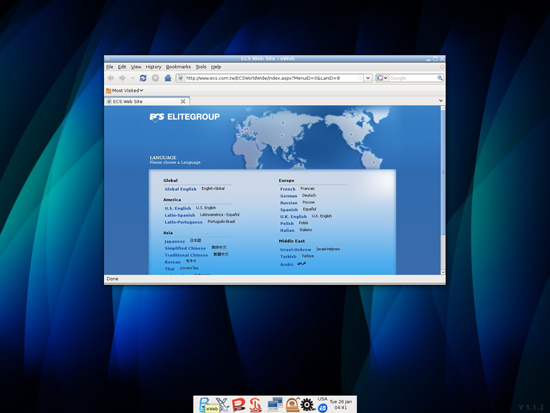 eJiffy features a web browser, photo editing and chat functionality without having to boot into your primary OS. Before eJiffy can be used though, you have to install it onto your hard drive via your primary OS. Once you've done that, you'll find it takes just as long to boot into Windows 7 as it does to boot eJiffy - we fail to see the appeal of this software.
BIOS
There's nothing remarkable to report about the BIOS. It's fairly basic but could be laid out a little better. The CPU C-State options are under the Advanced Setup menu, while all the overclocking stuff resides under the MIB II (Motherboard Intelligent BIOS II) section. Having both in one area would make a more logical choice.
Curiously ECS opts to switch Turbo mode off by default, we're not quite sure why this is the case, because it's a stock supported parameter. If you want Turbo mode to function on supporting processors you'll have to turn it on yourself.
The MIB Overclocking section offers control of BCLK, CPU Vcore, VTT, and VDIMM. Voltage scale settings for VCore and VTT rails are in 63 incremental steps, using 0.01V increments to a maximum over-voltage of 0.63V. VDIMM gets 0.1V steps to a maximum of 1.8V. There's no control on offer for QPI multiplier ratios, IGP voltage or IGP clock multiplier ratios which will limit BCLK overclocking somewhat (although BCLK overclocking is hampered anyway - see below).
An option to change CPU multiplier ratios is present, but does not work; the board won't POST if you use anything other than the stock multiplier. We saw this issue on the H55H-M we reviewed a couple of months ago, so are not sure if ECS will ever bother to fix it.
Fan control is available for the 4 pin CPU header only and only works with PWM fans. The range of control on offer is very granular allowing manipulation of the ramp slope per Celsius increment, as well as the ability to offset the temperature sensor. A voltage control mode for 3 pin headers would have been a nice touch, although we're willing to overlook that given the small footprint of this board is best suited to Intel's stock CPU cooler.
One last gripe we have is that ECS do not provide any kind of built-in BIOS flashing routine. BIOSes must be flashed from within the OS, or by using a bootable USB drive.