The Game is Afoot
I ran a number of games, plus one synthetic benchmark. All tests were run at two different resolutions and detail settings: 1440x900, low graphics settings, and 1920x1080 at fairly high settings. The first, low resolution set of tests represent performance weighted towards the CPU, and are not graphics bound. The second set of tests represent playable resolutions and detail settings, and can be graphics bound in some cases.
· Unigine Heaven (synthetic). The 1440x900 benchmark was run in DX10 mode, the 1920x1080 benchmark run in DX11 mode, with hardware tessellation enabled.
· S.T.A.L.K.E.R.: Call of Pripyat. The lower resolution test was run with the low detail, dynamic presets. The 1080p benchmark was run in DX11 mode, high preset, with hardware tessellation enabled.
· Far Cry 2: Action benchmark. This is one of the included scenarios with the Far Cry 2 benchmark tool, and is pretty CPU intensive – but also represents the game's more combat-intensive scenes. The low preset was used for the 1440x900 test, the high preset (DX10 enabled) with the higher resolution test.
· Battle Forge. This RTS is CPU intensive, but also implements DX11 graphics in the highest detail modes.
· Tom Clancy's H.A.W.X. This title is an arcade styleflight sim, with lots of DX10 eye candy.
· DiRT2 (Demo): This rally racing title supports DX11 and DX9, but not DX10.
Let's take a look at the results.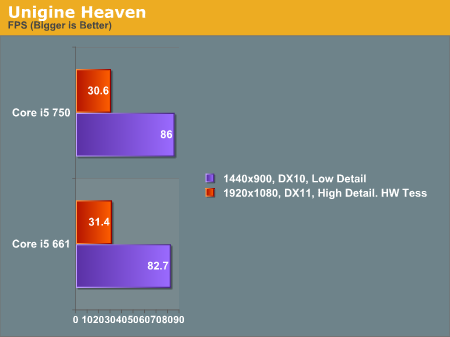 When we keep the resolution and detil levels low (tessellation is off in the low resolution test), the CPU differences are noticeable. Once we dial up the graphics pain, though, the difference is negligible.
Heaven is a synthetic test that pushes certain DX11 features. Let's see how real games fare.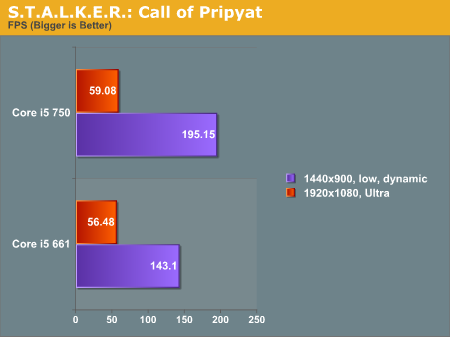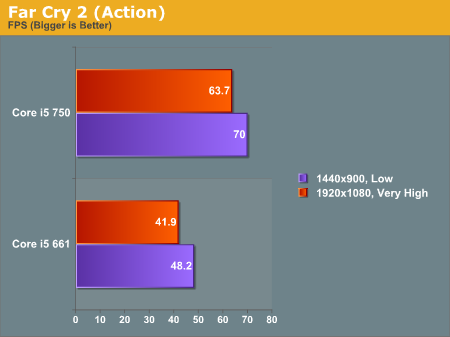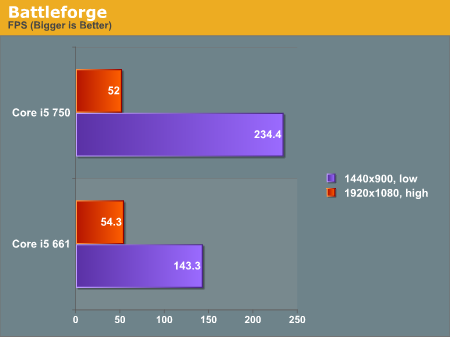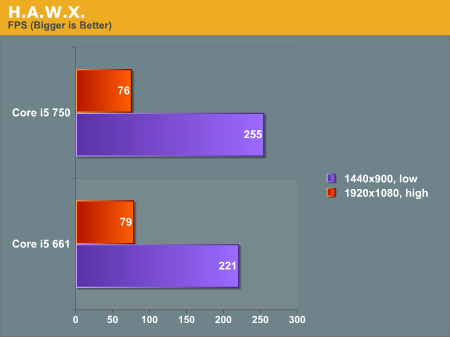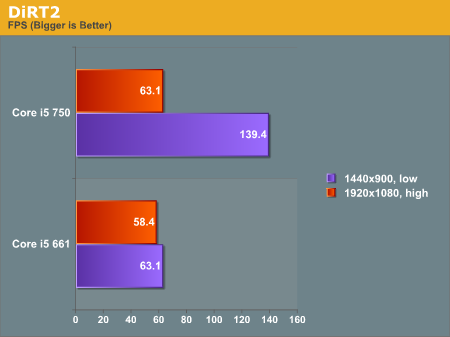 There are some intriguing tidbits in the data. Some of them are a little head-scratching.
Remember, if we run a game at low resolution, with detail levels dialed down, then the game is more likely to be CPU bound than graphics bound. In other words, the CPU impact is exaggerated. If we just look at the low detail results, we see clear wins across the board for Lynnfield. Clearly, if we only ever play games on small displays with crappy visuals, Lynnfield wins out.
The head-scratching part comes in when we dial up the graphics pain. In theory, as you dial up resolution and detail levels, the graphics hardware plays a bigger role, and differences in CPU performance become less noticeable. That's not true with radical differences in CPU – a slow Celeron compared to a fast Core i7 would run games much more slowly, no matter what GPU is installed. Still, with somewhat similar classes of processors, you'd expect minimal differences.
What we see here, though is a mixed bag. The Far Cry 2 Action scene, for example, still demonstrates a noticeable performance edge for Lynnfield, while we see small, but not insignificant, differences in favor of Clarkdale on Battle Forge and HAWX. Still, the overall edge lies in favor of Lynnfield, with the slower clocked quad core CPU winning in Far Cry 2, DiRT2 and STALKER. These results are pretty much repeatable with multiple runs, too. The numbers vary slightly, but the pattern doesn't change.