What About Power?
One of the main points of building a Clarkdale system was power usage. Let's take a look at power usage differences, first at idle, then full throttle.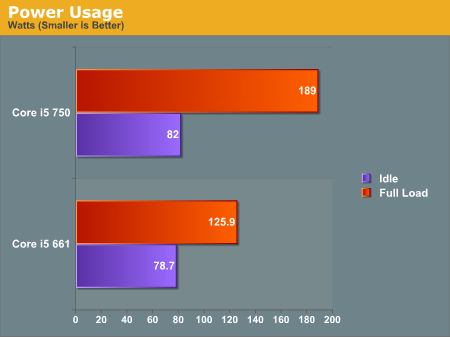 Okay, here's where Clarkdale shines, especially when you dial up the clock speed. At full throttle, the Lynnfield / P55 combination consumes 189W versus 126 for the Clarkdale system. This translates into heat generated as well.
On the other hand, the goal for this system was to build a compact gaming system. Low power usage would have been ideal for, say, a home theater PC with a lower cost graphics card. If this is really a LAN party gaming rig, the added power draw isn't as big a deal.
If we postulate playing games four hours a day, five days a week, all year round, the difference in power draw translates to 65KWh over an entire year – and that's a lot of gaming. That translates to $20 or so spread out over the entire year at $0.30 per KWh. In reality, few people run their gaming rigs full throttle four hours a day – even if they're playing four hours a day.
Anand was Right
The higher cost SKUs of Clarkdale seem overpriced for the performance you get. Given that the true quad core Core i5 750 and the dual core Core i5 661 are roughly priced at parity, Lynnfield is a better deal. Bear in mind that we've been running Lynnfield at its default 2.67GHz clock, too. If you overclock, the story just gets better.
Even power usage doesn't translate to huge savings in our particular usage model. If I were gulding an HTPC, I'd drop down to a lower priced CPU, and a graphics card with less power draw (and costing less.) For a gaming system, though, Lynnfield looks like a much better solution.
Mea Culpa. Mea Maxima Culpa.