SAP Sales and Distribution 2-tier
The SAP SD (sales and distribution, 2-tier internet configuration) benchmark is an interesting benchmark as it is a real world client-server application. We decided to take a look at SAP's benchmark database. The results below all run on Windows 2003 Enterprise Edition and MS SQL Server 2005 database (both 64-bit). Every 2-tier Sales & Distribution benchmark was performed with SAP's latest ERP 6 enhancement package 4. These results are NOT comparable with any benchmark performed before 2009. The new 2009 version of the benchmark produces scores that are 25% lower. We analyzed the SAP Benchmark in-depth in one of our earlier articles. The profile of the benchmark has remained the same:
SAP S&D 2-Tier
Operating System
Windows 2008 Enterprise Edition
Software
SAP ERP 6.0 Enhancement package 4
Benchmark software
Industry Standard benchmark version 2009
Typical error margin
Very low
No results were available for the Xeon X5670, so we estimated the expected performance of the Xeon X5670 based on the X5680 result that Fujitsu published and on some preliminary industry reports.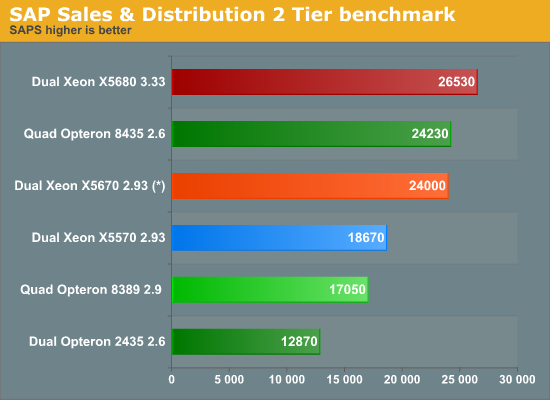 (*) Estimated result
The six-core Xeon is no less than twice (!) as fast as the six-core Opteron in a similar configuration. Pretty dramatic results, but not unexpected of course as the six-core Opteron could never come close to the quadcore Xeons in the first place, let alone an improved six-core version of the latter. The reasons are many-fold, but one of the important ones is the fact that Hyperthreading boosts performance by at least 30%.
Even worse, 12 Westmere cores are enough to come very close to the performance of a 24-core Opteron machine. This is does not bode well for the newest octal and twelve-core Opterons (Magny-cours). To be really frank, we think the SAP market is Intel owned until AMD launches the multi-threaded Bulldozer CPU. Most of the SAP server market is not very sensitive to pricing, let alone CPU pricing. SAP projects, which need expensive licenses and many consulting hours are typically in the $100K to $100M range and x86 hardware costs are most of the time only a small percentage of the total project costs. The final blow is the appearance of the Nehalem EX at the end of this month.