Decision Support benchmark: Nieuws.be
Decision Support benchmark Nieuws.be
Operating System
Windows 2008 Enterprise RTM (64 bit)
Software
SQL Server 2008 Enterprise x64 (64 bit)
Benchmark software
vApus + real-world "Nieuws.be" Database
Database Size
> 100GB
Typical error margin
1-2%
The Flemish/Dutch Nieuws.be site is one of the newest web 2.0 websites, launched in 2008. It gathers news from many different sources and allows the reader to completely personalize his view on all this news. Needles to say, the Nieuws.be site is sitting of top of a pretty large database, more than 100 GB and growing. This database consists of a few hundred separate tables, which have been carefully optimized by our lab (the Sizing Server Lab).
Nieuws.be was so kind to let us test the MS SQL 2008 database for CPU benchmarking. We used a log taken between 10 and 11 AM, when traffic is at its peak. VAPUS, the stress testing software developed by the Sizing Server Lab, analyzes this log and simulates real users by performing the actions they performed on the website. In this case we used the resulting load on the database for our test. 99% of the load on the database are selects, about 5% of them are stored procedures. Network traffic is 6.5 MB/s average and 14 MB/s at the most. So our 1 gigabit connection has still a lot of headroom. Disk Queue Length (DQL) is at 2 in the first round of tests, but we only report the results of the subsequent rounds where the database is in a steady state. We measured a DQL close to 0 during these tests, so there is no tangible intervention of the harddisks. This test is as real world as it gets! All servers were tested in a dual CPU configuration.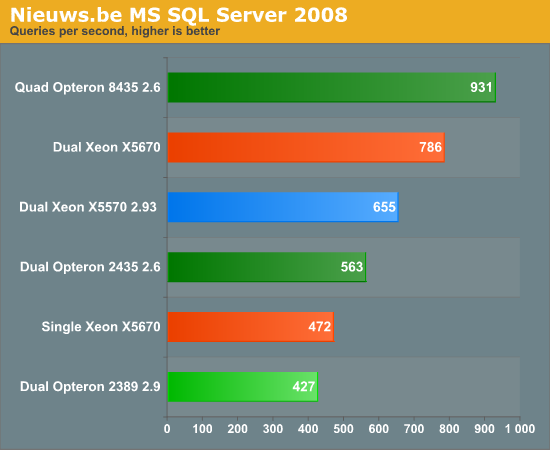 The Dual Xeon X5670 is not scaling so well here, as 50% more cores only result in 20% higher performance. Still, until the newest AMD Opterons arrive, there is not any competition for the six-core Xeon. It outperforms the nearest competitor by 40%.