Discovery: Two Channels Aren't Worse Than Three
Intel told me something interesting when I was out in LA earlier this summer: it takes at least 3 cores to fully saturate Lynnfield's dual-channel DDR3-1333 memory bus. That's three cores all working on memory bandwidth intensive threads at the same time. That's a pretty stiff requirement. In the vast, vast majority of situations Lynnfield's dual channel DDR3 memory controller won't hurt it.
Move up to 6 or 8 core designs and a third memory channel is necessary, and that's why we'll see those processors debut exclusively on LGA-1366 platforms. In fact, X58 motherboards will only need a BIOS update to work with the 6-core 32nm Gulftown processor next year. P55 looks like it'll be limited to four cores and below.
Because of this, Lynnfield's memory bandwidth and latency cores are actually quite similar to Bloomfield. I used Everest to look at memory bandwidth and latency between a Core i7 975 and Core i7 870 (Lynnfield):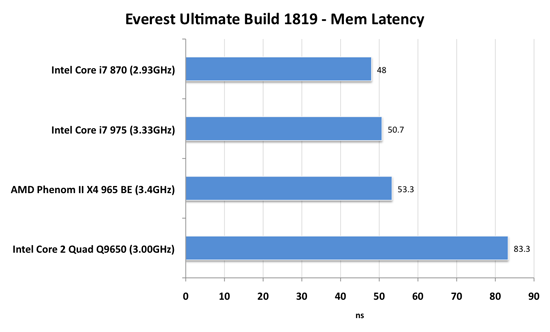 Lynnfield's memory controller is good, easily as good as what's in Bloomfield if not slightly better.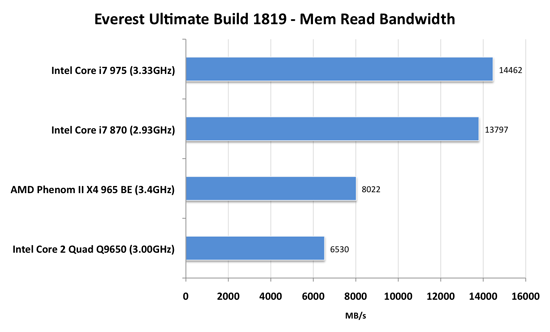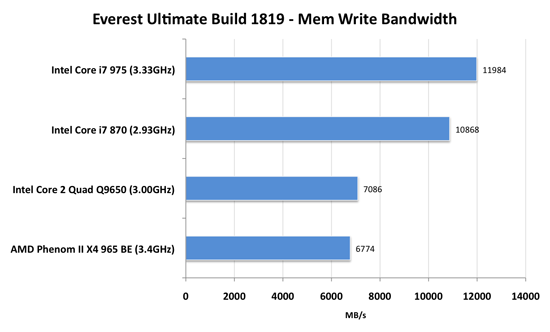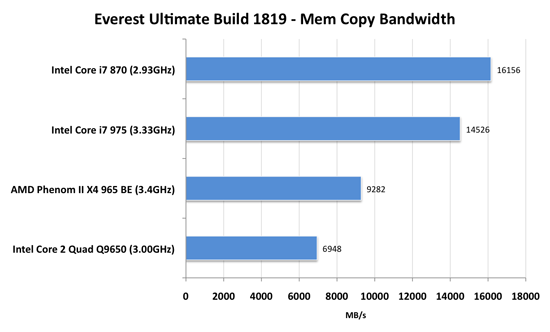 Both processors turbo'd up to 3.46GHz, indicating that Everest's memory test uses no more than two threads. The 975 ran DDR3-1066 memory (the highest it officially supports), while the 870 used DDR3-1333. The faster memory gave the 870 the advantage. Since we're not taxing all four cores, Lynnfield is at no disadvantage from a bandwidth perspective. Surprisingly enough, even SiSoft Sandra (which does use four cores for its memory bandwidth test) shows Lynnfield's dual-channel DDR3-1333 memory controller as equal to Bloomfield's triple-channel DDR3-1066 interface.
| | | |
| --- | --- | --- |
| SiSoft Sandra 2009.SP4 | Intel Core i7 975 | Intel Core i7 870 |
| Aggregate Memory Bandwidth | 17.8 GB/s | 17.3 GB/s |
Long story short? Lynnfield won't be memory bandwidth limited with DDR3-1333 for the overwhelming majority of usage cases.