EVGA's Classified X58 motherboard has been a centerpiece of X58 discussions in various forums since the start of 2009. We managed to get an engineering sample board a few weeks ago and have some initial overclocking tests to show today. Let's take a quick look at the current layout and features before we have a look at a few early benchmark runs.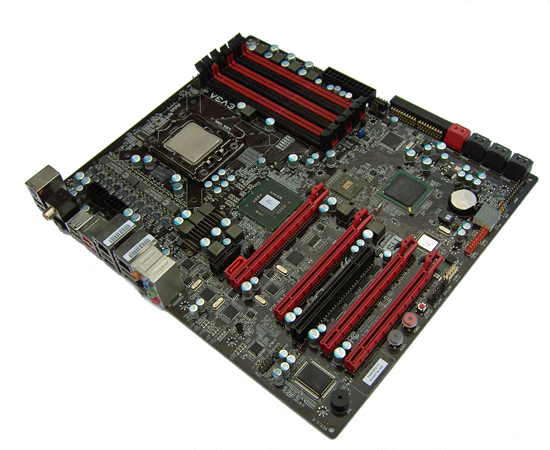 Our board arrived before EVGA finalized the stock cooling design, so we have had to resort to using third party solutions to cool areas of the board for these initial test runs. We are waiting on a retail board from EVGA before we comment on thermal performance and power consumption.
Hardware wise, EVGA added NVIDIA's NF200 into the mix that allows four x16 electrical interface PCI-E slots. As many of you already know, the NF200 is a PCI-E 2.0 x16 bridge-chip solution, which does add extra latency to the data transfer process. However, that's not a huge issue in the overall package.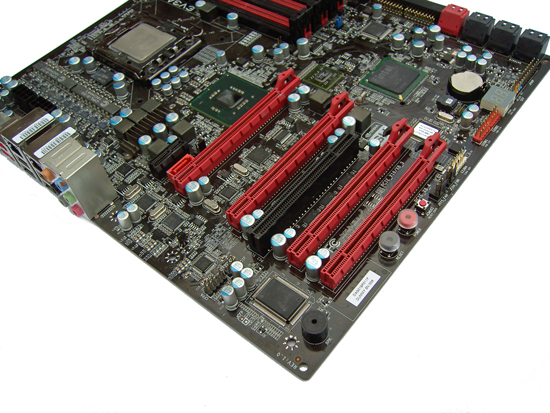 This board is set to become EVGA's flagship board by offering a slew of extreme overclocking friendly features. This holds true for the 10-phase Volterra CPU power, 3-phase memory power, and 3-phase VTT designs to onboard jumpers that override cold boot quirks for LN2 cooling. The product focus is squarely aimed at multi-GPU enthusiasts and those that benchmark more for competition than fun. The slot configuration allows running three dual slot GPUs and a single slot PhysX card or other PCI-E peripheral. A PCI-E x1 slot is available for audio duties, even if the GPU slots are completely loaded.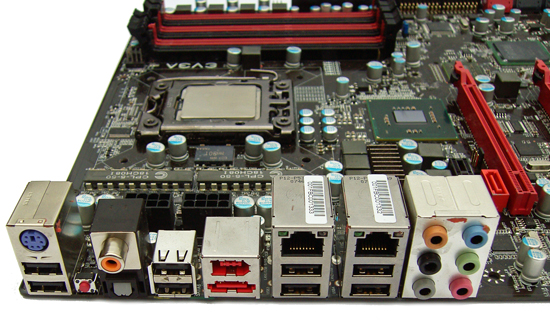 This board is clearly for those with deep, deep pockets. The launch price is expected to be around $400~$450, putting it off the radar for most. EVGA provides a plug-in remote PCB, supporting power, reset, CMOS clear, a hex POST code LED display, on-the-fly VCore adjustment, and PCI-E disable jumpers. The remote buttons come in handy when benchmarking the board out of a PC case, especially when the lowest PCI-E slot is occupied.
A new addition that EVGA just completed for the final retail board is the presence of an onboard ROM that can store memory SPD files. The user can select at BIOS POST to override the memory module base SPD. EVGA has developed an OS software tool that allows users to interchange SPDs with one another if a particular SPD file known to offer superlative performance for a memory chip/PCB combination is available. Our test board does not contain this technology, so we will have to wait for the arrival of our retail board to test this unique feature.
We have been throwing everything we can at the board using the latest test BIOS. So far, things have been smooth during the test process, mainly because the EVGA X58 SLI board's launch has provided insight to the EVGA team and us in getting this board up and operating quickly. Peripheral compatibility has been excellent on this board. We have not discovered a single device that was not recognized or refused to work properly. S3 resume states have worked for us all the way up to 215 BCLK (as far as we tested to date), which cures a problem on the X58 SLI board.
Unfortunately, we still do not have an official release date from EVGA, but we expect it sometime in March (subject to change, obviously). At stock speeds, this board offers similar performance to other X58 motherboards in a variety of applications and games. Our short preview today will cover SLI gaming performance to see if the NF200 is a handicap and a few overclocking results using subzero and water-cooling, which is relevant as this board is targeted at the competitive overclocking crowd.
We are also providing a descriptive analysis of the BIOS overclocking options and how they work not only on this board but also on the X58 platform in general. We will follow up with a revised BIOS guide when the board launches. In the meantime, let's take a quick look at our results today.