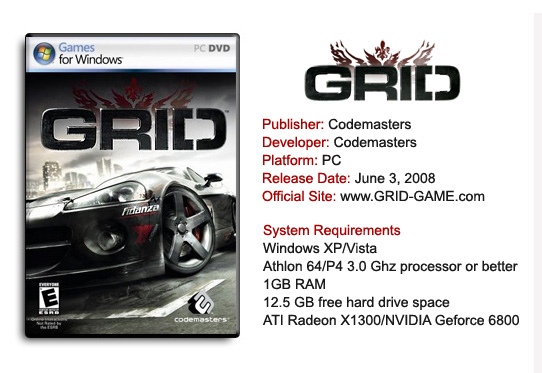 In June of this year, Codemasters released yet another game devoted to fans of those things that have four wheels. With extensive experience in the genre, starting with 1999's Touring Car Challenge to the highly acclaimed DiRT: Colin McRae Off-Road released in 2007, the developer/publisher continues to pick up speed with GRID. GRID is not your typical rally style racer, nor is it the street racer that many might label it after seeing a few screenshots of the game. Instead, GRID borrows from both racing styles and finds its niche somewhere in between. Does it work? Read on to find out.
Upon starting the game for the first time, players will be prompted to enter their first and last name that will appear in the game's HUD next to your position in the race. To take this a step further, GRID allows you to choose from a fairly extensive list of names (male and female) that the in-game announcer will use during audible communication with the player. While the name Eddie was not immediately available, Edward was chosen in its stead. Since it's highly unlikely that they will have every name, you can also select from a variety of handles instead. This is just one successful implementation that lends itself to the player's immersive experience with GRID. Once this information is squared away, the game immediately tosses the player to the wolves with no available tutorial.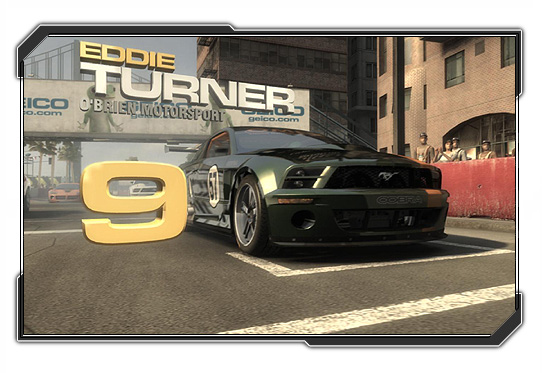 As most PC gamers have discovered, racing games offering a high level of realism are best played with either a racing wheel or a gamepad. With controls that require touch sensitivity, a keyboard simply does not allow for the degree of functionality that is required. In fact, getting the game to function at all with the coveted combo may prove to be an impossible feat. With this in mind, recommended racing wheel peripherals include the Logitech Formula Force EX, which is available in the UK for a retail price of £49.99, and the Logitech MOMO Force Feedback Racing Wheel available in the states for around $79.99 depending on the retailer. And, of course, there's always the more expensive option for those without a budget. In this case, the Logitech G25 that retails for upwards of $250, again depending on the retailer, might be the wheel of choice. Which ever wheel you choose, the game's options menu will help you tweak its sensitivity to your satisfaction.
While steering wheels are great, the Xbox 360 Controller for Windows has a preset in the game's options menu and it works very well. This controller is an excellent alternative to racing wheels and offers great performance with GRID. Third party gamepads are also supported and should work seamlessly.