Gameplay
As mentioned before, players will begin racing right away without any practice runs. The absence of a tutorial may appear to represent a narrow learning curve, but be assured that there most definitely is one. While the slope of such a curve will be dependent upon prior experience with other racing games, those who are either new to the genre or simply do not play driving games very often should find their way after a few short races.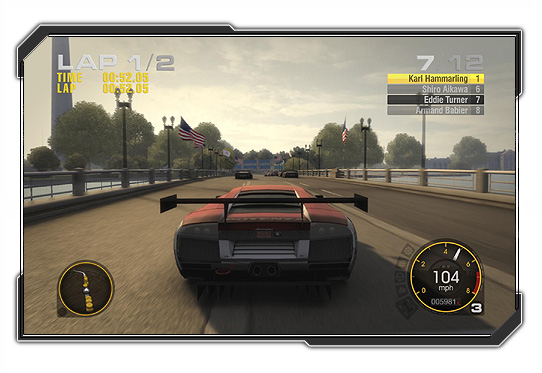 When you're ready to race, players have the choice of entering the game's career mode, called GRID World, or selecting Race Day that allows players to customize the racing experience by choosing the venue, track, car, number of laps, and race type. These two options are accompanied by Multiplayer which can be plaed via LAN or the internet. In the single player campaign, or career mode, GRID World starts players as a newcomer to the racing scene. With only a few cars at your disposal, the goal is to collect enough prize money to begin your own racing team. From there, players will begin to acquire more cars with their winnings. In addition, sponsorships will become available as your reputation improves throughout the circuit. While going fast and finishing first is definitely on the agenda, finishing in second, third, and even fifth place in some events still puts cash in your pocket.
GRID features a number of different events that will have players testing their endurance skills, speed in time trials, and even drifting. Along with these various event types are a number of lavish venues to race though. Players will take part in events scattered throughout various regions of the US, Europe, and Japan. The location will typically coincide with the type of racing event. For instance, drivers will participate in muscle car racing in Detroit, grand prix events in Milan, and drifting challenges in Yokohama Japan. There are numerous venues to experience during the course of the game, each of which is rendered beautifully and plays a major role in the overall satisfaction of the game.
The vehicle types in GRID are also matched to the racing events and locations. As players forge their way up the ladder and become a force to be reckoned with, more and more cars will become available. Here's the roster of the 43 different licensed vehicles you'll drive in the game.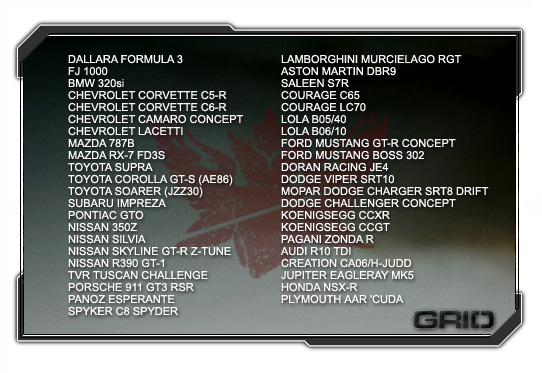 Many gamers have come to expect the ability to customize their vehicles in racing games. However, GRID allows only cosmetic customization in which players will choose their team colors that will be applied to the body and trim of all of their cars. Thankfully, the ability to update these colors exists to keep players from growing weary of the seafoam green they may have chosen. While it may have taken some guts on behalf of the development team to exclude such a feature as vehicle customization, Codemasters has made the game's direction clear in their tagline, "It's all about the race." Even so, cars will not be completely void of bling as sponsors will place decals on your cars as you take them on.
The racing in GRID is absolutely top-notch. Every car feels and handles differently. For instance, the Lamborghini takes corners very efficiently with minimal break application, while the Aston Martin requires just the right combination of break and hand break to handle a track's twists and turns. We likely aren't qualified to judge the physics behind the cars, but they tend to do a good job at mimicking the feel of driving a race car. The game doesn't offer up the realism found in some of the hardcore racing sims, but it definitely has more realism than others in the genre like the Need for Speed series. Whether that's good or bad will depend on what you're after, but we found the overall feel to be quite enjoyable even if it may not appease the gearheads of the world.