GPS.........kinda
The two major hardware changes to the iPhone are the inclusion of a 3G cellular modem and support for Assisted GPS (A-GPS). Despite what many have interpreted the name to mean, A-GPS is not in any way an inferior type of GPS, it's simply a bit more efficient.
The deal here is that A-GPS relies on cellular data as well as an assistance server to help pinpoint where the A-GPS receiver is, when conditions are less than optimal. The standard iPhone can get a general idea of where you are based on what cell tower you are connected to, but the iPhone 3G with its A-GPS support can actually pinpoint you with much greater accuracy.
The fact that the iPhone 3G's GPS is A-GPS isn't its shortcoming, it's the software that's the problem. Like the original iPhone, the iPhone 3G ships with a version of Google Maps that works incredibly well with the iPhone's multi-touch interface. Google Maps on the iPhone is almost as useful as a standalone GPS thanks to the speed of the interface, the problem is that you need a second person using it if you're driving as it will give you turn by turn directions but won't speak them to you.
The iPhone 3G unfortunately doesn't fix this problem - the Google Maps software is identical to what shipped on the original iPhone. The iPhone 3G's A-GPS will pinpoint your exact location, but it won't combine with the turn-by-turn directions to automatically guide you to your destination. You still need to manually advance the directions. If you've got a someone with you, this is enough to make the iPhone 3G an even better car-navigation tool but if you're alone it's not much better than the old iPhone.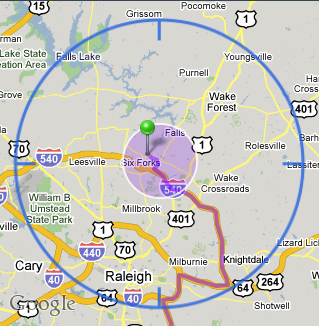 No GPS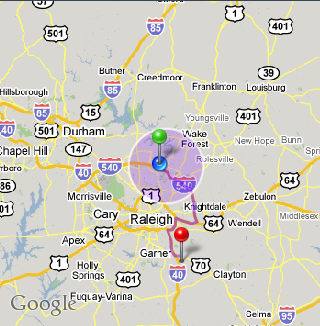 GPS in action, precision baby
With the app store and the 2.0 SDK there's a great chance that someone will come along and develop a voice-guided turn-by-turn navigation system for the iPhone 3G, but there is always the chance that it'd be something AT&T would want to sell as a service. Given that Apple has already ceded power to AT&T with the way the iPhone 3G is sold, I doubt there's much Apple could do if AT&T really wanted to charge for such a thing.
The A-GPS is also currently used by both first and third party applications to help improve the experience. If an app tries to use the A-GPS you must first tell it that it is allowed to use your location (a process that is honestly very Vista User Account Control-like, but I get the security benefit). The iPhone Camera app can use the iPhone 3G's A-GPS to tag your photos with geographical data, while applications like Urbanspoon can use it to help find restaurants nearby.
The only other major complaint I have about the iPhone 3G's A-GPS is that it appears to be a CPU hog as the entire Google Maps interface stalls a lot more with it active. Thankfully it doesn't appear to remain active after you've quit Google Maps (hooray for no background tasks?), but this is further proof that Apple needs more processing power in the iPhone. Intel had better hurry up with its Atom strategy, the iPhone is ripe for such a powerful core...