Battery Life
I published some initial results about the iPhone 3G's battery life here, but now it's time for a full analysis of what the phone can do.
Initial tear-down reports show that Apple switched to a removable battery with the iPhone 3G, removable in the sense that it isn't soldered to anything inside the case, but still requires that you take apart your iPhone to get to it. Not having a removable battery wasn't really an issue for me with the first iPhone since I tend to go through phones quicker than their batteries stop holding a charge. Granted even if you don't keep your phones for that long, it would be nice to be able to swap in a new battery if you're running low - especially with how much power the 3G modem gobbles up.
The first question about the iPhone 3G is its talk time when 3G is enabled. Most users won't want to keep switching 3G on and off and I suspect that many will just leave it enabled, so what will that do to talk time? To test this I played music back on a notebook through some headphones placed right at the mic on the iPhone 3G. The phone was flipped over on a table to trigger its sensor and shut off the display, thus simulating a real call. I called my Vonage deskline from the iPhone and got to listen to 50 Cent play over and over again for hours, a homage to what I did last year with the first iPhone.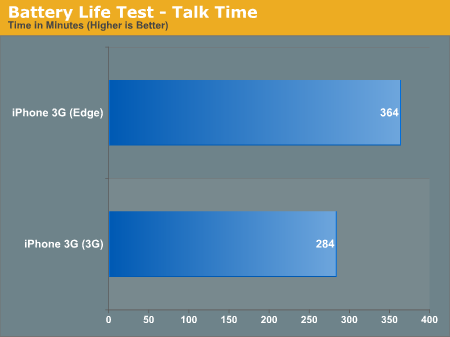 Battery life with 3G enabled was 4 hours and 44 minutes, down from nearly 6 hours when I tested the original iPhone. Turning off the 3G modem and switching to Edge, my call time went up to 6 hours and 4 minutes, about where it should be based on my original iPhone test results. With less than 5 hours of talk time, if you plan on doing a lot of talking you had better shut off 3G mode on the iPhone.
Unfortunately Apple doesn't make turning 3G on/off as easy as silencing your phone. It takes three taps to get to the menu where you can enable/disable 3G from the home screen, another tap to change the setting and one more tap to get back home. It's not terrible, but it's definitely not the most easily accessible thing in the world.
Note that this is far less than the 10 hours of talk time that Apple claims on the iPhone 3G's spec sheet, and also keep in mind that this is the best case scenario. My voice test just involves the phone sitting in one location with music playing through the mic. Battery life could go down significantly if you were using the phone in an area with lower signal strength or if you were constantly hopping between cell towers.
To test web browsing I ran the same script I did for the iPhone follow-up article I wrote last year: (note that you shouldn't compare results between the original iPhone review and today's, it looks like changes AT&T has made in my area have changed signal strength considerably).
Our web browsing test is slightly different from what we ran in the iPhone review. We used a total of 7 web pages, but of much larger sizes than our first test. The first page was simply a counter page, the second was our review of the Core 2 Duo E6750, followed by our article on AMD's Phenom introduction, an excerpt from our Quad FX article, our entire iPhone review, an article on Intel's Turbo Memory and our entire AMD Radeon 2900 XT review.

Each page was loaded by the browser and was set to forward to the next page (in the above order) after 10 seconds; the iPhone's brightness was set to approximately 50%. All backlight timers were disabled. Bluetooth was enabled but not paired to any devices.
WiFi continues to take the cake at 6 hours and 40 minutes of total usage, which as we found out last year is what we should expect. Next up is performance on Edge, with the new iPhone lasting just over 4 hours. And finally we have 3G browsing performance: our battery was dead in 3 hours and 17 minutes.
Combine web browsing, email and voice and you'll find that the iPhone 3G, in 3G mode, will burn through your battery in a matter of a few hours. The speed of 3G is nice, but the battery life suffers tremendously - pack an extra charger.