MPEG2 HD Test
Our test setup remains the same as the idle power tests with the Vista power profile set to Balanced. Our feature title is Crank, with a video bitrate up to 37Mbps and an uncompressed PCM soundtrack rated at 6144Kbps or a Dolby Digital Surround 5.1 EX track at 640Kbps.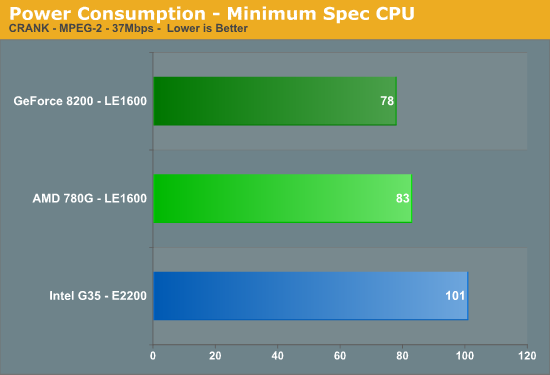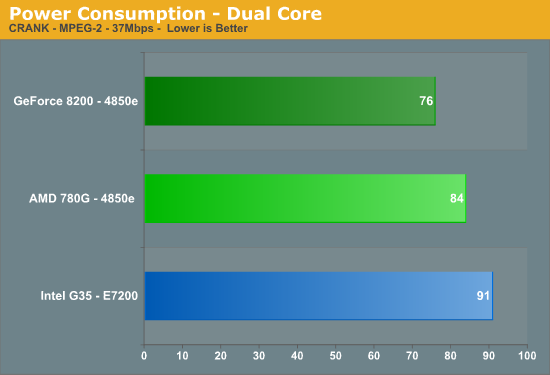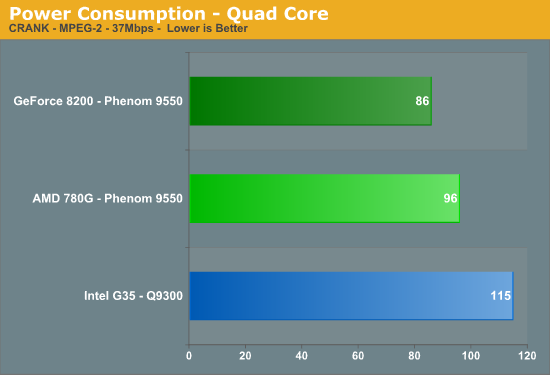 Much like our idle tests, the advantages go to the Biostar TF8200 A2+ board equipped with the GeForce 8200 chipset. The results are an 18W and 25W advantage with the low-end CPUs, 8W and 15W with the dual cores, and an outstanding 10W and 24W difference with the quad cores.
Our initial CPU utilization testing shows the GeForce 8200 and 780G chipsets to be nearly identical so we can negate any potential differences in this area. We are still analyzing the new image quality results, but they seem to be very close so far. We will temper our excitement for now, as new drivers that implement several missing features should be available shortly. We will revise our numbers if there are any significant changes.